America's future for communications is slower, less quality, more expensive and less choice.
For your reading pleasure, here are five facts from recent articles that I think are worth repeating, (and some new ones thrown in).
First, here's where I am. I just got my new Time Warner Cable bill, and my $89.99 advertised, basic, no frills Triple Play, just keeps creeping up, which is now up 135% from this advertised price in just a few years.
My Verizon wired phone line died one day and it had reached $60+ a month for basic utility phone service and some calling features -- it should have been going down as the costs, like maintaining the copper, have been in steep decline. The wire was put in the 1930s, and when I called they tried to upsell me to FiOS, which, also had the same deceptive advertising, including made up fees, etc., as Time Warner cable's billing practices.
And that's it. Two wires, a duopoly, where there is no competition. In fact, Verizon has a deal with Time Warner Cable to sell the wireless service with the bundle cable bundle in areas that Verizon didn't even bother to upgrade.
Cut your services and not get the channels you've been watching for decades -- take less and save money?
I could always go wireless, until you realize that Verizon owns those wires as well -- and you pay by the gigabit with caps.
So, we're 19th-55th in the world in broadband, paying multiples for services as compared to offerings in other countries, the future is filled more with hype, like 5G wireless and the 'IP Transition' - which are ways to make more money from each of us, and if I actually used Verizon & AT&T's wireless broadband I'd be paying (the US Nielsen averages) $1,125.00 for one month of cable TV; $375.00 to watch Netflix -- and that's not even 'HD'.
And no wonder Netflix has decided that it had better 'cap' the speeds of their service because, as Cowan & Co. found, (and as reported by CNN), "More than a quarter of AT&T customers and 20% of Verizon customers said they paid an overage charge in the past six months -- both records".
Here are some highlights of just how badly we've been treated by those who were supposed bring us a Ferrari on a fabulous fiber optic info highway, but instead we got a skateboard on a dirt road.
In December, 2015 I decided to see how we stacked up in terms of speed, based on a number of sources. We weren't even in the Top 20 for wireless LTE or broadband to the home.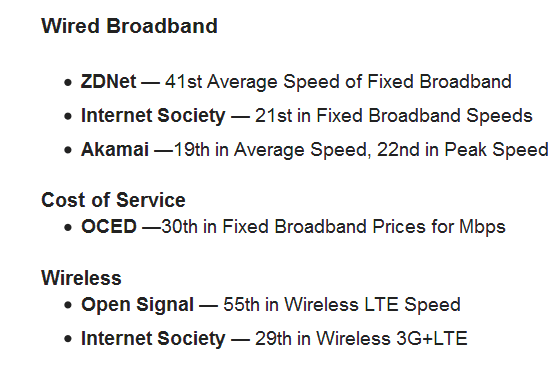 2) How Much Are We Being Overcharged for Broadband in America?
Next, I decided to see for myself what other service providers in other countries are charging for broadband. I decided to stick to Asia and so, in a search engine I typed in "1 Gigabit" "broadband service" and "Asia". And here are some details from just a few of the offerings that showed up in the search.
NOTE: 1000Mbps = 1Gbps (1 Gigabit)
MyRepublic of Singapore offers a 1 Gigabit special for $24.99, Singapore (SGD) dollars - that's $17.70 US dollars. (Note the "currency converter" we added on the right.)

Most of the 1Gpbs packages are $42.50 a month, US dollars. And the fine print shows that the normal price is $69.99 SGD -- about $50 US bucks ($49.60 to be exact). (Note: This is readable and not in small type, requiring a magnifying glass.)
And then, of course, we have the hype about the future.
AT&T and others claim that the 'IP Transition' is to move America to advanced technology, Internet-Protocol-based services, and AT&T filed with the FCC to do two trials; one in Delray Beach, Florida and the second in Carbon Hill, Alabama.
However, the secret is out -- According to the most recent AT&T IP Transition Trial report for 3rd quarter, 2015, (released January 19th, 2016), customers, it appears, just aren't drinking the Kool Aid to drop their current landline service to get inferior services, couched as a 'technology change', such as AT&T's wireless "Home Phone Service".
AT&T has lost about 9% of their total customers in the Delray Beach, Florida, 'IP Transition Trial' in about a year and three months. These are customers who had a working AT&T service and who disconnected it and said -- goodbye to AT&T.
And in the second IP Transition Trial taking place in the rural area of Carbon Hill, Alabama, AT&T now says that after 1+ years of trying, they are at "Phase Zero".
Did you know that 100 Mbps was the original speed touted by Verizon for 4G LTE, starting around 2009? Yet, by 2015, America's average for 4G LTE speed is about 10-12 Mbps for a download -- about 90 percent off the original marketing hype. But this is old news.
Verizon's hype machine is in full force for the next generation, 5G.
Note: 1 Gig (1 Gbps) = 1000 Mbps
FierceWireless, December 8, 2015, reports that Verizon's 5G wireless will have speeds of up 1 Gbps and is being tested starting in 2016.
"Verizon's McAdam: 5G speeds will be up to 1 Gbps and will be live at Verizon HQ in January (2016).

"Verizon's 5G service to go commercial in 2017 and beyond.

"Verizon CEO Lowell McAdam said that the carrier expects to be able to offer 5G wireless speeds up to 1 Gbps, and that he expects the carrier to begin a commercial test of the technology as early as next month at the carrier's Basking Ridge, N.J., headquarters."
And the claim is -- (I paraphrase) We don't need to build out the wired networks; we can just shut them off where we feel like it, especially in rural areas. Everything is going wireless, right?
If history is our guide -- the speed of 5G is not going to be 1 Gbps. It will be 1/10th the speed, at best, and only in some locations -- and it will take years. And at home or in a business, it will cost the customer multiples of what a wire would cost for the same service, like watching Netflix or cable TV.
One Month of HD Viewing: $1,050.00 for Netflix: $3,225.00 for Cable TV.
America is getting a big, fat downgrade, but don't bother to tell the FCC or the media.
Do the Math:
The average Netflix customer is watching 46.5 hours a month. (TDG research)
The average cable viewer is watching about 142 hours a month. (Nielsen)
According to Netflix, the video programming uses 1GB per hour for "standard definition" video and 3GB per hour for "HD".
Fact: AT&T and Verizon are planning on shutting off the copper networks to about 50% of their territories and forcing customers onto their own wireless broadband plans.
Fact: Here's the pricing for AT&T and Verizon's data plans ("GB") -- As of July 2015.
AT&T Mobile Share Value Plan
First, Netflix has been capping the speed of broadband on mobile devices because, well, if they didn't, no one could afford to use their mobile phone to watch Netflix--duh...
"Our research and testing indicates that many members worry about exceeding their mobile data cap, and don't need the same resolution on their mobile phone as on a large screen TV to enjoy shows and movies. However, we recognize some members may be less sensitive to data caps or subscribe to mobile data plans from carriers that don't levy penalties for exceeding caps. As we develop new technologies, we want to give all our members the choice to adjust their data consumption settings based on their video preferences and sensitivity to their ISPs data overage charges."
And alongside this, CNN reports that overages on wireless are at an all time high.
"American cellphone customers are paying more data overage fees than ever before.

"More than a quarter of AT&T customers and 20% of Verizon customers said they paid an overage charge in the past six months -- both records, according to a survey by Cowen & Co... The overage charges are exacerbated by tablets -- a record 24% of tablet owners with a 4G plan paid an overage charge."

"The problem isn't going away: The wireless industry expects mobile data usage to double each year for the next several years."
This is what we get from a duopoly where one company also controls the wires and controls wireless, which needs wireline to provide service.
America's future, then, is slower, less quality, more expensive and less choice.

This is not the Info-Highway we paid for.
By the end of 2010 or so, America should have been a fully fiber optic-based nation. "The Book of Broken Promises" documents how we all paid over $400 billion to make this so.
Popular in the Community