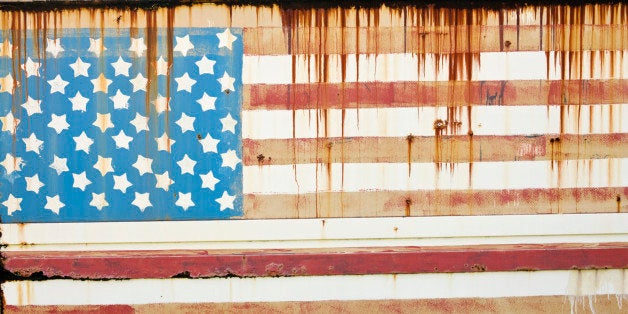 Every year, proud U.S. citizens across the country take a break from daily life to commemorate the birth of America. Dusting off the grill, buying frozen meat en masse, attempting to retreat to the nearest body of water, and putting sparklers in the hands of small children might not be exactly what our founding fathers envisioned, but who am I to argue with a long weekend? I enjoy a good fireworks show as much as the next girl. And beachside BBQs? I'm in. Red, white, and blue happens to be the color scheme of my most flattering bikini, so by all means, pass the veggie dogs and pump up the revelry.
But amidst the pomp and circumstance, please don't wish me a "Happy Independence Day!"
The 4th of July might commemorate the independence of our country -- but it also serves as a bitter reminder that in 1776, the country that I love had no place for me in it.
When our founding fathers penned, "All men are created equal," they meant it. Not all people. Not all humans. Just all men -- the only reason they didn't feel obliged to specify "white" men is because, at the time, men of color were considered less than men, less than human.
Now, before anyone argues that Independence is about more than voting rights, I'd like to point out that our Founding Fathers would fundamentally disagree with you. The Revolutionary War was fought, in large part, because of "taxation without representation" -- the then English colonists believed they were not free because their voices were not represented. The right to vote, the right to have your say is the delineating characteristic of a democracy.
There is nothing finite about freedom. July 4, 1776 was a definitive step forward in the struggle toward freedom and democracy but we were a long way off from achieving it. And while we have advanced in leaps and bounds -- my patriotic swimwear goes over way better in Williamsburg, Brooklyn than it would have in Colonial Williamsburg -- we are still a far way off from the freedom and independence we're celebrating.
This week's Hobby Lobby ruling -- deciding that a woman's employer has any say in her health care -- is a challenge to the ideology of freedom and autonomy our country was founded upon.
So by all means, enjoy your long weekend. Raise a beer to the ideals of progress and democracy that the 4th of July represents.
But remember that you are celebrating the birth of an imperfect union, remember that the fight for 'freedom' has yet to be won -- and if you must wish someone a "Happy Independence Day!", make sure you're doing something to maintain and advance the Independence you have come to appreciate.
Popular in the Community