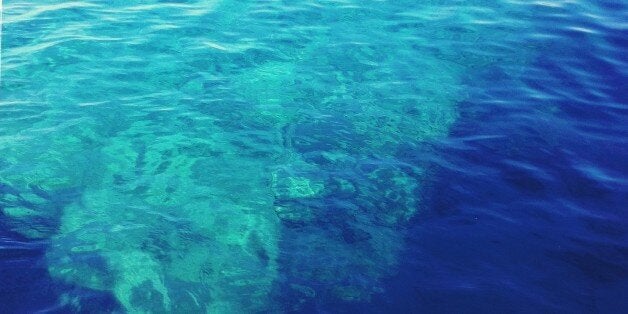 Water is the source of life and I had been downing bottles of it every day during my sojourn at a famous but severe sanitorium in Austria. Surrounded by the placid confines of a lake, the views were tranquilizing bordering on analgesic. The lake water was aluminium grey, smooth and only occasionally ruffled by a languid breeze. It had a defined expanse with neat Carinthian borders. It had a finite depth and its mass never terminated in waves but instead lapped feebly against a muddy brown shore.
During my stay at the spa it was not only coffee, wine and food I had been craving. I knew what I had really been thirsting for as soon as we flew over it en route back home to Athens. Thalassa - the Greek word for sea, a body of water so different from the picturesque but sensible lake.
The sea:
Wild, whirling and impolite with its unpredictable swells and ruinous waves. That fathomless body of blue that has no end or beginning and which inspires and elicits an ocean of responses in every person's heart and soul.
Though Homer referred to the sea as "wine dark", it is stereotyped as blue but how many shades of that exist within its fluid palette? Cobalt, turquoise, navy, royal, powder blue. Also steely grey and almost black contrasting with the crests of its waves whipped with white spray. What enchants and fascinates us are the ocean's moods, volatile and versatile as they are. Its waves are harsh, its swells heavy with menace, it can roil and heave or offer ripples for recreation or be still like a smooth lagoon. It stretches to the horizon with the sky and takes its colour cue from that other infinite mass. It can dazzle us as the light bounces off its boisterous surface or mesmerize and visually confuse us as if we are seeing a desert mirage ... with a "did I just miss a dolphin?" moment.
The smell of the sea calms and fortifies us. Salt, brine and sea weed infused air is what the English call "bracing" and has healing properties. And then there is the sound of it - crashing, lapping, lulling, soothing and relaxing as the touch of someone you love. Or the feeling of it on your skin whether icy cold, pleasantly tingling or warm as a hot tub, you surrender to the sea and it receives you, giving you buoyant strength, loosening your limbs and improving your lymph and blood circulation by its gentle exertion of pressure.
We talk of the beneficent Earth Mother yet the sea may be the biggest matriarch of all, whose swelling waves envelop us, whose threads of marine aquaculture sustain us, whose rhythm soothes and yet invigorates us and whose timeless, liquid mystery sets us afloat on a raft of guided inspiration and creative dreaming. When I saw it again, boundless and always moving, it evoked my emotions and prompted my thoughts. Especially the sea in Greece, the aquatic link to the string of islands, whose mariners plotted courses from isle to isle and far beyond.
So that is how the Huffington Post's Thalassa section was conceived. Looking down from a plane at the sparkling expanse of sea as I flew into Athens. I realized what an infinite project this could become and I felt thrilled and inspired. I started to develop the following categories of "Thalassa" and then expanded and added to them with Nikos Agouros, our Editor in Chief.
The Huffington Posts Thalassa section will be looking at the following subjects and what they derive from the sea.
ART
Which artists are inspired by or use the ocean as their subject whether painters, photographers, video artists or jewelers. We commence with a blog from the well known photographer Marina Vernikou and her touching account of how she and her grandfather would swim together for hours in silence with the sea as their unifying company. She also points out that the liquid surface of water is her stability platform for her lens - paradoxical but understandable.
HISTORY AND CULTURE
We shall profile great Greek nautical traditions - the Neorion shipyard of Syros, the creation of maritime dynasties in Chios and Andros and sponge cultivation in Kalymnos. We shall address and explain Greece's dominance in the realm of shipping worldwide.
SCIENCE AND ECOLOGY
We shall present research and preservation projects such as Pierre Yves' Cousteau's sea park in Santorini, the safe guarding of the Caretta Caretta sea turtles in Zakinthos, the American society Parley for the Oceans and the Greek society HELMEPA which tackles pollution of the water and beaches.
MARITIME ARCHAELOGY
Artifacts and ruins of great interest and value under the waves. We shall introduce this fascinating and little known section to our audience.
SEA SPORTS
Athletic profiles of sea related athletes - water skiers, kite surfers, rowers, kayakers and sailors.
MEDICINE AND COSMETICS
Features on companies who use ingredients harvested from the sea in their products - algae, seaweed, e.t.c. Marine Biologists' profiles and news!
AGRICULTURE AND INDUSTRY
Other than shipbuilding and repair yards (Neorion and Tarzanas in Syros and Hellenic Shipyards on the mainland) we shall highlight fish farming all over Greece, especially in remote and underdeveloped areas. Also we shall comment on salt harvesting and on all other marine related food, plant products.
REGATTAS AND RACES
Social snapshots of current races and regattas that take place in Greece.
LOVE AND THE SEA EMOTION AND THEATRE MUSIC
Women whose husbands are at sea permanently. How they handle infidelity, loneliness, taking a man's role and how they adjust when their man returns. The sea in poetry, music, theatre and all it inspires.
Related