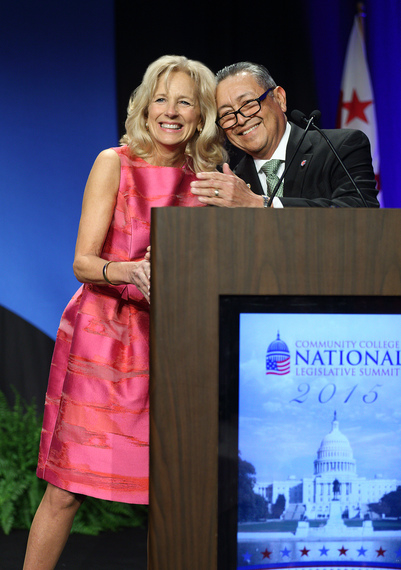 Roberto Zárate, Chair-Elect ACCT Board of Directors, Alamo Colleges, Texas, introduces Dr. Jill Biden at the 2015 Community College National Legislative Summit, Feb. 11, 2015 (photo by Keith Weller)
Below is an excerpt from my remarks:
We all know that the responsibility for educating students is not the students' alone. It is a responsibility that belongs to all of us.

Community colleges are uniquely positioned to fulfill this responsibility -- to meet the needs of the actual community where they live -- whether that means partnering with local employers on credentialing, working to make sure classes are flexible for working families, or supporting a seamless transition to a four-year degree.

Because we all reap the benefits when our citizens are well-educated and well-trained. It means that our economies are more vibrant, and our future is brighter.

You understand that better than anyone. Which is why we need you. As you heard, during the State of the Union, President Obama has big plans for community colleges, and this administration needs you to keep making your voices heard, and to bring others into the fold.

Over the next few months the administration is going to build a coalition of elected officials, business leaders, philanthropists and, most importantly, higher education leaders like all of you to support our efforts to strengthen community colleges, because all Americans deserve the opportunity to reach their full potential.

This is the moment for community colleges to shine.
Click here to learn more about the administration's efforts to strengthen community colleges.
REAL LIFE. REAL NEWS. REAL VOICES.
Help us tell more of the stories that matter from voices that too often remain unheard.