If you're anything like me and my family you, too, spent some time thinking about what you are thankful for over the Thanksgiving holiday weekend. My 5-year old started us off this year, and her list included her mama and papa, her 2-year old sister, her friends, her school, the earth and herself.
My daughter's list went on for a while longer, but it was those last two things she was grateful for that struck me in particular. At a time when world has signed up to a set of Global Goals to help eradicate poverty, improve global health and accelerate development that, for the first time, look at people and planet together, my little person already connects the planet and herself. She knows instinctively that she will not thrive if our beautiful planet does not.
On my list of things that I am most thankful for are my two girls, now aged two and five (almost six!). Perhaps that's why WaterAid's new campaign to reach 130,000 new moms and their families worldwide with lifesaving water, toilets and hygiene from the very moment they give birth hits particularly close to home for me.
Take a step into Kiomboi Hospital
I didn't have to carry water to the hospital in order to give birth to my bright and beautiful girls. I didn't have to worry about where I would find a private place to relieve myself, or wash after their birth. I didn't worry that the doctor or nurses might not have had water to wash their hands, or whether the sheets had been washed. And while, like all new mothers, I had plenty of worries, I am so grateful that I didn't have to worry about these basic necessities for a safe birth.
That millions of moms around the world today are not able to give thanks for the same fact is not lost on me. Take Kiomboi Hospital in Tanzania, for example. It's a place where families are made, and where life begins. Except when it doesn't. Because although up to 30 women give birth here every day, Kiomboi only has running water for one hour a day.
Over the next few weeks, I'd like to invite you to join me in getting to know everyday life in the hospital -- stories of heartbreak and stories of hope, from the mothers and from the staff who work so hard in such difficult circumstances to make childbirth the joyful experience it should be, starting with this short film:
This is our chance to save lives
During the Thanksgiving holiday, we gave thanks. Now it's time to give more.
On December 1st, we all have the opportunity to take part in #GivingTuesday, a global day of giving. In honor of the day, your donation to WaterAid made on December 1st will be matched dollar for dollar up to $100,000, reaching twice as many moms and their babies.

This is the perfect time to put our money where our mouth is. To give generously of ourselves, our time, and yes, our money, to the causes that we care deeply about. And there are many.
Many of us are deeply concerned about the state of people and planet at this time. At time where our basic identity as a nation, and as people is being challenged, shaped, stretched. This is a time to give and to give generously. Give so you feel it. Make it meaningful. Make it count.

As for me, water, sanitation and hygiene are on both my #GivingTuesday and wider holiday 'give' lists. I am grateful to know that I can do something about the preventable tragedies that I see around me by giving another mama and her family the gift of clean water. This holiday season, I invite you to put clean water and toilets on your list, too.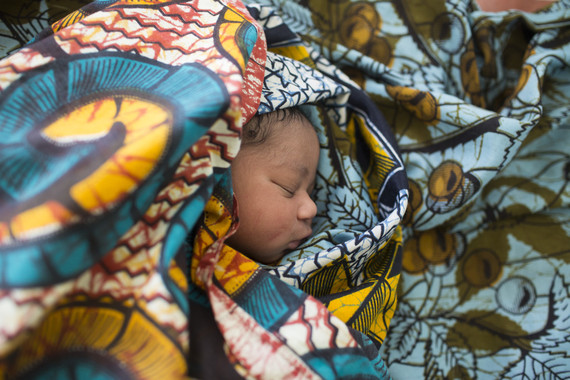 Nobody is more thankful for the precious gift of clean water than Mariane. Her son Angelo, (pictured above) was the first baby born in their village in Madagascar after the community received clean water. Photo credit: WaterAid / Anna Kari
Calling all HuffPost superfans!
Sign up for membership to become a founding member and help shape HuffPost's next chapter