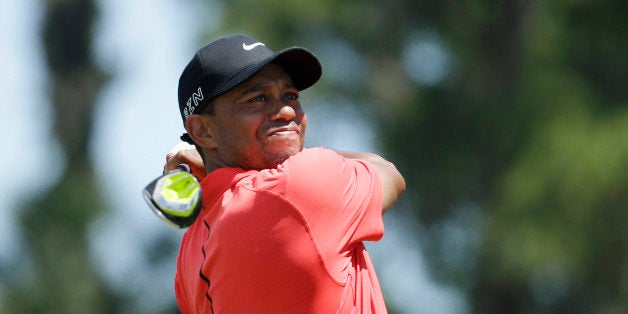 Tiger Woods is a name that resonates with a lot of people for a variety of reasons. Most people automatically think of all the great golf accomplishments and records he has broken. Others think of his relationship troubles and his inability to remain faithful to a single woman. But something that is really worthy of attention when it comes to Tiger Woods is how he helped a young boy who was recently being bullied.
When Tiger Woods heard about a 12-year-old boy named Dillon who was being picked on at school because he stutters, Woods sent the boy a letter encouraging him to stay strong and telling him he knows what it's like to be different. Tiger reveals that he too stuttered as a child.
This is the Tiger that Earl Woods raised. The late Earl Woods, Tiger's father, is looking down on his son and smiling today. Earl Woods perhaps drew as much notoriety as Tiger himself. Earl was known in the golfing community and amongst the public for his tough but fair parenting style. Tiger Woods is one of the most mentally tough golfers, if not athletes, of all time, and it was Earl Woods who made him so mentally tough.
When Earl Woods passed away in 2006, Tiger said of his dad, "My dad was my best friend and greatest role model, and I will miss him deeply. I'm overwhelmed when I think of all the things he accomplished in his life. He was an amazing dad, coach, mentor, soldier, husband and friend. I wouldn't be where I am today without him, and I'm honored to continue his legacy of sharing and caring."
Yes, of course, it's easy to make the argument that Tiger hasn't always been the best role model based on his personal life, but deep down, the boy that Earl Woods raised will always live inside of Tiger Woods. When you put the fame aside, the golf clubs away and forget about his personal indiscretions, Tiger Woods will always possess the world-class values that were drilled into him by Earl Woods. Reaching out to this young boy being bullied is the perfect example. It's something that Tiger wasn't forced to do. It's something he chose to do.
Earl Woods taught Tiger about personal integrity, focus, commitment and being a good person. Earl was known for praising Tiger for his efforts, not his accomplishments. He was known for making Tiger always fight, never giving up no matter what the circumstances. It's part of the reason I believe Tiger made 142 consecutive cuts, a feat I don't think anyone else will accomplish for a long time if ever again.
We all make mistakes and use bad judgement from time to time, and Tiger Woods is certainly no exception. But the truth remains Earl Woods did an incredible job raising Tiger. He started his son in golf at a very early age, and coached him exclusively for his first years in the sport. The dedication this man showed for his child is a model for all moms and dads raising children today.
Earl Woods said he made it clear his purpose was "not to raise a golfer. I wanted to raise a good person." Despite the bad reputation that follows Tiger these days, here's proof that there's still a good person living inside of him. Through stories like this one, those values that Earl Woods instilled in Tiger continue to live on.
Earl Woods wasn't just a role model for Tiger. He was a role model for all of us.
REAL LIFE. REAL NEWS. REAL VOICES.
Help us tell more of the stories that matter from voices that too often remain unheard.