Warning: Spoilers for "This Is Us" Season 1 ahead. 
Tuesday night's finale of "This Is Us," titled "Moonshadow," gave fans some of the answers we've been waiting for, but also left viewers with a whole new set of questions.  
Although we didn't learn how Jack (Milo Ventimiglia) dies (sigh), we will still be mulling over every little detail until the show returns this fall.
The episode started off with an intoxicated Jack arriving at Rebecca's (Mandy Moore) show after driving to the venue to apologize. But after Rebecca's bandmate, and ex, Ben (Sam Trammell) tries to kiss her backstage, she regrets going on tour and tries to reach Jack. Little does she know he's right around the corner.
Jack goes to find Rebecca, but ends up running into Ben, who tells him he's sorry he "crossed the line." That's when Jack loses it and punches Ben before Rebecca walks in, shocked. She tells Ben the tour is over before driving Jack home.
Once back at House Pearson, the couple faces off in a screaming match about their lives, relationship and missed opportunities. The next morning, Rebecca asks Jack to move out ― and move in with Miguel (Jon Huertas) ― so they can have some space. (Space, what? These two? NO!)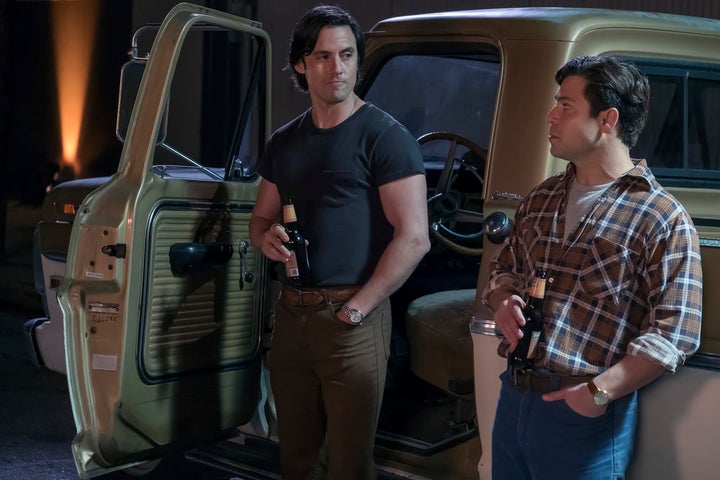 The finale also gave us a look at Rebecca and Jack before they were Rebecca and Jack ― and let's just say we didn't know Jack. 
We are introduced to Jack's unstable family life and his hostile relationship with his father. In order to move out of the house, Jack and his friend Darryl (Jeremy Luke) enter into a risky gambling situation so they can earn some fast cash. All doesn't go as planned, of course, and the "bad guys" steal Jack's money after a poker match. 
As they try to get Jack's cash back ― by attempting to rob a restaurant's cash register ― Jack hears Rebecca singing onstage, and the course of his life immediately changes. He trades in a life of crime for a life of love. (And we start crying again.)
Back in separation limbo, Jack reminds Rebecca of this first meeting, telling her, "You're not just my great love story, Rebecca, you were my big break. And our love story, although it may not feel like it right now, I promise you, it's just getting started."
Although that speech was epic, Jack still leaves the house, but gives us hope that love will prevail. (Well, until we find out why and how he died). 
Other notable moments: Kate (Chrissy Metz) is going to pursue a singing career, Randall (Sterling K. Brown) wants to adopt a baby, and Kevin (Justin Hartley) seems to be making it work with Sophie (Alexandra Breckenridge). 
"[The finale] is going to answer some questions and make people ask some new ones, and change a lot of people's perceptions about where they think the show is going," showrunner Dan Fogelman told Entertainment Weekly ahead of the episode. "Without giving much away, it changes everything — and maybe in ways people might be talking about, maybe in other ways."
Now we just have to wait months and months to learn what is actually going on... 
REAL LIFE. REAL NEWS. REAL VOICES.
Help us tell more of the stories that matter from voices that too often remain unheard.
BEFORE YOU GO
PHOTO GALLERY
The Ten TV Shows America Couldn't Get Enough Of In 2016