It's not every day Ms. puts a man on its cover.
In choosing the cover for this special Inaugural issue, Ms. wanted to capture both the national and feminist mood of high expectations and hope as the 44th President of the United States takes the oath of office.
Expectations have only grown since the election, with President-Elect Obama now enjoying over 80% of the public's support. Most people wish him well, and indeed hope he does "save" us from economic disasters, unending war and occupation,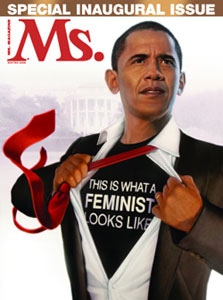 global warming, the decline in our international reputation, and relentless attacks on women's rights, civil rights, human rights, science, privacy...the list goes on.
When the chair of the Feminist Majority Foundation board, Peg Yorkin, and I met Barack Obama, he immediately offered "I am a feminist." And better yet, he ran on the strongest platform for women's rights of any major party in American history. Feminist Karen Kornbluh, the platform's principle author, ensured women's rights, opportunities, advancement, and issues were addressed throughout the historic document.
Never has it been easy fighting for equality and social justice. The politics of Washington, our nation, and our world are tough. We have spent far too many years fighting to hold the ground we had already gained. Now is the time to move forward. We are in one of those rare transformational times in history.
But we are not giving President-Elect Obama a blank check. For our hopes to be achieved, we must speak out and organize, organize, organize to enable our new president's team to achieve our common goals. Ultimately, we must hold our leaders' feet to the fire or, to put it more positively, uplift them when they are caught in the crosscurrents of competing interests.
Now is our time to think big. We cannot settle for less...too many women's lives, too many people's lives, depend on it.
In this spirit, the Editors of Ms. magazine asked our readers, feminist leaders, experts, and activists to share their visions of what must be done to move forward at this extraordinary time. In the current issue of Ms., read their visions for change and add yours.
Eleanor Smeal is president of the Feminist Majority Foundation and publisher of Ms. magazine.