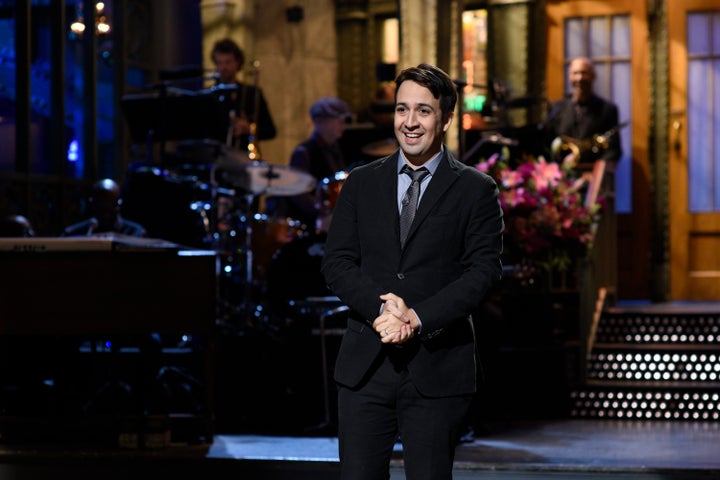 If you're anything like me ― or if you breathe oxygen ― you couldn't take your eyes off the screen as Lin Manuel Miranda hosted SNL this weekend. I rushed home from the Marquis Theatre after our Saturday night show with "On Your Feet" cast members in tow, stopping only to pick up the obligatory snacks, and posted up to watch a luminary, and a friend, be one of the very few Latinos to ever (out of 810 episodes over 42 seasons) host SNL. It seemed so far away and fairytale-like although he was just a few blocks away at NBC. Lin is no stranger to making history by now, but what made this night so meaningful to me? The word I will use now is as controversial as it is relevant. That word is: revolution.
My father came to this country from El Salvador at the age of 16. Due to a splintering civil war in his homeland, my grandparents sent their children to a magical place where opportunities and freedom would welcome them with open arms: America. My mother was lucky enough to be born in America due to the bittersweet cocktail of pain and sacrifice lived out by her Cuban-exile parents (also due to a revolution). I was born in Atlanta, Georgia and grew up in the good ol' USA, absorbing my two very distinct cultures with every fiber of my being. I never felt "fifty percent" Cuban or "fifty percent" Salvadoran. Instead I feel as though I get to function at 200%. Fully infused by the Caribbean and Central-American flavors, giving me a more panoramic (dare I say objective) view of the world. I have a full sense of pride for being Latin American, without having to choose only one specific country or flag to hail to. (I use the term Latin American as a gentle reminder to anyone reading this that these 20 countries are indeed part of the Americas.) Somehow, the Hispanic culture beams bright despite our collective history of pushing through a seemingly constant struggle. And we have the migration patterns to prove it. This country is built on migration patterns (not only from Latin America) and I am a living example. So is Lin.
The word revolution itself stems from the Latin "revolutio" which simply means "a turn around". Saturday night, not only did we witness a Broadway star "turn around" and take his official place as a pop culture phenomenon- but we saw a man who has awakened a generation by forcing individuals to turn around and rethink their strategy. This is the genius of Lin's work. There has been an intellectual and cultural revolution, one that celebrates diversity and originality at a point in history where other forces want to build walls out of pure fear. I'm honored to have joined the Broadway community at a moment like this. Sure- we are happy for our boy Lin, but it goes far beyond ability or performance or commercial success. We tell a parallel story eight times a week at "On Your Feet". Our narrative took place 30-40 years ago, and yet Saturday night was a reminder that (somehow in 2016) we are still fighting that same fight. Fighting for the "mainstream" to accept diversity, and celebrate our differences… Allowing talent to be the center of conversation, rather than color or ethnicity... For our culture to be represented and taken seriously as part of the intricate, colorful, woven pattern that keeps this country together.
This year, making my Broadway debut as the inimitable Gloria Estefan has been a serious undertaking. And I'm not referring to the demands of keeping a voice, soul and body in tact to handle this role. You see- I watched Lin hosting SNL and immediately understood the pressure and responsibility on his shoulders. I saw it in his eyes. It was immediately recognizable because I have studied that look on Gloria herself. They are simply being themselves and doing what comes most natural, almost giving the impression that their brilliance occurs by accident. These maestros have skill. But it is their courage that I immediately respect, and that is what inevitably draws in the masses. The courage to say "this is exactly who I am."
This year, we observed a significant moment in history as Daveed Diggs, Leslie Odom Jr., Cynthia Erivo and Renee Elisse Goldsberry won their respective Tony Awards. As long as I have been on Broadway, 46 street has been home to "Kinky Boots", "The Color Purple", "Eclipsed", (the short-lived yet stunning) "Shuffle Along", a little unknown production called "Hamilton", and of course my beloved "On Your Feet". I am proud to stand among such greatness, with all of us given a safe place to courageously proclaim "this is exactly who I am".
It has now been one full year since we began previews, and all politics aside, there seem to be very legitimate reasons why we are still standing strong. These stories we tell have a lasting effect on people, long after leaving the theater.
I get to feel the effect of Gloria Estefan's music as it wins over a crowd of 1600 people eight times a week on the "great white way". But the relevance lives
on because she had the audacity to say "this is exactly who I am" before anyone else, defiantly facing adversity both as an immigrant and as a woman; paving the way for the rest of us. She and Emilio Estefan committed to their mission and knew then what the rest of us know now- people want to see themselves represented in the arts in a genuine, meaningful way. To elevate an entire culture with that kind of courage is a revolution, and that is what makes someone an icon. Insert: Lin Manuel Miranda.
The skit that really got me on Saturday night? Watching Lin as "Diego", adorably describing life in America to his mother from an obscure phone booth. This monologue was almost entirely in Spanish, and aired on national television with no English subtitles. If that isn't revolutionary- I don't know what is. In the words of Miranda himself "Look around, look around…" and in the words of (our book writer) Alex Dinelaris "THIS is what an American looks like."
REAL LIFE. REAL NEWS. REAL VOICES.
Help us tell more of the stories that matter from voices that too often remain unheard.