The Pollination Project gives $1,000 away, every day, to change-makers all over the world who are creating more peaceful, just and sustainable communities. We are honored to support a wide variety of projects this week, all of which are promoting community health in their own way.
Parama Anandan runs the Foundation for Research and Sustainable Development (FRSD) in Tamilnadu, India. FRSD promotes ancient wisdom, traditional knowledge and indigenous medical practices. One focus area is documenting and promoting cost-effective, traditional and nature-based water purification systems. FRSD helps communities source and utilize locally-available medicinal plants, seeds and tubers that cleanse water while retaining its natural benefits. This work has the potential to save millions of people from waterborne diseases.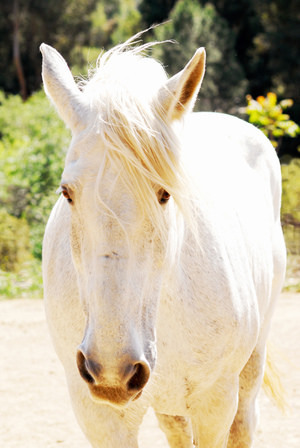 Barbara Stam, a teacher at Youth Opportunities Unlimited (Part of the Los Angeles Unified School District), along with fellow teachers Nora Zaragoza and Misty Cervantes, are supporting 60 students to learn about the web of issues that arise when animals are exploited for economic gain. These students will visit Silver Horse Healing Ranch, a sanctuary that works with horses who were formally used to harvest Premarin. Premarin was a popular hormone treatment that has now been linked to cancer, causing thousands of horses to need to be rescued, since they were no longer economically necessary. Students will create photo essays, art and videos and present them during a school assembly to educate other students about these issues.
Martin Montgomery is member of the Washoe Tribe of Nevada and California who, along with the dedicated commitment of Brandi Sargent and the Red Hoop Singers, is coordinating the Red Hoop Round Dance in Gardnerville, Nevada. This drug and alcohol-free event is a Community Round Dance, a multi-thousand year old tradition where a social dance held during the winter months brings families together to visit, dance, sing and celebrate life. The event seeks to bridge the separation created by us/them divides of culture and age, as well as providing a meeting space for over 3,000 Native visitors from throughout the United States and Canada.
Jessica Rohrer is an elementary-level school nurse in Port Allegany, Pennsylvania who is passionate about community health and wellness.  She is bringing the Family Fitness Challenge, an afterschool program that works with students and their families, to her town. The program will meet twice a week, for twelve weeks, and each session will include a health and wellness lesson on a topic related to nutrition or physical activity, a healthy vegan snack and a thirty-minute period of organized physical activity.  By teaching children and their parents how to eat healthy and maintain an active lifestyle, the Family Fitness Challenge can help decrease the prevalence of childhood obesity in this rural area.
Margaret Coleman, along with Josh Hosterman, Amy Joy Hosterman, Liz Ensz, and James Lentz, are hosting the Do-It-Yourself Sustainable Adventure Art Symposium in Ewen, Michigan, a small rural town in Michigan's Upper Peninsula. Utilizing the local town hall, the team will be showcase the work of both community and national artists, as well as hosting talks and workshops. Emphasis will be placed on using sustainable materials, and integrating art into the community as a means of encouraging a creative, proactive way of life for everyone. They are actively working to restore and protect the land, and to teach environmentally friendly art practices.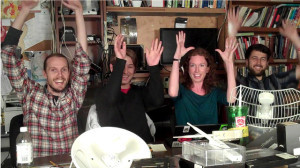 Marc Juul co- founded the People's Open Network, a community-run decentralized libre wireless Internet and local network in Oakland, California. "We believe in the creation of local internets and the cultivation of community-owned telecommunications networks in the interest of autonomy and grassroots community collaboration." says Marc. With this belief, People's Open Network provides local residents with off-the-shelf wireless routers reprogrammed to run an open source operating system that connects them wirelessly to the rest of their community. Also, by allowing the opportunity to share of a portion of their internet connection with the rest of the local network, People's Open Network focuses on creating resilient and sustainable alternatives to current Internet Service Providers. Their goal is to empower and encourage individuals to become more than consumers of technology and information- to become community collaborators.
mike nicholson's involvement in activism and social justice campaigns for both human and animal rights has led him to launchNeither Man Nor Beast: Patriarchy, Speciesism and Deconstructing Oppressions, a webinar to advocate for intersectional liberation across species and social identities. In his attempt to empower minds, bodies and communities, this event will create a space to discuss critical feminist theories and allowing individuals to share their unique experiences under patriarchy and speciesism. mike believes conversations of this nature can lead communities to explore how best to integrate these considerations into advocacy for the rights of non-human and human animals alike.
Congratulations to our grantees this week for their outstanding work to bring justice, peace, health and compassion to their communities. These are just a few examples of what a little seed money can do when put in the hands of someone with a vision and a plan to change the world.
REAL LIFE. REAL NEWS. REAL VOICES.
Help us tell more of the stories that matter from voices that too often remain unheard.