It is Sunday, January 22, 2017, the day after the Women's March on Washington (WMW). This is a letter to a friend.
My dearest R., I love you, so much. I am having postpartum protest blues, today, after such a big high, and also feel motivated and strong, happy and proud.
I wish I had asked M. from the Associated Press for his email address. That man is a mensch.
There were about a million people in DC, and, all over the country and across the world, we know there were thousands and millions more, but, in so many ways, I felt and feel like the experience of the WMW was and is about our friendship, as much as it was and is, intensely, about solidarity and fighting the good fight, peacefully; moving forward from here, keeping the momentum; "it's a marathon, not a sprint"; all that good and exhausting, true, true stuff.
This edited, public letter is a labor-of-love about you and your unrelenting power, your generosity and kindness; it is intended to comment directly on how the ways you live and love deserve all kinds of applause, hand waving, typed and signed and vocalized praise. It is also obviously a message to readers.
I will spend the rest of my life remembering seeing that little girl on the lamppost smiling broadly, holding up the vertical sign with the letters L I B E R T Y, as we turned the corner toward the White House in the muddy, muggy streets, as women decades older than she chanted into the megaphone. Their longstanding experience encouraged her pride and fed her empowerment. There were hundreds of intergenerational moments like that, each unique and personal, while macro-scale effecting.
Yes, this is what Democracy feels like.
Like many others, I will continue to remember, too, and reflect upon, today and into the future, what it feels like and means to be and to have been with people whom I know personally, respect, and love in the sea of deep spirals of power that manifest during a protest. I'm thinking, too, of course, of all of the people on whose behalf we marched, as they wanted and requested. And, I'm thinking about the people packed with us on the metro and, later, in the streets, when we waited to march forward, with no cell phone service and no access to the sidewalks or curb cuts, and no way (as you said) of organizing easily -- if at all -- beyond the people immediately in proximity to us, because it was so crowded.
The countless spontaneous, beautiful interactions, and the in-the-moment stories that become paradoxically indelible while likewise being transfiguring palimpsests are on my mind and thumping through me.
We couldn't hear what the speakers were saying. We didn't know, for example, that Angela Davis was on the mic -- until my lover told us, during the five minutes we had phone reception, and I managed to reach her (hundreds of miles away), as we turned toward the White House. We couldn't see any of the monitors. At various moments, we didn't know which direction things would be heading. What a metaphor.
Singing "If I Only Had a Brain" (from The Wizard of Oz, in honor of brain surgeon, Dr. Ben Carson), near HUD offices, a song I don't find ableist -- although its title, taken out of context, sure could be -- then eating almost-pizza and sitting down for the first time in hours, near the metro station. Laughing and having some water. Priceless.
The late 70s/80-ish-year-old teachers who had been friends for nearly 50 years, trapped in the crowd on Independence, yearning for the Port-a-Potty, are here in my home, energetically. The more talkative of the duo telling us she questioned why she showed up, and maybe she was too old to be doing this, she wondered aloud.
I remember her warm eyes meet mine when she said that people had tried to destroy everything that she and an entire generation had worked for by electing this new President. That the young people didn't know what had happened in the past. Then we discussed how that was exactly why it was so vital that she showed up (since she could...there would have been no judgment, obviously, if that had not been possible, for whatever reasons).
I could feel that she knew I meant it when I said that listening to her was just as important if not more so to me than whatever was being shared by the folks speaking from the podium, whom none of us could hear, see, or access otherwise.
The two 35-ish women sandwiched in front of us, one from Atlanta and her friend a local, with whom we talked about the Syracuse Cultural Workers pins two of us in our emergent quartet were wearing. Later, the woman from Atlanta ran through the densely parted crowd, to assist in a medical emergency.
That baby, laughing in his mother's arms, throwing himself back, repeatedly, looking up at the sky, his parents smiling generously as the crowd within the crowd cheered in celebration of his pleasure. His face framed later by the crook of your arm about a foot away, holding way up toward the same sky the sign that you made against corporatization.
You, another mother of feminist sons.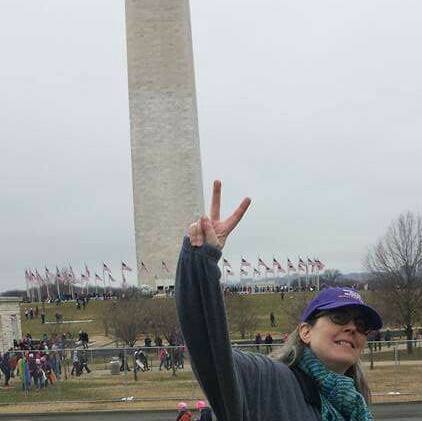 Image: The author, at the Women's March on Washington (1/21/17), waving a peace sign in front of the Washington Monument, wearing a purple Women's Rights National Historical Park (Seneca Falls, NY) baseball cap adorned with Syracuse Cultural Workers button reflecting the intersections between and across civil rights struggles. Photo courtesy of Rebecca Ribeiro.
Calling all HuffPost superfans!
Sign up for membership to become a founding member and help shape HuffPost's next chapter