This article was originally posted on my blog. You can read it here if you like.
December 19, 2016 was an unprecedented show of resistance across the country, as protesters showed up in all 50 states in one last-ditch effort to persuade electors not to confirm a president-elect who is wholly unqualified on every level, and may have actually been put in office due to the hacking of our election by a foreign government (Russia). Initially, I had planned to simply give an account of what happened through the course of the day, as well as encouragement to those involved in the movement. Then this happened:
"Dozens of protesters chanted obscenities and were removed from State House grounds by SLED officers." ― Ben Hoover, ABC News 25, Columbia, SC
This quote comes from a local news station, is purposely misleading at best, and is an excellent example of how the mainstream media twists the truth to better fit their narrative and agenda. I was actually there, so let's examine the facts. Dozens of protesters showed up to the State House to promote unity and equality, and to demonstrate solidarity with others of like-mind from across the country, who also felt compelled to exercise their constitutional right to protest an act that is not in the best interest of anyone but a very select few. The rally was peaceful. In fact, out of the dozens of people who showed up, there was only one person who legitimately chanted obscenities and was escorted out of the building, not off the grounds as the quote claims, where he stayed and continued protesting peacefully, even after the emotionally charged incident. Do you see why the above statement is so irresponsible? It gives an entirely wrong impression of all but one protester in a brief moment; thus, discrediting our demonstration, and undermining the real message and purpose. It's dangerous. Don't buy in.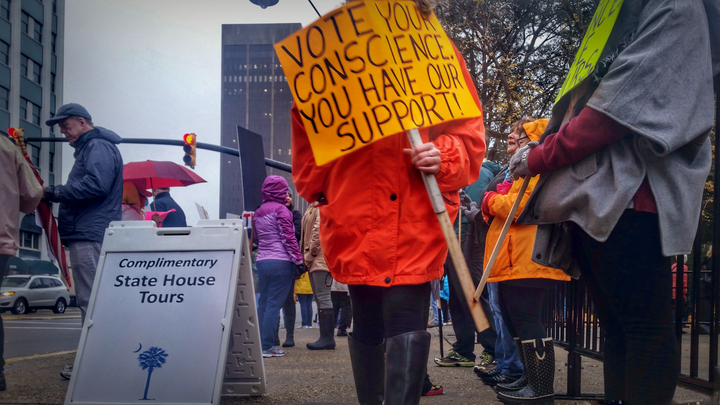 Now that I've gotten that out of the way, I can get back to my original purpose. The morning began with some good, old fashioned protesting. Dozens lined the street in front of the State House, holding signs with messages opposing the confirmation of Donald J. Trump as our next president.
What followed was a series of speakers who energized the crowd with motivational messages promoting unity and equality, as well as a shared sense of responsibility to protect our nation from the swamp monsters getting ready to infiltrate Washington DC. With high level appointments and cabinet picks such as, Steven Bannon, former CEO of Breitbart; Rex Tillerson, current CEO of Exxon Mobil; and Andrew Puzder, current CEO of Hardee's and Carl's Jr., it is clear where this administration is headed. And that's only the tip of the iceberg. I shutter to think about what is being hidden.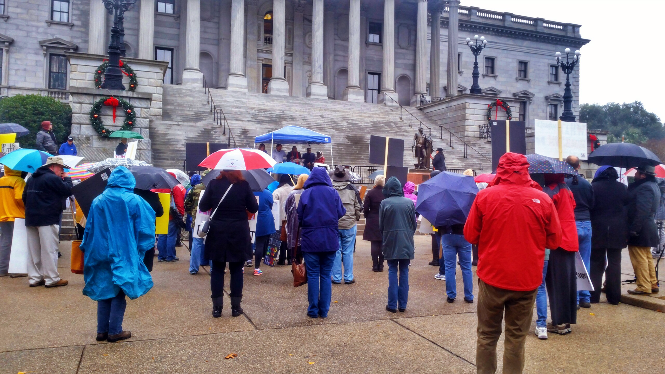 Next, the demonstration was moved inside in time for the electoral vote. So many people lined up, even the overflow area was filled with protesters and there were still people left in the hallway watching on their phones. Not surprisingly, the electorate confirmed Donald Trump. (This is when the aforementioned emotional outburst of one protester occurred.)
Truth be told, no one I spoke to expected anything else to happen. That wasn't the point for most of us. We were there to unite with others who know what's happening is patently wrong and aren't afraid to speak out against it. We showed up to let our marginalized brothers and sisters know they are not alone. And we did it to demonstrate to the government that we will not back down. We will be there to stand up and fight back every time a dangerous and/or unjust act is visited upon the American people by our new regime.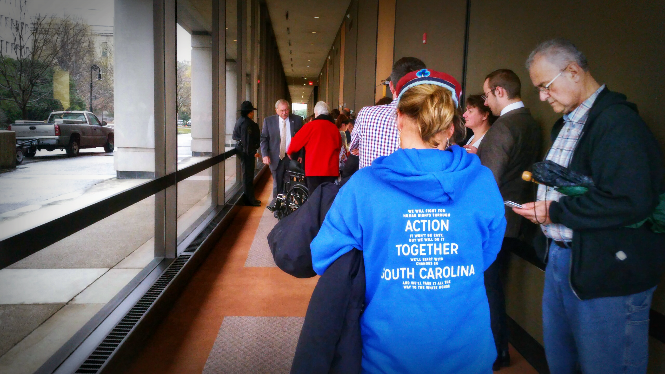 After the vote was officially announced, a group of protesters remained on the grounds for some time as an additional show of resistance. We marched peacefully and chanted, without obscenities. We even sang uplifting songs together.
The message outside was laden with radical love. Why? Because, to paraphrase Martin Luther King Jr., "hate cannot drive out hate; only love can do that." The call-to-action of organization and mobilization was evenly paired with one promoting the understanding of the everyday Americans who supported Donald Trump. Many are genuinely hurting and in need. Instead of judging and chastising them, we should try to understand their plight to have any chance of building a united front.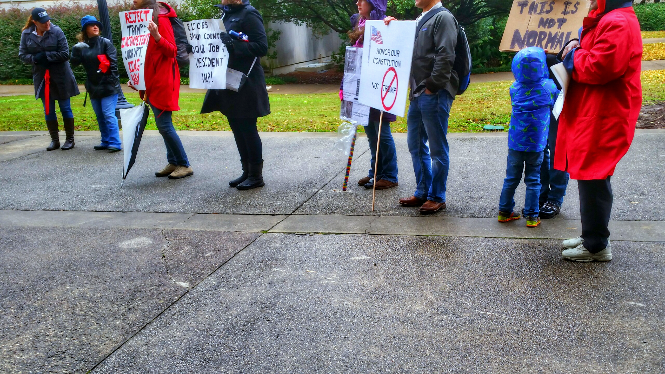 I think Will Bowen sums it up well in his book Complaint Free Relationships: Transforming Your Life One Relationship at a Time:
"Hurt people hurt people. We are not being judgmental by separating ourselves from such people. But we should do so with compassion. Compassion is defined as a 'keen awareness of the suffering of another coupled with a desire to see it relieved.' People hurt others as a result of their own inner strife and pain. Avoid the reactive response of believing they are bad; they already think so and are acting that way. They aren't bad; they are damaged and they deserve compassion. Note that compassion is an internal process, an understanding of the painful and troubled road trod by another. It is not trying to change or fix that person."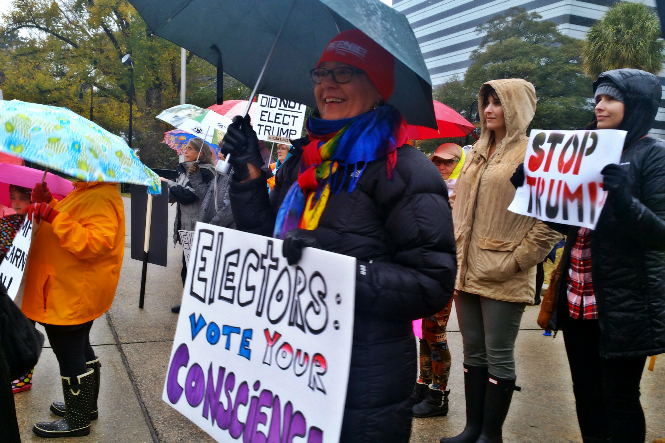 Where do we go from here?
We seem to be left asking this question a lot lately. Here's what I think we should do: Keep going. Don't give up. Push forward. Do what's right. Resist fascism. Be the change. Stand together and fight injustice.
Those who can, must show others how to find their voices. This is the only way to make a sustainable change. We the people have to rise up and speak out. There is no other choice.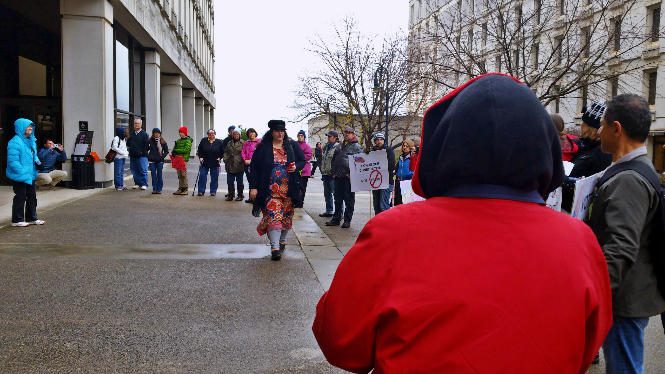 I would like to conclude with a call-to-action I hadn't planned on making when I first decided to cover this historic event, but was reminded is critically necessary. If you are like me and always snapping photos with your phone, start turning your camera toward what's really going on around you, if you haven't already. We need you. You are a critical part of the solution. Start documenting the efforts in your own community, and post them online. Write articles, blogs, and social media posts using your photos to chronicle the movement as it crystallizes around you.
If you see injustice occurring and the only "weapon" you have to fight it with is your camera, take it out and start recording. In this new, post-fact America, we cannot rely on those in charge, or their mainstream media puppets, to report the truth. It has now become our responsibility to open our eyes, take a shot, and report on what is actually happening. We must all look out for one another in every way possible.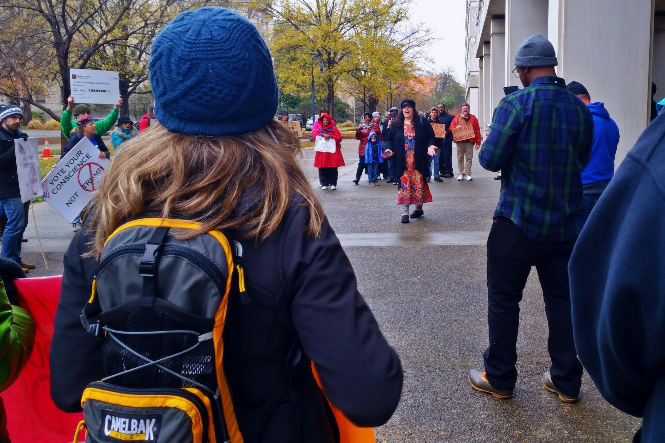 Technology has made it incredibly easy to share snapshots of your personal life with anyone and everyone you want. Imagine what we could do with that technology if we all used it to capture snapshots of life that would allow us to illuminate reality, and educate each other about what's happening in our own corners of the world. Knowledge is, always has been, and always will be, power. Seek it out, empower yourself, and spread the love.
Photos included in this article are part of a larger project detailing the struggle for true equality in my state, and was started approximately a year and a half ago.
Popular in the Community