Co-authored by Daina Falk, TV personality, celebrity cook, spokeswoman, and founder of Hungry Fan.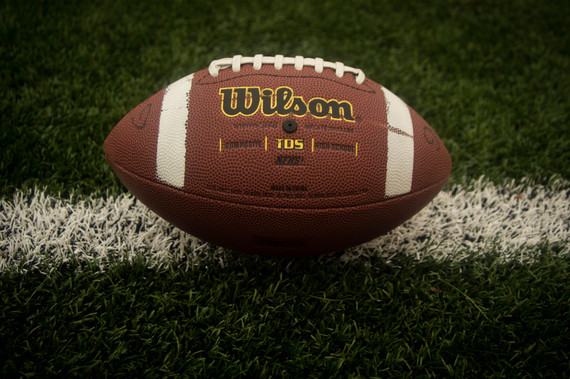 We here at Hungry Fan and Avelist have a lot to be grateful for this Thanksgiving. And we've got a sneaking suspicion that NFL football fans and front offices do too. So we compiled a list of what every team is thankful for on this national day of thanks.
Arizona Cardinals - Cardinals management is thankful that Cardinals fans are content to hold the distinction of being the oldest (continuously run) professional football franchise in the U.S. because it has yet to give them a Super Bowl Championship.
Atlanta Falcons - Falcons management is grateful that crowd noise (real or piped-in) has had relatively little bearing on the team's ability to win at home this season.
Baltimore Ravens - The team may be having an abysmal season, but at least they've got themselves an "elite" quarterback.
Buffalo Bills - Bills fans are appreciative that Rex Ryan's eating a lot less these days, which means more food for everybody else -- except dogs.
Carolina Panthers - One word: Cam.
Chicago Bears - Bears fans can't thank Mike Ditka enough for donning that Packers vest in the McDonald's commercial.
Cincinnati Bengals - Cincinnati fans are grateful that Mad Magazine cover boy, Edward E. Newman, grew up into such an awesome NFL quarterback.
Cleveland Browns - Cleveland fans are thankful that the city of Cleveland got LeBron back. Go Cavs!
Dallas Cowboys - Cowboys fans are grateful for the Texas High School Football Playoffs. (At least there's a winning Texas team at AT&T Stadium).
Denver Broncos - Broncos fans are grateful for this season's record, for Peyton Manning's record passing yardage, and that they have a backup quarterback on the roster.
Detroit Lions - The Lions are thankful that year after year they can always count on being home for Thanksgiving dinner.
Green Bay Packers - Cheeseheads are grateful for their discount turkey check.
Houston Texans - Texans fans are thankful that JJ Watt is everywhere! On and off the field.
Indianapolis Colts - Colts fans are grateful they've got luck on their side.
Jacksonville Jaguars - Jags fans are grateful for all the frequent flyer miles. Trips across the pond can really add up!
Kansas City Chiefs - Chiefs fans are thankful for... themselves. Congrats to the loudest cheerers in the NFL!
Miami Dolphins - Dolphins fans are grateful that dolphins are smarter than eagles -- at least on the mammal/avian intelligence spectrum, that is.
Minnesota Vikings - On a holiday that we Americans celebrate by eating a large bird, Minnesota fans are thankful that the Vikings, known for brutality, weren't notorious for killing birds. If only the architects of their new stadium were as avian-friendly...
New England Patriots - Pats fans are super appreciative that no one's let the air out of their win streak.
New York Giants - Giants fans are grateful that JPP didn't get an unsportsmanlike conduct penalty for giving a finger.
New York Jets - Thank goodness for teams like the Browns, Ravens, Jaguars, Titans and Lions. In years and years of being terrible, it's good to finally see teams with even worse losing records. Just Endure the Suffering no more!
New Orleans Saints - Saints fans are appreciative that owner Tom Benson was as effective at permanently moving the team to San Antonio post-Katrina as his 13.5 foot bronze statue (outside the Superdome) is at catching a touchdown on any given Sunday.
Oakland Raiders - Raiders management is so grateful for the chance to leave O.Co Coliseum that's it willing to share a stadium in Los Angeles with the Chargers, one of its most hated rivals.
Philadelphia Eagles - Eagles fans are thankful that Mark Sanchez is back... and that he never left.
Pittsburgh Steelers - Steelers fans are grateful that Big Ben's still ticking.
San Diego Chargers - Chargers fans are thankful that their team is in the top 4 in their division and top 3... in the list of possible relocation candidates.
San Francisco 49ers - Niners fans at Levi's Stadium are grateful that the anticipatory excitement that comes from waiting for your in-seat concession delivery is just enough distraction from what's actually transpiring on the field.
Seattle Seahawks - Seahawks management and coaching staff are forever grateful for #12. (How else do you come back after losing the Super Bowl on the one-yard line?)
Tampa Bay Buccaneers - Bucs fans are in "lovie" -- grateful that their new coach is seemingly turning things around. Finally.
Tennessee Titans - Though the team may not be putting up a lot of W's this season, at least the fans can feel grateful for a franchise that's figured out how to pack their stadium to the brim with clamoring fans on a sellout streak. Errr... umm...
Washington Redskins - The Cleveland Indians are grateful for the Washington Redskins.
Hungry Fan is a sports lifestyle brand that curates the sports fan's Game Day experience. From food & drink to gear, traditions, Game Day culture, and an insider's look at teams & athletes, Hungry Fan makes a Game Day gathering as exciting as the game itself.

Want more? Head over to Avelist. Learn from others. Adult together.
Calling all HuffPost superfans!
Sign up for membership to become a founding member and help shape HuffPost's next chapter