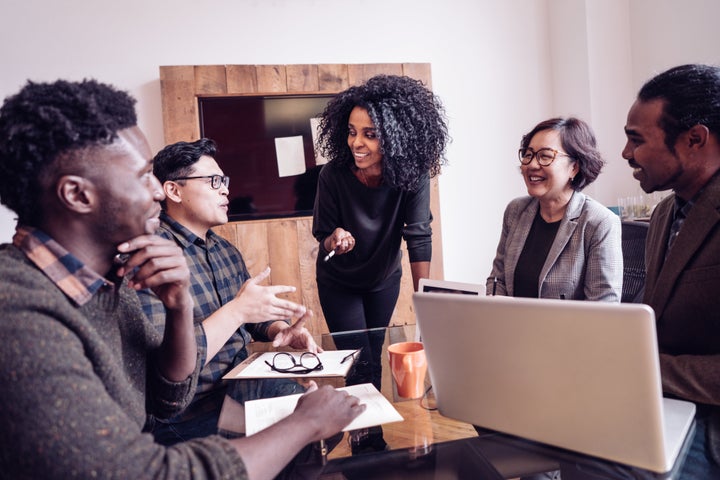 Corporate leaders worried about attracting new talent in the coming year can take a cue from John Heinen's experience. Three years ago, John was enjoying his job as a senior manager in PwC's IT Business Management group. He felt challenged and believed he was contributing to the firm's success, which was important to him. He was living in Tampa, Florida, with his wife, Amanda, who also works at PwC, and he liked it there — they both did. However, they had lived in Florida for a long time, and were ready for a big change. They asked their managers if they could move to our offices in Sacramento, and they agreed, launching a new chapter of their lives on the West Coast.
Particularly emboldened by the move, John began to think more deeply about his personal purpose — helping and supporting others — and about what excited him most, the power of data. He decided to pursue a master's degree in data science, and when our new Digital Accelerator program was announced last summer, he jumped at the chance to participate. He wasn't alone. More than 3,500 PwC employees across the firm applied to be part of the first cohort of 1,000 participants. Digital Accelerators are deepening their skills in digital specialties such as AI, robotic process automation and digital storytelling. They're doing so in order to be able to help PwC teams in every area of the organization use these tools to automate and improve processes and reduce manual labor.
In August, John took a new role at PwC as a data scientist, and he finds so much meaning in his work, he often challenges himself to take on new AI and coding projects outside the office — he thinks of coding as a hobby now. The Digital Accelerator program has had an enormous impact on John, and he's especially grateful for the opportunity to future-proof his career while fulfilling his purpose to help others. He is also leveraging his skills in classrooms with PwC as part of our Access Your Potential commitment to teach underserved students STEM skills. "There are lots of ways to learn new skills and feel fulfilled on the job," he told me. "You have to figure out what you want for yourself and take advantage of the opportunities."
John's absolutely right. Our new study, conducted with Imperative and CECP: The CEO Force for Good, finds that an overwhelming majority of employees (96 percent) believe that achieving fulfillment at work — the feeling we have when we're working in line with our own motivations and gain a sense of purpose — is possible. Nearly as many (82 percent) say that their level of fulfillment at work is their own responsibility; they're willing to find their own paths. What's more, finding fulfillment matters: Seven of 10 workers would consider an offer for a more fulfilling job, many even for lower pay. Still, leadership needs to do their part to create a workplace with a fulfilling employee experience at its heart. One-third of employees told us that senior leaders are a barrier to finding fulfillment at work. And, as John's experience illustrates, opportunities for growth, and to make an impact, are key.
Helping employees find meaning and fulfillment
Our study shows that employees want — and need — meaning at work. It points to four ways organizations can help employees find a sense of purpose. They are:
Make space for employees to create meaning: We can help employees gain insights into what motivates them by providing digital self-assessment tools and the types of personal exploration exercises that facilitate reflection. These mechanisms can help employees identify personal sources of fulfillment and inform the opportunities they seek out to make work more meaningful.

Provide the right amount of structure: Formal employee programs and activities, such as rotational opportunities, stretch assignments, innovation labs, reverse mentoring and milestone experiences, help employees build deeper, more diverse relationships while promoting growth. Access Your Potential is an example of such a program, as it enables employees to use their skills to educate students in the communities around them.

Build strong teams — relationships matter: Shared experiences help employees come together in ways that build meaningful connections and trust, help make a collective impact and provide opportunities for learning. Activities that provide a common purpose, remove formal titles and inject the right amount of positive stress — such as an escape room game or a hack-a-thon — are especially effective at deepening relationships, a key source of fulfillment. John tells me that the sense of family he has found through the Digital Accelerator program has been one of the most rewarding aspects of the experience, and has helped him better understand his colleagues' work with our clients. With some structure, but not too much, employees can make work more meaningful for themselves while supporting the goals of their team and the organization.

Create a culture that embodies purpose: Culture is much more about what you do than what you say. You can reinforce your commitment to purpose and support for employees' desire to find meaning in their work by modeling behaviors that promote relationships, impact and growth. Leaders need to share authentic stories about their experiences of finding meaning and activating purpose. Identify informal leaders who can energize their co-workers and create momentum around purpose. John tells co-workers who ask how he's been able to tackle so many new challenges, "If I can do it, you can, too."
John says the opportunity to develop new skills and relationships at work has made him feel "ready to change the world." I can't imagine a more invigorating or empowering feeling. Creating a workplace culture that promotes and supports this type of meaningful experience and commitment to purpose is both imperative and within reach.