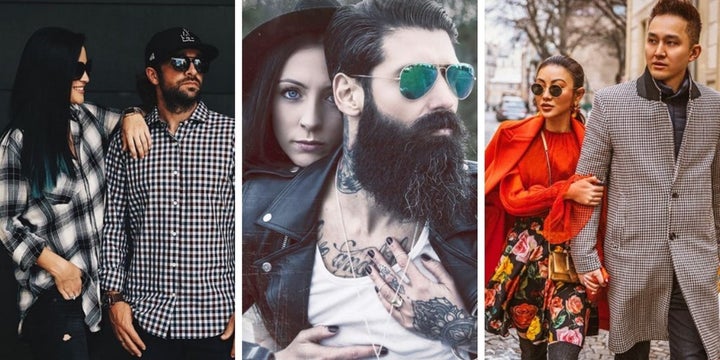 Behind every great Instagram influencer is an Instagram spouse with the photo-taking patience of a saint. (And inevitably, very little free space on their phone. True love is deleting a few apps to make room for more photos of your S.O.)
What's it like to be the person behind the camera? Instagram husbands (and one wife!) told HuffPost about loving someone who makes their living on social media.
It's a full-time job. Literally.
For many Instagram spouses, it's a full-time gig to work on a partner's social pages and blogs. They're the photographer behind the posts that draw in thousands of likes; sometimes, they're also the "spouse-ager" running the business side of things.
That commitment makes sense, given how much money you can make off Instagram if you play your cards right. Sponsored and partnered posts are an especially lucrative deal, with some businesses paying high-profile influencers about $150,000 per post.
The decision to combine forces panned out well for Daniel and Jess Wang, a married couple who left their careers in finance three years ago to work exclusively on Jess' blog and Instagram, Not Jess Fashion.
Daniel, who's responsible for business operations and much of the lush, magazine-worthy fashion and travel photography on the feed, is now an Instagram husband extraordinaire.
"I find it funny that over time, I've begun to notice the 'Instagram-worthiness' of a place, a meal or a photo without even realizing it," he said. "The 'Instagram husband' lifestyle almost becomes instinctual ― like it's a part of your DNA."
But taking the perfect Instagram pic takes time ― and sometimes ends in an argument.
For every perfect 'gram, there's a camera roll full of outtakes. Just ask Jenna Costa. In a sea of Instagram husbands, Jenna stands out as an Instagram wife. Last August, she married Carlos Costa, a Portuguese-born model whose epic beard has helped him attract 214,000 followers.
Jenna, who jokingly calls herself "the shadow of a beard," usually takes her husband's "impromptu" pics ― a job she admits has caused some tension in their five-year relationship.
"As his non-professional photographer, I'm always trying to get the perfect shot that Carlos wants, but really, that can only happen about 50 percent of the time," she said. "Sometimes I'm like, 'Just hire a damn photographer!'"
Unless she gets really lucky, getting the perfect "casual" shot is extremely complicated.
"It's never as perfect as it looks in the photos," Jenna said. "It might take us 10 attempts and three arguments to get a perfect looking 'casual in the moment' shot of something. Good lighting can help a multitude of sins, including lack of sleep!"
"I related to that video a scary amount," the Austin, Texas-based hedge fund trader said. "At times, it can be frustrating given how picky she is, but I love the challenge of getting that perfect shot. It also doesn't hurt that I'm photographing the most beautiful girl in the world!"
He's not kidding when he talks about the challenges of getting the perfect shot for Hargrove, who has over 122,000 followers.
"On average, I'd say over three to four hours of work goes into each and every picture she posts, not counting the blog post she writes," Goff said. "People that follow her just see the end result, which is a handful of pictures promoting an item or product. I know the real amount of time that goes behind each one."
Some areas of their oft-photographed lives are off-limits.
Even couples who make family life part of their brand said they try to keep some areas of their private life to themselves. Take, for instance, influencer Barrett Prendergast and her business partner-husband, Andre Vippolis.
They run Valleybrink Road, a luxury gifting and floral design studio in Los Angeles. The studio's much-loved Instagram account features snaps of their son, Costa ― and lately, Prendergast's growing stomach as the couple prepares to welcome a new baby.
Knowing what to share and what to leave off Instagram has been pretty instinctual for the couple, but Vippolis admitted that giving people a look at their personal life can be a "love/hate" trade-off.
"A large part of our success is owed to presenting much of our life. We have a lot of fans that are genuinely inspired and appreciative of what we post, especially now with Instagram Stories, but we do make a point to keep an awareness over when things might become too personal," he said. "We want to be real, and think we do a great job of doing so, but the line has to be drawn somewhere."
You're forced to re-evaluate those boundaries as your account becomes more popular and follower count grows, Vippolis said.
"Ultimately, Barrett and I are committed to maintaining a certain line of division between content we think people might be interested in and putting every detail of our life on display," he said.
Others, like Jenna and Carlos Costas, are a bit more freewheeling about what goes on the 'gram.
"We generally don't have rules, and we actually share lots of our personal moments, including our recent wedding because it feels like a lot of people have been on the full journey with us," Jenna said.
That said, they're conscious not to stick an iPhone in each other's faces 24 hours a day.
"If one of us if having a moment when we really don't want to be filmed for an Instagram Story, a simple 'f**k off' usually does the trick," Jenna joked.
Their homes are filled with boxes and boxes of free stuff.
All things considered, Instagram influencers' lives are the same as yours and mine. The key difference? They receive an enviable amount of swag from companies looking to be featured on their pages.
"Because of all the freebies, we spend a lot of time with boxes," Goff said. "Opening boxes, breaking down boxes, sneaky trips to someone else's dumpster because you have a stack of boxes in your garage."
"Actually, it's the stuff that's not in boxes that are some of the greatest perks," he added. "We've been on so many amazing trips, stayed in incredible hotels and had so much great food because of Ashley's work."
Sadly, in spite of their photo-taking efforts, the Instagram spouse doesn't always get to partake in the perks.
"My wife gets products, food hookups and goes to fun events," Vippolis said. "The downside is, most of the events are ladies only! There's some good ones I miss out on, particularly those involving food. For instance, she went to a small lunch with Nancy Silverton recently; I was happy for her, yet a little sad for me."
And if it's your husband who's the Instagram fashion star, you're bound to feel a little peevish when you take a peek at his closet.
"It's a definite downside looking at Carlos' side of the wardrobe and noticing that his shoe and clothing collection is considerably larger than mine," Jenna said. "You'll hear the doorbell and go, 'What's this? A new box of men's shoes? Yeah, I thought so. Sigh.'"