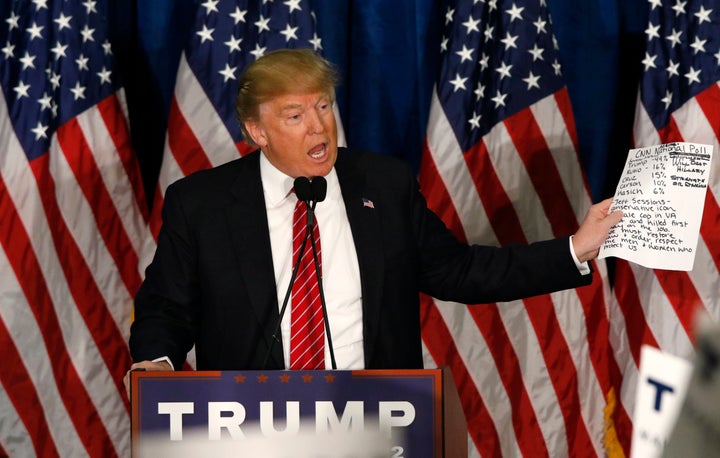 Historical precedent suggests that the current polling has predictive power. Donald Trump doesn't seem to be ginning up GOP enthusiasm. And both candidates' popularity bounces are starting to fade. This is HuffPollster for Friday, August 12, 2016.
CANDIDATES LEADING AT THIS POINT USUALLY WIN THE ELECTION - Andrew Prokop: "We are two weeks out from the final day of the Democratic convention. And according to historical research by political scientists Robert Erikson and Christopher Wlezien, this is usually the time that the convention fog finally lifts and the polls become more predictive. 'Although the convention season is the time for multiple bounces in the polls, one party ends up with an advantage when the dust clears. And this gain is a net convention bump rather than a bounce,' Erikson and Wlezien write in their book The Timeline of Presidential Elections. That is, once the volatility dies down, one candidate usually emerges from the convention chaos with a durable lead. And almost always, the political scientists find, that candidate goes on to win the election….Indeed, the authors looked at general election contests going back to 1952, and found that the candidate who was in the lead two weeks after the conventions ended went on to win the popular vote every single time….[C]onventions tend to have a consistent and profoundly important impact of the type that's hardly ever observed at any other brief phase of the campaign, even those much-hyped fall debates." [Vox]
A SHIFT TO 'LIKELY VOTER' MODELS ISN'T HELPING DONALD TRUMP - Steven Shepard: "Another traditional Republican advantage may be going by the wayside this year: Donald Trump, falling perilously behind Hillary Clinton in the polls, isn't getting the standard 'likely voter' bump that usually boosts GOP candidates in the closing weeks of the election….Trump — viewed unfavorably by nearly two-thirds of voters — isn't motivating enough Republican or Republican-leaning voters the way previous GOP nominees have. Polls show Clinton supporters and Democratic voters are as enthusiastic about participating in the general election as Trump backers and Republicans — if not more so. That's a big turnaround from four years ago, when despite President Barack Obama's overall advantage among the electorate, Republicans and voters who said they supported former Massachusetts Gov. Mitt Romney were the more enthusiastic and motivated group….Marist College pollster Lee Miringoff credits Clinton's performance among more-certain voters to a growing education gap: Even among white voters, Clinton has more support among the college-educated, while Trump runs better with voters who didn't attend college. And more-educated voters, historically, vote at higher rates than less-educated voters." [Politico]
AMERICANS SHARE TRUMP'S PESSIMISM ABOUT THE STATE OF THE COUNTRY - Aaron Blake: "Bloomberg in its new survey attempted to approximate Trump's view of the state of affairs in the United States, and it did the same for Clinton. Here's the Trump description (which didn't name him but is apparent): 'The U.S. is in a dark and dangerous place, with threats from overseas and within our borders.' And here's the Clinton description: 'The U.S. is in a strong position for progress on the economy and national security.' Given those two options, 56 percent of likely 2016 voters picked the Trump version, and 40 percent picked the Clinton version….Despite this, of course, Trump continues to struggle mightily in the polls. That's in large part because he's an extraordinarily flawed messenger." [WashPost]
TRUMP AND CLINTON'S FAVORABLE RATINGS RETURN TO PRE-CONVENTION LEVELS - Frank Newport: "Americans' views of Donald Trump and Hillary Clinton are almost exactly the same now as they were in early July before their party's convention. Trump's favorable rating became slightly more positive in the Republican convention environment, rising to 37% and matching Clinton's for the first and only time in Gallup's tracking. Then, as the Democratic convention was wrapping up, Clinton's favorable rating rose to 42%, and the gap between the two candidates' ratings expanded to 10 percentage points. These shifts in the public's views of the two candidates were short-lived, however, and their images have now returned to where they were. Clinton is once again enjoying a modestly more positive image than Trump. Any hopes that either campaign had of using the conventions to create a major, lasting shift in Americans' images of the candidates did not materialize." [Gallup]
TRUMP SUPPORTERS' EFFORTS TO IGNORE THE POLLS ARE GETTING INCREASINGLY CREATIVE - HuffPollster: "Donald Trump, at the moment, is unambiguously losing in the polls. HuffPost Pollster's model has him running nearly 8 points behind Hillary Clinton in the presidential election. Of the most recent 20 surveys of the race, not a single one shows him ahead. Trailing in the polls often prompts candidates to spout truisms about Election Day being 'the only poll that matters.' Trump's Republican opponents certainly tried that tack during the GOP primaries, despite the fact that Trump had a commanding, unbroken lead throughout nearly all of the process. But the depth of Trump's polling deficit seems to have driven some of his surrogates and backers to increasingly more imaginative lengths….Polls, of course, don't always get it right. Individual surveys can be outliers or flukes, the polling industry is struggling through some dramatic changes, and there are plenty of systemic misses more recent than 1948 ― take this year's Iowa Republican primary and Michigan Democratic primary, not to mention a number of international miscalls….But there's no reason to believe that practically every national survey is getting the current state of the race dramatically wrong." [HuffPost]
HUFFPOLLSTER VIA EMAIL! - You can receive this daily update every weekday morning via email! Just click here, enter your email address, and click "sign up." That's all there is to it (and you can unsubscribe anytime).
FRIDAY'S 'OUTLIERS' - Links to the best of news at the intersection of polling, politics and political data:
-Clare Malone investigates a mysterious site that claims polls are skewed against Donald Trump. [538]
-Pollster Robert Blizzard (R) explains why he doubts Trump has a "hidden vote" waiting for him. [Storify]
-A new poll finds Hillary Clinton with a 46-point lead among Latino voters. [Fox News Latino]
-Americans' satisfaction with the way things are going is up 10 points from last month, though it remains low. [Gallup]
-Michael Tesler writes that America's increasing diversity could make economic factors less important to elections. [WashPost]
Calling all HuffPost superfans!
Sign up for membership to become a founding member and help shape HuffPost's next chapter