WASHINGTON ―Senate Minority Leader Harry Reid (D-Nev.) showed America Thursday why so many Democrats will sorely miss him when he retires this week. And he probably reminded some others why they hate him with a passion.
Reid, soft-spoken to the point that other senators joke about his mumbling, managed to use his words to infuriate his enemies and delight his friends.
There was that time in 2012 when he told The Huffington Post that he'd heard Mitt Romney, then a presidential candidate, paid no taxes (in a year when people still cared if their potential president paid taxes). There were all those times in 2016 when he called President-elect Donald Trump a racist, a fraud, and a human leech. 
Barbarous comments like those aren't the sorts of things people expect to hear from a Senate leader, but they are among the few from Capitol Hill this past year that could break though the media's seemingly non-stop Trumpathon.
In his farewell address Thursday, Reid didn't lob any bombs. It was, after all, a solemn moment for him. But he offered plenty of the plain-spoken observations that delight some and inspire mockery from others.
Most people assume Reid hates Senate Majority Leader Mitch McConnell (R-Ky.), his main Republican sparring partner over the past eight years. But Reid said they're actually friends. However, he didn't deny that they'd had some bitter battles, such as fights over nominations that led Reid to nuke the filibuster for many of them.
"McConnell and Reid don't need to be hugging out here every day," Reid said. "That isn't what we do. We're advocates for our cause. I do the very best I can. He does the best he can."
There's not that much more that Reid had to say about McConnell, but in a speech that lasted an hour and a quarter, the Democratic leader offered plenty of other recollections in his inimitable style, going back to his youth in impoverished Searchlight, Nevada, which at first he explained seemed all right to him as a kid.
"As I look back, it wasn't that good, I guess," he said. "We had no inside toilet. We had a toilet outside. You had to walk about 50 yards to that ― my dad didn't want it close to the house. And we had a good time even with that. My poor mother, wonderful woman she was. My younger brother and I, sometimes just to be funny, she would go to the toilet. She had tin walls, tin, it was made out of tin, and we would throw rocks at that. 'Let me out,' she would say. That doesn't sound like much fun. But it was fun at the time."
Reid was also known as a brawler with a long memory when it came to people who mistreated him. He singled out some of those in his Senate floor farewell.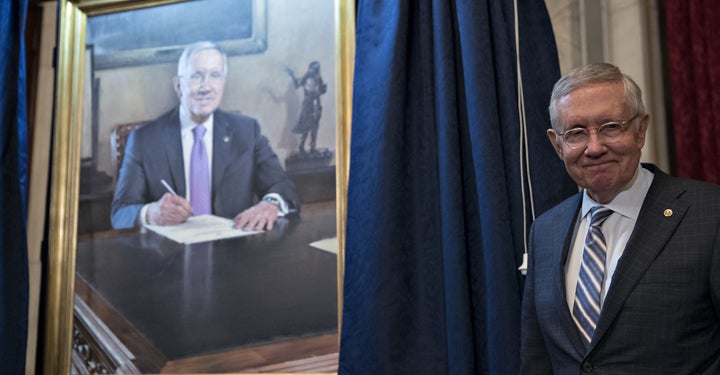 One was a dentist well-known in Nevada, who Reid sought out after he had worked at a gas station to save up enough money to buy his mother dentures.
"I had $250. I was going to buy my mother some teeth," Reid recalled. "I went to a man ― he was a big shot. They named a school after him. He was on the school board in Las Vegas. He married this beautiful woman from Searchlight. I went to him. I never met him before. I told him who I am. His name was J.D. Smith. I said I wanted to buy my mother some teeth. He said I don't do credit here. He insulted me. So I went to Dr. Marshall, of Henderson, and bought my mother some teeth. It changed my mother's life. My mother had teeth."
Reid could pick fights that seemed random to some observers, but they had moral resonance to him. He didn't always win those, like when he wanted to rename Vegas' McCarran Airport because Reid believed the anti-communist senator it was named after ― Pat McCarran ― was a bad person. It was similar with his bid to rename the FBI headquarters that honors the infamous director, J. Edgar Hoover.
"The airport field ― I've tried for years to get the name taken off, a Democratic senator from Nevada, who was an awful man. I tried to get his name off of that. It didn't work," Reid said. "I tried to get J. Edgar Hoover's name off that government building. It didn't work. We had a vote here. I can remember how mad [Utah Republican Sen.] Orrin Hatch was. We had a vote on it. I made a mistake. I tried to get it named after Bobby Kennedy."
Reid was an official in Nevada when his father committed suicide late in life. He recounted how he spent a wonderful day with boxing legend Muhammad Ali only to have it end with Reid's mother calling to say his father had shot himself. After reciting that tale, Reid didn't mind gently offending some of his colleagues in explaining the legislation that tragedy inspired.
"We've directed spending to study why people kill themselves, because we don't know for sure," Reid said. "Isn't it interesting that most of the suicides take place in the western part of the United States. You would think it would be in dark places like Maine and Vermont where it's so dark and cold," he said, looking around for senators from those states. "But no, it's in the bright sunshine."
Reid could also be startlingly blunt if it would help a cause he cared about. One issue he mentioned was his push to end female genital mutilation. This started 24 years ago, after a friend of his made him watch a film about the horrific practice.
"[What] it showed was a beautiful little girl from Africa ― in Africa in a party dress. It was white. She looked so pretty, you know, it was a party," Reid said. "Suddenly two men grabbed her, spread her legs apart and cut out her genitals ― right there with a razor blade. I thought, man, that's hard to comprehend."
He also owned up to a stubborn, dictatorial streak that led him to his own special style of recommending federal judges from Nevada.
"I also have a judicial selection committee. You know who's on that committee? Me," Reid said. "I'm the committee. And I'm very happy with what I've been able to do."
Along the way to finishing his somewhat rambling journey through his past, there were plenty of other examples of Reid's unique style. He compared Sen. Dick Durbin (D-Ill.) to a tough cousin who'd helped Reid's brother avoid a beating from the husband of a woman the brother cheated with. He unfavorably compared the joke-telling skills of Sen. Al Franken (D-Minn.), a former comedian, to the late Sen. Frank Lautenberg (D-N.J.). (Reid declined to retell his joke involving two wrestlers.)
Even in hailing the incoming Senate Minority Leader Chuck Schumer (D-N.Y.) for being a remarkably smart man who helped Reid become majority leader for a time, he made clear he thought his successor would be a paler figure.
"I wish him well in being my replacement. I'm confident he will do a good job," Reid said. "He won't be me, but he'll do a good job."
REAL LIFE. REAL NEWS. REAL VOICES.
Help us tell more of the stories that matter from voices that too often remain unheard.
BEFORE YOU GO