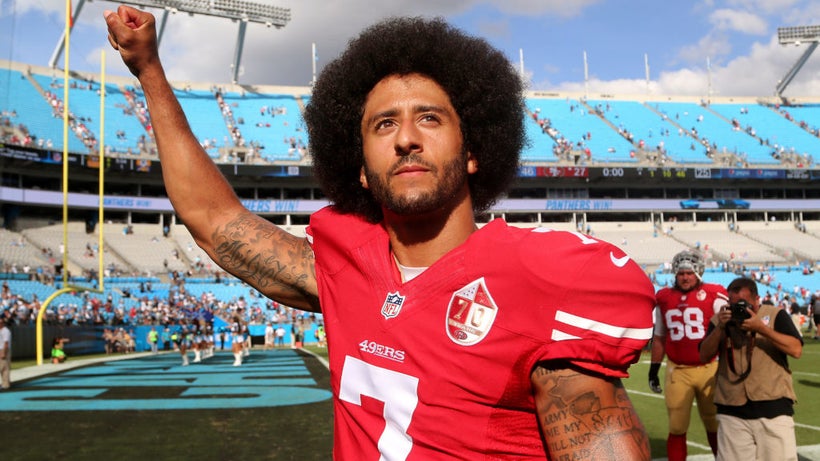 The following is a guest post by 18-year-old college student, Caitlin Rymel.
The initial message spread by Kaepernick was poignant and admirable. However, since Trump gave it a platform, this message has strayed from protesting police brutality and moved to protesting Trump. Personally, I gladly protest both. That being said, I think it's more important, as a country, that we focus on why Kaepernick first kneeled a year ago.
Trump, unfortunately, politicized the movement after making his crude remarks. He equated kneeling as disrespecting to veterans. This was incredibly manipulative. Consequently, after he made his statements, it was heartwarming to see practically the entire NFL stand together in unity - against Trump.
Nevertheless, we must revisit the issue of police brutality. While Trump is horrendously bigoted, the fallacies of America run deeper than him, than all of us. This is the message Kaepernick was attempting to get across. The message behind taking a knee is not disrespecting the flag, or the veterans. It is a message we know that, as a country, we can do better. It is a message that we will not stand until that anthem of freedom and justice includes people of color. Rather than it being misconstrued as a message of hating America, it is a message of hope for America, for a better future.
While it was spread at first, this message is being turned into protest against Trump. While protesting the presidency of Donald is important, we need to remind ourselves of the people being especially targeted even before Trump came into office.
It is reminiscent of the All Lives Matter/Black Lives Matter discourse. While all lives do matter, and while Trump needs to be thrown out of office, in my opinion, black lives are being especially threatened at the moment. All lives, by definition, cannot matter if we don't solve this fallacy. The anthem and the message of equality in America cannot be true if it doesn't include our fellow black and brown citizens.
This is the message Kaepernick was attempting to get across. This is the reason I decide to take a knee.
Calling all HuffPost superfans!
Sign up for membership to become a founding member and help shape HuffPost's next chapter
This post was published on the now-closed HuffPost Contributor platform. Contributors control their own work and posted freely to our site. If you need to flag this entry as abusive,
send us an email
.