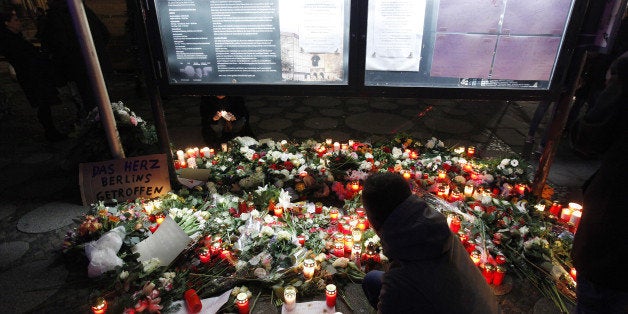 Dear Facebook: It was Monday night, just after 10:00 p.m and you wanted to know if I was okay. What a stupid question to ask.
A truck had just slammed into the Christmas market at the Kaiser Wilhelm Memorial Church in Berlin. The initial reports said there were several people injured and one person dead. Later reports confirmed that several people were killed.
I live a little more than 2 km away from where it happened. During the summer, I bike past that place, where so many people lost their lives, every day. Of course I waited for the police statements. I told myself not to panic. But as the hours went by, it became quite clear that it probably wasn't a tragic accident.
Dear Facebook: Nope, I certainly wasn't okay.
We have to do something to combat all this hate before it swallows our world whole.
In the meantime, I received notifications from friends on my news feed. At 11:00 pm, I received around 100 notifications that friends had marked themselves as "safe" in Berlin. I was so glad that no one I knew was at the Christmas market.
I hope that those who were injured will have speedy recoveries. And I offer my condolences to anyone who lost a loved one there.
I couldn't deal with this "marked as safe" information from my Facebook friends. My loved ones had to confirm that they were safe in my hometown: This violent act made me feel very unsafe. I won't accept this.
Dear Facebook: I'm not okay. There is so much hate out there.
This goes out to those of my fellow citizens who jumped to blaming the whole Muslim world just minutes after what happened at the Memorial Church. This whole day has been a demonstration of world wide madness.
In front of live TV news cameras, a police officer murdered the Russian ambassador to Turkey, Andrey Karlov, in Ankara. He justified his attack by citing the atrocities committed against the civilians in Aleppo, while posing victorious and full of adrenaline like a modern version of Che Guevara.
I will definitely continue going to Christmas markets in Berlin.
The UN would like to observe the evacuation of people in Syria. It's far too late. For years, the international community turned a blind eye to the dictator Bashar al-Assad, who led a war against his own people, together with his friends from Iran, Lebanon and Russia.
And then there also was the election of Donald Trump as president of the United States by the Electoral College. The course international politics will take in the future is absolutely unknown.
No, damn it, I'm not injured, but I'm far from being okay. We have to do something to combat all this hate before it swallows our world whole. And we aren't helpless.
We can't give in to those who want to force their hate-filled world view on us. We need to find a way that leads to freedom. We can't let those who want to turn our country into a Potemkin village win; they spout flashy slogans that promise safety, but look closely and you'll see that it's all a big lie. All they want is for us to bid our values of openness and tolerance goodbye.
On top of everything, we must continue to hold on to freedom for ourselves. I will definitely continue going to Christmas markets in Berlin.
This post originally appeared on HuffPost Germany and has been translated into English.
Popular in the Community