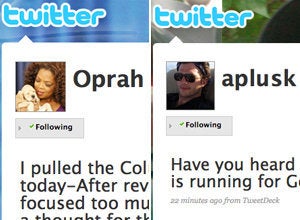 Thank God for Twitter! Without that invaluable service I could never share with friends the really important moment-to-moment details of my life. In case you're not following me I've reassembled the Tweets you most recently missed.
Having a colonoscopy tomorrow.
Is it just me or does Susan Boyle look like John Madden?
Okay. Starting to take the stuff.
Ugggghhh! It tastes terrible. Mood: Irritable.
Thinking of a Staycation this year. Any suggestions where I could stay?
It's been a half hour. When is this stuff supposed to work?
45 minutes. Still nothing.
An hour. What's the deal???
Just filled out my All-Star ballot.
HOLY SHIT!!!!!!!!!!!!!!!!!
Okay. I can breathe. Whew.
8rXX3 thinks Susan Boyle looks like... wait a minute....
HOLY FRIGGIN' SHIT!!!!!!!
How long is this supposed to last?
Oh Christ! I forgot. Today's the day we scheduled an OPEN HOUSE here.
Dennis Franz. That's who 8rXX3 thinks Susan Boyle looks like.
No, you can't see the bathroom! It's currently occupied!
I would trade my Emmy right now for a Tums.
Wow, there are a lot of ads in Vanity Fair.
Bowel mood: very irritable.
Hey my legs have gone to sleep. Has that ever happened to you?
There are eight people walking through my house. I almost knocked one down during the last urge.
Ehhhhhhhhhhhhhhhhhhhhhhh. I'm in hell.
Moving on to Entertainment Weekly and Mercenary Life.
Thanks you guys. Hearing your colonoscopy stories have really helped. LOL.
No offers on the house yet.
How stupid am I part two? Choosing to do this on the day of the Top Chef marathon?
Okay. I think the worst is over.
Seriously. Someone. Kill me.
Oh great. My real estate agent just dumped me. For some reason she feels my house doesn't "show well."
I'm whipped. Better get some sleep. But here's the good news: I convinced the doctor to just give me a local. So I'm bringing my laptop and you can expect tweets during the procedure. Please check back every five minutes.
Support HuffPost
The Stakes Have Never Been Higher
Related
Popular in the Community