Ali Alghamdi, a 24-year-old engineering student at Texas A&M University, was running an errand early this month in Kingsville, Texas, when he noticed the car in front of him running a stop sign.
It was odd, Alghamdi told HuffPost, but not that uncommon. But as the car drove on, the driver kept slamming on the brakes, forcing Alghamdi to do the same. Alghamdi grew worried, he said.
Suddenly, the driver of the black Chevrolet swerved and blocked Alghamdi at a corner. A man stormed out of his car and began screaming racist profanities at Alghamdi, calling him a terrorist, the 24-year-old said.
That's when Alghamdi decided to start recording ― "in case something happened to me," he explained. He was worried the man might have a gun.
"I was just shocked; honestly, I was scared," Alghamdi said.
The video he filmed shows a man in a cowboy hat accusing Alghamdi of tailgating him. Alghamdi uploaded the footage to YouTube and submitted it to HuffPost's Documenting Hate project, a database that tracks incidents of hate and bias.
"This is America, dumbass," the driver can be heard saying halfway through the expletive- and slur-laden video below.
"You better learn how to drive in America," the man says. "This isn't Pakistan, bitch. This is not Pakistan, Afghanistan or Kuwait, motherfucker."
"What?" Alghamdi can be heard asking from his car. "Say that again."
"This is not Pakistan, Afghanistan or Kuwait. We have rules in this fucking country," the man rants, later adding, "You sound like a fucking Arab."
Almghadi said the driver eventually ended his racist tirade and got back into his car. But just when Alghamdi thought the encounter was over, he said, the man followed him to his destination, then spoke to a clerk while Alghamdi finished his errand. The man left shortly thereafter.
Minutes later, four police officers arrived and asked Alghamdi for identification, Alghamdi said.
When Alghamdi told the officers that he had recorded the entire incident, "I swear, that's when the whole process changed 180 degrees," he said. The police asked Alghamdi to file a police report and turn over the video so that they could look into what had happened.
By Monday, Kingsville police had identified the man in the video, though his name has not been publicly released. Officials will pursue disorderly conduct charges against him, Lt. Bradley Lile told HuffPost.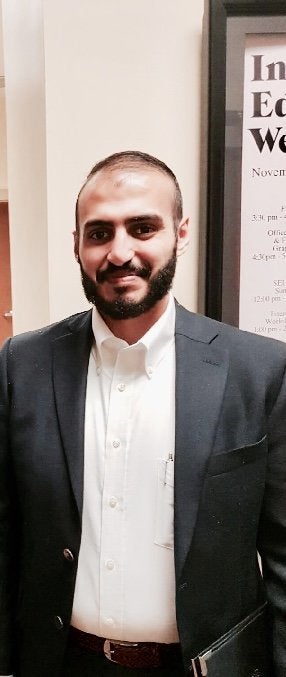 Alghamdi said he realized when he started filming that this wasn't just a regular case of road rage. This was an incident motivated by hate, he said.
"Yes, it's road rage, it happens to everyone," Alghamdi said. But as soon as the man realized "I look different, that's when the incident went further," he added.
"Absolutely, race was part of it."
Alghamdi said he visited the police department at least three times since the incident and wants to make sure that other minorities are aware of their legal rights. He signed an affidavit form, which HuffPost reviewed, and said he plans to follow up in court, should the case go to trial.
"I didn't know what this guy is capable of," Alghamdi said. "But just because I look different, just because I sound different, doesn't mean you can attack me."
America does not do a good job of tracking incidents of hate and bias. We need your help to create a database of such incidents across the country, so we all know what's going on. Tell us your story.
Related
Popular in the Community