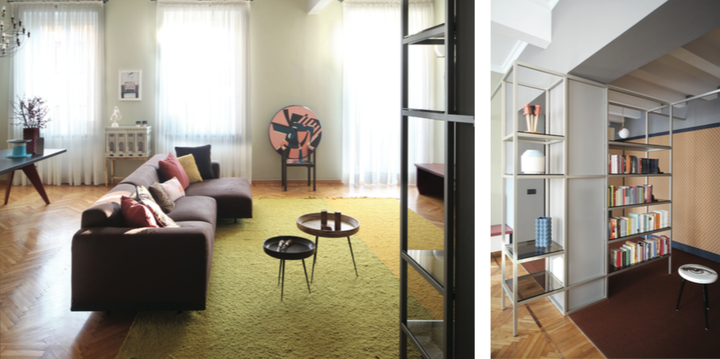 By Laura Traldi, photos ©Carola Ripamonti
Just one look at this apartment in Turin, renovated by Andrea Marcante and Adelaide Testa from Uda Architetti, triggers a sense of familiarity but also alienation. It is like
a déjà vu with a surprise ending, or perhaps a painting by De Chirico. It has all the elements of the classic Italian home, like ceilings with huge beams, stucco work and sleek furnishings. But if you look carefully at each detail, there's something that looks "wrong."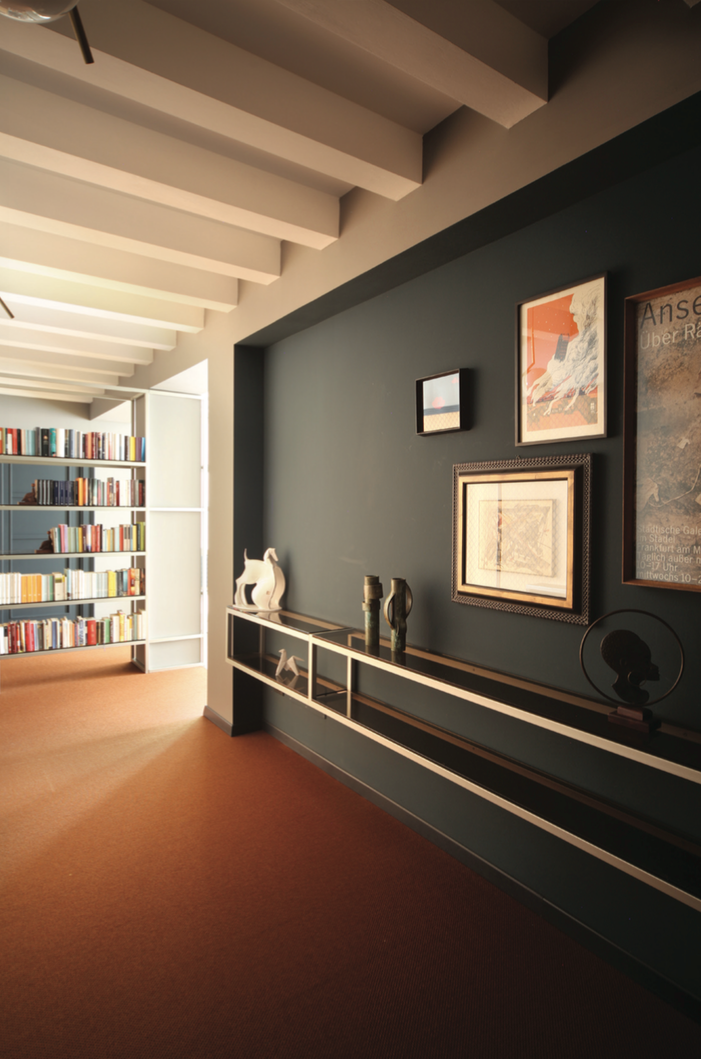 For example, the rose window over the dining-room table isn't in the middle of the wall but off to one side. And the bookcase at the entrance to the open space – minimally furnished – has an arm that emerges like a long arrow to offer directions.
"The interior design of this apartment stems from very specific needs," explains Andrea Marcante. "The first was that three generations need to live together, as the owner lives with his teenage dau- ghters and his father, who is nearly 80. The second had to do with limitations on what could be done, because it's a rental so we couldn't do any structural work."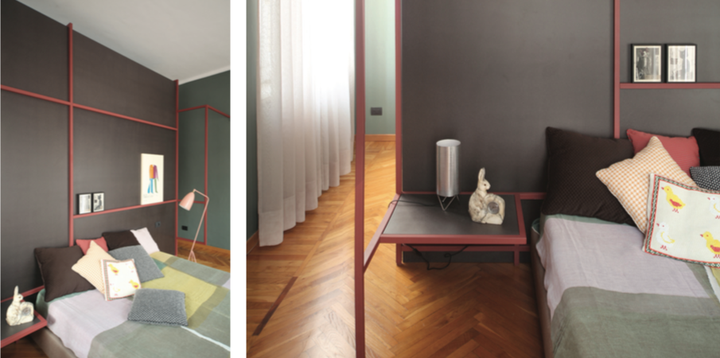 To create the emotion underlying the apartment's domestic comfort and feeling of belonging, Marcante and Testa blended objects and inspirations from different historical periods. For example, on the back wall of the living area the space is punctuated by wallpaper with a pattern similar to the one in the stairwell of the building (dating to the early 1900s) and most of the furnishings are vintage (the table is by Jean Prouvé for Vitra, the chandelier by Gino Sarfatti for Flos). But they are flanked by uber-contemporary items (like the Claudine sofa by Klaesson Koivisto Rune for Arflex and the IC lamps by Michael Anastassiades, also for Flos) as well as pieces from the Eighties (like Mendini's table/chair in the living room).
"The pastel palette we chose downplays everything. The 'glue' that holds all these diverse elements together is the concept of being 'out of place,' which I like to consider a tribute to the dreamlike language of De Chirico, who was inspired by walks down the street where this house is located."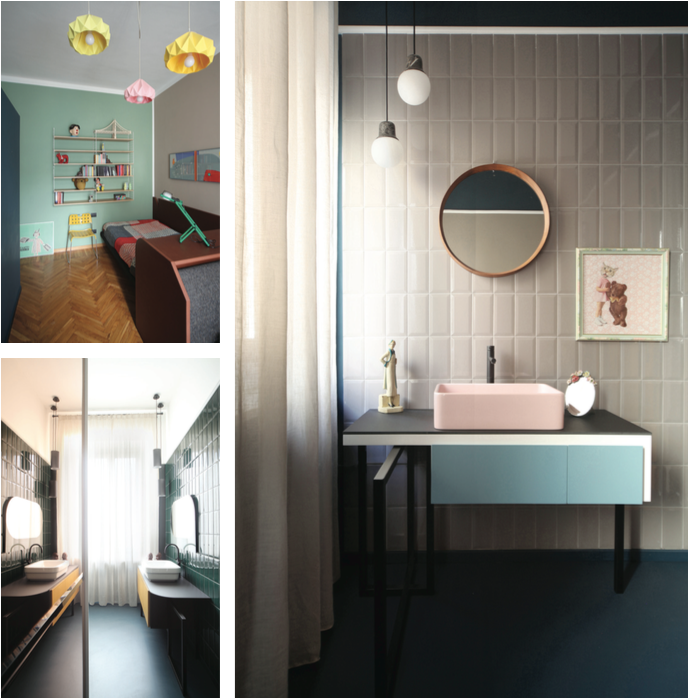 But the decor and furnishings were not chosen for their aesthetic significance alone. "They support the architecture, define the rooms and create tension linking these spaces without overwhelming them." For example, at the entrance there is a long console made of square tubular metal. "It invites you to walk through the room and guides you towards the bookcase/hinge with arms that, like arrows, create a new spatial direction towards the living room (though this tension doesn't touch the walls). The same thing happens in the father's room, where the red framework that surrounds the bed and defines the bedside tables is a micro-architecture open on the sides and becoming a closet on the back."
In short, everything has been designed to create an interesting short circuit among generations of objects, architectures and people. "This takes up the tradition of Italian interior design, when decoration was not a frill to add at the end of the project but a key element characterizing the architecture."