Labor Day is a time to pay tribute to the contributions workers have made to the prosperity of our country. But you probably don't think about workplace safety much. Most of us show up to work each day and we take it for granted that we will return home safely. Sadly, that is not always the case. The reality is someone is hurt at work every 7 seconds, and each one of these injuries is preventable. Whether you work in an office, on a construction site or behind the wheel of a truck, safety should be an important part of every workday.
The National Safety Council asked average American workers what they thought about safety in their workplace. What we found is concerning: One third of U.S. workers surveyed said their employers prioritize productivity over safety. While it seems like "doing more with less" is the norm these days, it should not come at the cost of safety - especially when workplace deaths and injuries are completely preventable.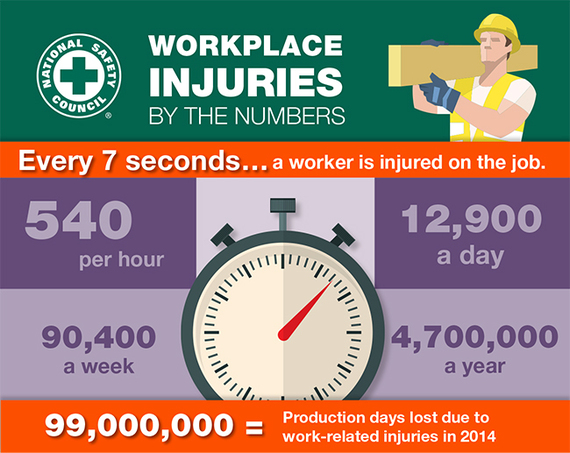 Our survey found that 62% of construction workers and those in agriculture, forestry, fishing and hunting - all high-risk industries - believe management does only the minimum required by law to keep employees safe. The survey respondents are relying on their employers to provide safe systems. At the National Safety Council, we know the organizations that take safety seriously - in any industry, not just those that are dangerous - have committed leadership and engage their employees.

One of my former colleagues used to say, "You sweep the stairs from the top," and I always found this to be a helpful visual. If everyone in the organization is to commit to safety, it starts with a CEO communicating a safety vision for the organization, leading by example and conveying that safety is a shared responsibility. Safety training and resources must be provided to workers to ensure they are equipped to work safely.
And employees should always be empowered to speak up if unsafe conditions exist. Another sobering finding from our survey was that more than 40% of workers in high-risk environments - transportation, construction and the healthcare sector - were afraid to report safety issues. While fear of reporting problems can stem from multiple factors, everyone in the organization, their customers and the public is at risk if employees are worried about losing their job if they raise a safety concern.

How does your workplace compare?
Take a step back and evaluate your own workplace. Are there things that can be improved to make you feel safer? If your employer is not communicating with you about safety on a regular basis, are there safety topics you and your co-workers could bring up for discussion?
If you want to know about the biggest risks you face on and off the job, take advantage of our Safety Checkup tool to receive a snapshot of your personal risks based on your age, gender, occupation and where you live.
At NSC, our vision is to eliminate preventable deaths in our lifetime, but we can only do that if everyone prioritizes safety. Employers play an important role in creating safe systems, providing training, and evaluating and addressing risks. You can play an important role in advancing safety at any level in an organization. Always be on the lookout for dangers, and remember that your personal safety comes first. There is no project or deadline worth risking your life.
Calling all HuffPost superfans!
Sign up for membership to become a founding member and help shape HuffPost's next chapter