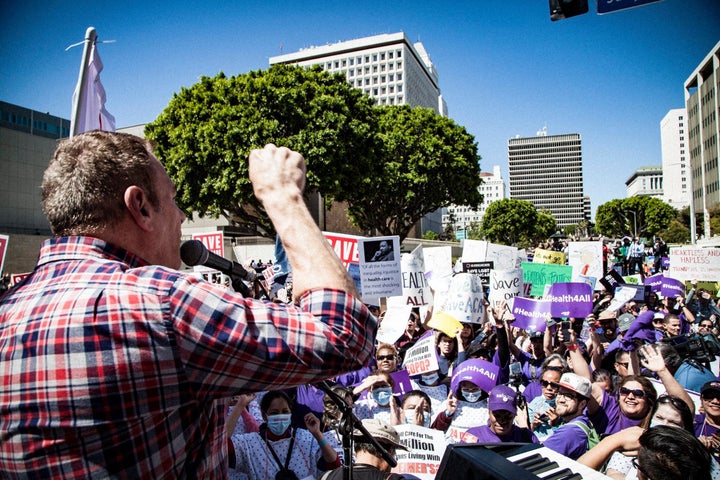 As a child of the labor movement in New York City, Labor Day holds special meaning for me. I grew up walking picket lines to help serve food to strikers, and was able to attend college and graduate school because of a union college fund. From an early age, I understood that the fight for decent pay, benefits, and working conditions was a noble one-- but not one without consequences. For every memory I have of victories for the labor movement, I'll never forget seeing police on horseback beating labor activists that gathered to protest jobs from being moved to "right-to-work" states. I learned it takes courage to stand up for worker's rights and solidarity among workers is key to shaping a healthy and productive workforce.
At St. John's Well Child and Family Center, we know that empowered health care employees are essential to society as a whole. Studies show that fair wages are inextricably linked to better service, because the reality is that people are motivated to work harder when they're paid a fair wage. Investing in higher pay for employees has also been proven to reduce illness and increase stamina-- two benefits that are absolutely critical for workers in the health care industry. Higher paid health care workers are less likely to miss work or get sick than their underpaid counterparts, which means that organizations like ours can be fully staffed with healthy people, translating to benefits as concrete as shorter wait times for the patients we serve.
St. John's mission for social justice is rooted in a strong relationship with the labor movement because standing up for our employees makes us stronger as a whole. The truth is, we would not be the successful organization we are today without the help of worker's rights activists. Almost ten years ago, we invited SEIU Local 721 to organize our staff, and in 2015, they helped us become one of the first nonprofit organizations in the United States to implement a $15 minimum wage for our workers. Our workforce makes it possible for St. John's to operate fourteen different clinic sites and two mobile clinics. As we've grown, we've been able to employ hundreds of employees who provide high quality health care to hundreds of thousands of marginalized and low-income patients in South Los Angeles, adding up to an impressive 350,000 annual patient visits.
In addition to celebrating the lifesaving care our workers provide, St. John's is also celebrating our contributions to one of the most critical fights of this decade: protecting the Affordable Care Act. This summer alone, St. John's staff, patients, and allies have made nearly a thousand calls to legislators who were set to vote on an act that would have destroyed our life saving health care system. We are proud to have been part of the resistance effort that saved health care access for millions of Americans. However, our work here isn't done. We won't stop working until health care is respected as a fundamental human right.
Alongside our local labor unions, we will continue to push ourselves to improve our benefits, pay, and working conditions-- all the while maintaining our commitment to elevating the voices of our staff. The partnership and trust between St. John's and the labor movement has helped build the political muscle necessary to advocate for increased funding, improved quality of care, and greater access to health care services for our community members. The work of American labor activists is a labor of love for our fellow man-- and we're grateful for their unwavering commitment to justice.
During a time of increased income inequality and toxic political divisions, it's important now more than ever to take a stand for the folks on the ground who provide high-quality, loving care to the most vulnerable among us. The wealthy few will continue their attempts to threaten our progress, but we will not back down. We will continue fighting to ensure that the Affordable Care Act remains the law of the land, celebrating the hard work of health care workers, and paving the way for healthier communities everywhere.
REAL LIFE. REAL NEWS. REAL VOICES.
Help us tell more of the stories that matter from voices that too often remain unheard.