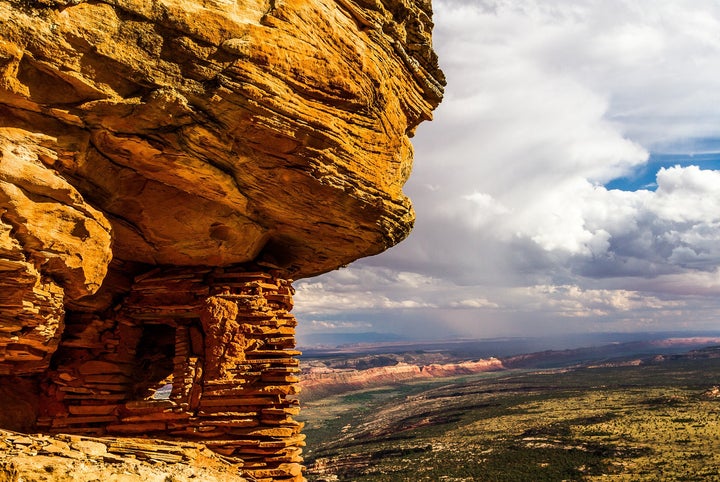 Last week, Patagonia, Inc. pulled out of a major industry trade show in Utah over a dispute involving the status of Bears Ears National Monument, and now dozens of other outdoor retailers are following suit. The land had been designated as protected by President Obama in December, but the Utah State Legislature has recently asked Donald Trump to rescind the designation.
"America's public lands are 'a vitally important issue that affects the economic health of our industry, our local communities, and the lives of all Americans,'" states a letter signed by brands including Patagonia, REI, and the North Face Group, and sent to Utah Governor Gary Herbert on February 14. "The people of the United States, today and tomorrow, share equally in the ownership of these majestic places. This powerful idea transcends party lines and sets our country apart from the rest of the world. That is why we strongly oppose any proposal, current or future, that devalues or compromises the integrity of our national public lands."
The move comes as land and property rights - a topic largely seen as the realm of international development circles - has moved into the front and center of American discourse.
And last week, the US Army Corps of Engineers granted an easement for the Dakota Access Pipeline, providing a right of way through land that the Standing Rock Sioux Nation alleges passes over sacred burial sites, and under an essential water source. The land in question had been given to the Standing Rock Sioux in an 1851 treaty, but in the 150 years since, has slowly been taken back, piece by piece, by the U.S. government.
As land and property rights resurfaces in American discourse, the issue's new-found prominence is also paving opportunities for companies like Patagonia to take a stand on a topic that has not traditionally been a corporate social responsibility darling.
Corporate social responsibility around land rights is not entirely new. Land-related CSR came into vogue almost a decade ago, after a wave of Western agribusiness investments in Africa and Southeast Asia triggered accusations of land grabbing. In response, agriculture companies like Coca Cola, PepsiCo, Illovo Sugar, and Unilever began adopting 'zero land grab' policies, and taking steps to ensure that their agricultural investments abroad do not impinge on the rights of local communities.
But, these efforts largely focused on potential (and existing) land rights abuses within companies' own footprints. That's because these companies were investing in places where local peoples' land and property rights are vulnerable, in ways that are not really relevant here in the U.S.
As an example: in much of the developing world, people lack formal property documents. That means that Typhoon Haiyan can wash away an entire village in the Philippines, wealthy real estate developers can come in and purchase the prime property for resorts, and the victims would have no way of fighting for the land they had lived on. Or, an entire village of farmers in Mali can be kicked off of its land because the government had sold that land to a Libyan investor; the farmers lack documents showing that they have tilled this land for generations, and so have no proof to fight with.
These vulnerabilities impact agribusinesses in a very real way, as they make land-based investments in countries where land is undocumented, property laws are weak, and companies face tangible risk of displacing local populations with their operations.
By contrast, much of the recent debate over land rights here in the U.S. does not focus on private use of land (by companies or otherwise), but instead on public lands: areas that are designated by the government and preserved for the common good. National parks, national wildlife refuges, military bases, and Federal prisons are all examples of public land. We all agree that public lands should be protected, but the devil is in the detail of how, how much, and at what cost.
This is where the efforts of Patagonia and other outdoor retailers have become so interesting. Land-related corporate social responsibility in developing countries is reactive, and focused within the company footprint. By contrast, the outdoor retailers' stand focuses on land and property rights as a broad social issue, not one that is directly tied to any one company's activity. Patagonia is not directly implicated in using land; it is a clothing and gear retailer. So, protecting land rights does not directly impact Patagonia's brand, operations, or bottom line. Sure, you can make the connection that with fewer parks, less people will go hiking and will therefore purchase less Patagonia gear, but the link is tenuous.
The importance of Patagonia's and others' stand is that it is for a common good. Companies have long stood up for environmental and social issues not directly related to their operations, such as education and LGBT rights, but the outdoor industry's stand on public lands, which has been rising in strength over the last few years, is one of the rare instances in which land rights have been elevated into this club. If battles concerning public land in the U.S. continue, the outdoor industry's stance, and efforts of those like it, will become all the more critical.
Popular in the Community