If you were rocked by the Sarah Bush Dance Project's Rocked by Women - or have a sneaking suspicion you missed a great party - you will want to tag along as these dynamite dancers explore the diverse wilds of Oakland.
On the next three 3rd Sundays you'll find them at
February 21, Lake Merritt Amphitheater
March 20, The Cascades at Joaquin Miller Park
April 17, Arrowhead Marsh at Martin Luther King Jr Shoreline
Performances take place at 1:00 pm (rain or shine) and they are free.
With the support of the city's Cultural Funding Program, choreographer Sarah Bush has created three site-specific pieces, each featuring 20 minutes of live dance and music. Her inspiration came from the history and the landscape of Oakland, natural and manmade - from its watery edges, to its enchanted redwoods and scenic hills - and from powerful texts by women writers and poets of the area.
Collectively, This Land is an artistic invitation to visit iconic outdoor spaces and change the way we see them and the possibilities that they represent. Against these spectacular, constantly shifting backdrops, infiltrated by ambient sounds and intentional music, the drama of Bush's highly charged movement is meant to renew our sense of self, our sense of place and community.
"Everywhere becomes our stage," notes dancer Jeanette Jing Male.
February 21 at Lake Merritt Amphitheater
Recreate
Choreographed by Sarah Bush. Performed by Audrey Borst, Rose Huey, Jeanette Jing Male, Nina Wu and Sarah Bush.
Featuring folksoul vocalist gina Breedlove.
A dance inspired by the urban wild, by the migrations of birds, wildlife and people, all drawn to the lake.
Gina Breedlove will give voice to the wind, the wings, to the people who have touched this place, to the lake itself, feeding into the symphony of wild and urban sound where creek meets concrete.
The invitation to the audience is to "recreate" their relationship with this place, to notice how they impact this environment and how it impacts them.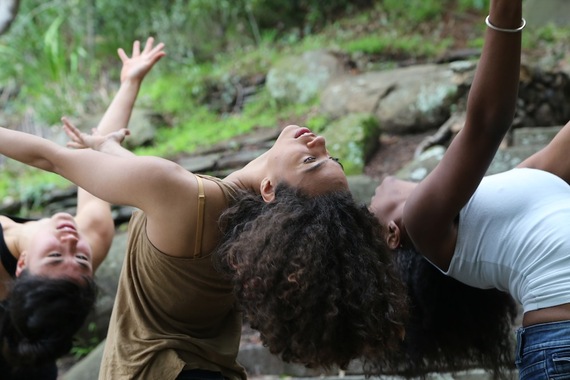 Sarah Bush, Audrey Borst, Esther Steele, Rose Huey of Sarah Bush Dance Project (Photo: Lisa Harding)
March 20 at Woodminster Cascade at Joaquin Miller Park
Reach
Choreographed by Sarah Bush. Performed by Nicole Casado, Chelsea Hill and Nina Wu.
With live music by The Anita Lofton Project: Anita Lofton, songwriter, singer, guitarist. Zhalisa Clarke, violinist.
Venture into the hills for exalted views, and movement that recalls the heroic efforts of female trailblazers.
Reach honors the spirit of outdoor adventure and exploration of new territories. It is informed by the legends and language of three trailblazing women (Ina Coolbrith, Gertrude Stein, and Isadora Duncan) and the ways their lives intersected in Oakland.
The piece involves a 20-minute ascension of the large stone staircase on the hillside of Joaquin Miller Park, the dancers' perspectives changing as they make their upward journey. The piece reflects on ways the 'landscape' of obstacles has changed for women in this country. And, how do we as Americans define 'progress'? What does it take to 'get to the top'?
April 17 at Arrowhead Marsh at MLK Jr. Regional Shoreline
Recall
Choreographed by Sarah Bush. Performed by Audrey Borst, Nicole Casado, Chelsea Hill, Rose Huey, Nina Wu and Sarah Bush.
With artistic collaborator and vocal activist Melanie DeMore.
Refresh your spirit at the shoreline where the dancers invite the audience to reconnect to a collective voice through dance and the rhythm of an art called Gullah Stick Pounding.
In the Gullah tradition, dancers designed their own sticks and learned each other's stories and rhythms as a way to deepen their sense of connectedness.
In Recall, DeMore's orchestration and Bush's choreography will carry the dancers across the astonishing landscape of Arrowhead Marsh, pounding out songs in the spirit of protest and peace. Audience members are invited to join in the rhythmic chorus reverberating along the water's edge.
Related
Popular in the Community