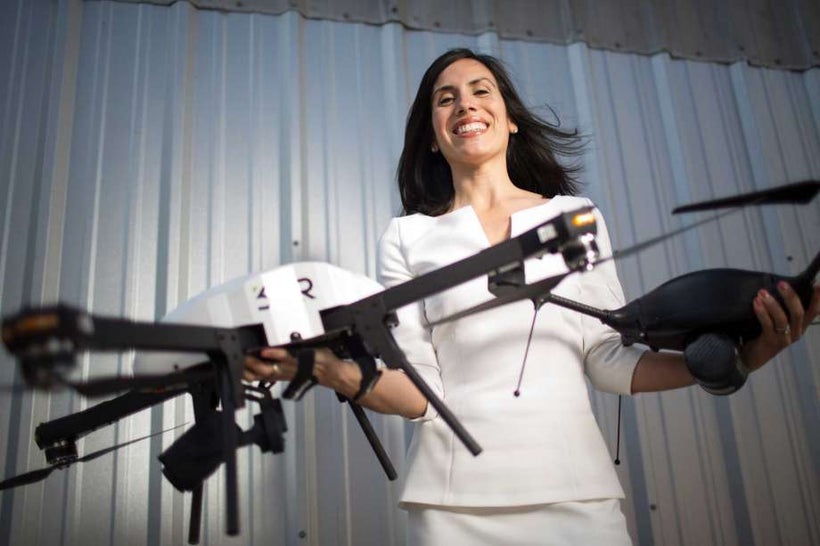 As technology becomes seamlessly integrated into every aspect of our lives, there is no question that the future of our workforce and competitiveness will depend on our love for math and science. That is why STEM, science, technology, engineering and mathematics, is a hot new topic challenging everything from the way preschool education is delivered to how public and private investments are allocated.
According to the U. S. Department of Commerce, STEM occupations are growing at 17%, while others are growing at 9.8%. However, while STEM jobs are on the rise today and tomorrow, our ability to fill the talent pipeline remains a concerning priority for our nation. For example, mathematics and science scores on average among U.S. students are lagging other developing countries and segments of the population that are driving most of the workforce growth, mostly Hispanics and minorities, are underrepresented and underprepared in this field.
It is estimated that Latinos represent 74 percent of the workforce growth from 2010 to 2020, according to Pew Research Center, yet barely represent 4 percent of engineers and scientists and only 8 percent of all certificates and degrees awarded in the STEM fields went to Hispanic students in 2009-2010, according the White House Initiative on Educational Excellence for Hispanics. For America to remain competitive we must empower young Latinos to embrace and love STEM.
One Latina that is making waves and changing the face of STEM is Dyan Gibbens, CEO and Founder of Trumbull Unmanned. Native of San Antonio, Texas and proud of her Mexican and Spanish heritage, this engineer has a wonder woman resume that includes serving in the Air Force, being named by Fortune as one of the women shaping the drone industry and a Forbes Top 25 Veteran Founded Company.
I asked Dyan to share more about her journey, and this is what she had to say:
How did your upbringing prepare you to do what you do today?
With my father increasing his role in the FAA (Federal Aviation Administration), we moved several times. While at the time, moving was unpleasant, it helped me learn compassion and resilience. My father would take my sisters and me to airshows, and being around aviation inspired me to serve and learn how to fly. This upbringing ultimately prepared me to serve in the Air Force, support my husband as a military spouse, then move to Houston to build and grow Trumbull Unmanned.
Where did you go to school?
I studied engineering, instructed skydiving and learned to fly at the US Air Force Academy in Colorado. Then, OSU for my MBA and later my Ph.D. coursework in Industrial Engineering and Management focused on UAS (unmanned aircraft systems) integration. I did not complete my Ph.D. as Trumbull took off during my third year of study.
Most scary or risky thing you've ever done
Whether skydiving, flying or starting a company, I applied a risk-based approach. In a recent Case Foundation interview, I shared skydiving is a lot like entrepreneurship, you can prepare as much as possible, but at some point, you just have to jump. Starting a business is certainly scary and risky, you are betting on yourself.
While so many things in life are scary, I look at the impact of inaction.
Person that inspires you and why?
Right now, Houstonians inspire me. After Hurricane Harvey, the city of Houston rallied and selflessly supported each other to rescue citizens and restore the community. I am incredibly inspired as we continue the restoration process.
How was it meeting with President Trump?
The roundtables with President Trump were two separate events. The first meeting was a Women in Business roundtable with President Trump, Vice President Pence, SBA Administrator McMahon, Ivanka Trump and Dina Powell. The second meeting was an American Leadership in Emerging Technology roundtable with White House leadership alongside CEOs from GE, AT&T, T-Mobile, Sprint, Verizon…Trumbull and a few other UAS/drone companies.
At each meeting, President Trump listened. He listened to perspectives of the diverse audience, asked questions on how to improve existing policies, our economy, and how we can better lead globally. I will continue to support shared goals of STEM empowerment, women in tech, and veterans initiatives.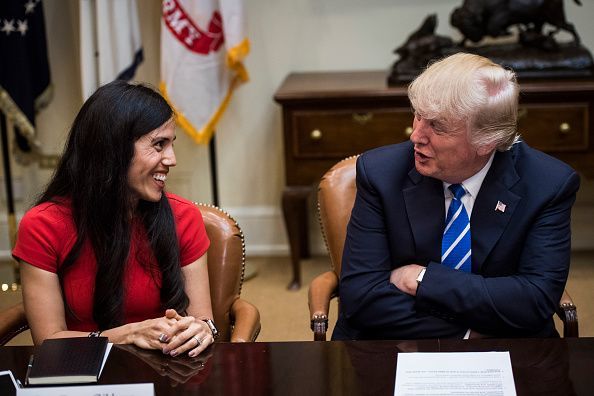 Tell us about the G7 I7 event you are attending
Similar to the White House roundtables, G7 I7 is focused in industry and discussion topics include AI, big data, and the future of work. Invited by the U.S. Government, I will be advising the I-7, the G7's strategic advisory board on innovation alongside White House, State and Commerce representatives. Also, STEM empowerment is increasingly more important to use a tool to solve our world's most technically challenging problems.
How does it feel being the only woman in the room?
I want to be a leader in the industry, irrespective of gender. While I am somewhat used to that from being one of the few women on the parachute team at the Air Force Academy, I want to see more women in the room with me. While the presence of women in the industry is growing, and it is motivating, it needs to occur at an increasing rate. I am excited to see the impacts from the World Bank's Women Entrepreneurs Finance Initiative.
With close colleagues, I am working to increase more young girls in STEM with Drone Camps at Rice University with partners BP, RCEL, and Microsoft. With leaders from across the industry, I helped co-found Women of Commercial Drones to focus on mentorship and scholarship.
Is the journey of a woman and a Latina different being in the military?
For me, I didn't realize how rare it was until you see the numbers. They need to improve, and I want to understand more behind the drivers of those data and how I can help. In any case, I am motivated by the increasing number of women and Latinas at the US Air Force Academy and in our Armed Services. In 2015, the cadet wing profile had 23.3% women and 28.8% minority (9.8% Hispanic) at the USAF Academy, which is higher than when I graduated.
To increase the number of women in STEM and women who serve, I am working to support a couple initiatives I am very passionate about growing. Service First is a STEM (and drones) initiative that serves the children of military families. This year, with my former roommate, we are starting WOMeN - Women Officer Mentoring Network at the US Air Force Academy to connect female officer candidates to women serving in their desired career fields.
How did you get into drones!
My first introduction to unmanned and autonomous systems was while an engineering student at the Air Force Academy, but my subsequent career as an officer and a civilian has revolved around them. In 2006, as an Acquisitions Officer, young Lieutenant, and engineer, I served as a program manager for stealth, nuclear cruise missiles, and inertial navigation systems and primarily the demilitarization of those cruise missiles. In 2010, I supported a yearlong Global Hawk initiative supporting sustainment, logistics, engineering. In 2013, I started Trumbull to transfer engineering and high-stress, high-risk, and high-value UAS operational experience gained in DOD work and my Ph.D. activities to serve the energy sector.
Tell us a hobby or something you are good at that most people may not know.
Right now, my life is my family and Trumbull. To exercise, I cycle (because my orthopedic surgeons advised me not to run anymore), and I can speed-read.
Right now, about half are concerts I have been to, others I would love to attend.
· Hillsong United (I listen to almost daily)
· Taylor Swift (5-year old daughter is "her biggest fan" and would love to take her)
· One Republic (saw in Deer Valley while living in Utah and traveling back)
· Coldplay (saw with my sister)
· Sara Barailles (would love to see)
· Lumineers (saw at the White House SXSL and in Colorado Red Rocks)
For me, I read/listen to multiple books at once.
· Goodnight Moon and Disney classic books and Disney princess books to our 5-year old
· Blockchain Technology: The Essentials
· The Vanishing American Adult
Candidly, I wish I could dance both better!
Wisest words from your mami or abuelos…
My mother and grandmother would say "Your best is enough." ...or at least, this is how I interpreted the advice!
And my grandfather told me the opportunity train only comes once, you better be ready to get onboard, or it will pass you by.
What would you tell girls who want to get into technology?
Technological literacy is imperative to succeed in a knowledge economy. Computer science, artificial intelligence is the future.
In many cases, engineering and especially computer science is not easy. As with any valuable skill set, it takes practice, thousands of hours of learning, and years of experience. And as you learn more in engineering, you see the fundamentals transfer, and it imparts a methodical approach to solve problems.
Try different fields, learn what you may like, dislike or where you possess a natural talent.
Ask questions…don't be afraid to ask questions. If you have a question, chances are someone else does as well. If able, find a close friend/girlfriend. At the Air Force Academy, my best friend from the parachute team and I were the same engineering major; it really helped to have a friendly face that I could be vulnerable and candid about struggles. In the same vein, find a mentor, someone who genuinely cares about your success. Stay strong!
Besides running a growing business, Dyan believes in STEM empowerment, leads drone camps, co-created free global STEM initiatives with Intel, BP, and Microsoft and supports many other initiatives. She hopes her story motivates other girls, women and Latinas to fall in love with science and engineering as she has.
I have personally had a chance to see Dyan in action during our Latina business owners roundtable with Ivanka Tump followed by the meeting with President Trump at the White House. Her passion for STEM, commitment to women and knowledge is evident and truly inspiring. To learn more about Trumbull Unmanned and Dyan's work you can visit www.trumbullunmanned.com.
REAL LIFE. REAL NEWS. REAL VOICES.
Help us tell more of the stories that matter from voices that too often remain unheard.
This post was published on the now-closed HuffPost Contributor platform. Contributors control their own work and posted freely to our site. If you need to flag this entry as abusive,
send us an email
.