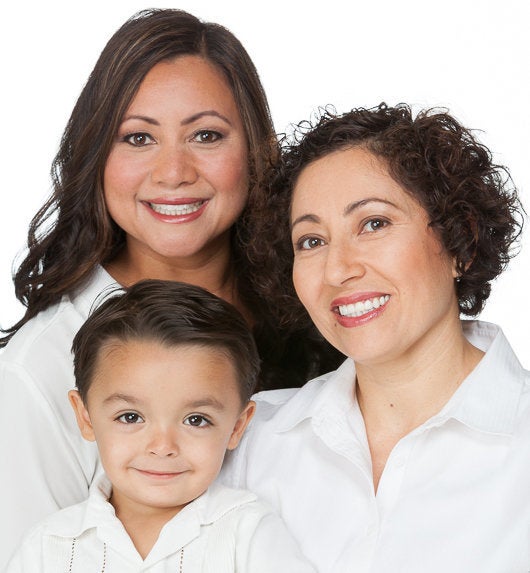 Tonight, Tonie and Bianca Alfonso-Monreal of Long Beach, California, will make network television history as the first lesbian couple to be featured on the CBS Television Network annual entertainment special, "A HOME FOR THE HOLIDAYS," now in its 17 year. The couple shares their inspiring and emotional story of how they built their family with the adoption of their son, Jacob. A special preview is provided.
When asked how their family feels about their primetime network debut, Bianca answered modestly, "It is a huge honor for us. But in reality, we are just two moms doing the very best we can to raise our son."
Tonie and Bianca Alfonso-Monreal knew they wanted to be mothers from even before meeting one another. "When we looked into adoption, we knew that was the path for us as two women together," said Bianca. The women were referred to RaiseAChild.US and began receiving mentoring support. In 2013, the couple adopted their 4-year-old son, Jacob, who had moved through three foster homes in the first 18 months of his life. Today, Jacob is excelling in school. "I just can't imagine life without our son. If you're thinking about adopting, you have the chance to give a child the love that they deserve. And there are so many amazing children still waiting," said Tonie.
"Our hope," added Tonie, "is that by sharing our story, we might make the world a slightly better place for our son and for other LGBT families. Maybe it will influence someone to think a little differently about two moms raising children, about adoption, or about the true potential of foster children."
"This is a very proud moment for us," admits Tonie. "From the beginning, Bianca and I were very much on the same page with this. That's why we are so in love with one another."
LL COOL J will host "A HOME FOR THE HOLIDAYS," broadcast Friday, Dec. 18 (9:00-10:00PM, ET/PT) on the CBS Television Network. Musical performances include Christina Aguilera, Jason Derulo, Rascal Flatts, and Ed Sheeran. With the help of The Children's Action Network, the show's inspirational "Children Waiting" segment gives voice to these forgotten children by creating an intimate portrait of their hopes, their dreams and their wish for a "Forever Family."
Have you considered building a family through fostering, adopting, or weekend hosting? RaiseAChild.US is the nationwide leader in the recruitment and support of LGBT and all prospective parents interested in building families through fostering and adoption to meet the needs of the more than 4,000 children in the foster care system. RaiseAChild.US recruits, educates, and nurtures supportive relationships equally with all prospective foster and adoptive parents while partnering with agencies to improve the process of advancing foster children to safe, loving and permanent homes. Take the next step to parenthood at www.RaiseAChild.US.
Popular in the Community