WildCare's Wildlife Hospital treats nearly 4,000 ill, injured and orphaned wild animal patients from over 200 species every year. This is one patient's story.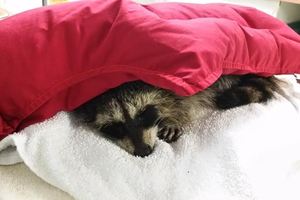 When a WildCare staff member came out of her house on the morning of December 16, she didn't know she'd be performing a wildlife rescue before she even entered the Wildlife Hospital!
This juvenile raccoon was lying in her driveway, soaked to the bone by the torrential rains of mid-December. He was so cold and exhausted he barely squeaked when she donned heavy gloves and picked him up. Upon examination, the little creature was cold to the touch, reflecting no body heat at all after what must have been hours out in the wet and cold.
Warming him was the first priority-- the little raccoon actually had a seizure from extreme hypothermia as he was being admitted to the Wildlife Hospital. Medical Staff quickly turned to an incredibly useful object recently provided through funds donated by a generous donor. Known as a Thermocare or a "Bear Hugger," it is a warming unit used in surgeries for humans and animals alike. The soft blanket holds heated air that is constantly circulated, eliminating the need to constantly reheat towels or blankets to raise a patient's core temperature.
Our little raccoon patient was placed on soft towels and covered by the Bear Hugger. Imagine how incredibly good the warmth must have felt to him!
Over the next several days, this young animal stayed semiconscious. Medical staff provided him with subcutaneous fluids once his body temperature had warmed, examined him for wounds and x-rayed him for broken bones. He spent hours under the cozy Bear Hugger. Finally, with the excellent supportive care provided by WildCare staff and volunteers, he turned a corner and began to recover. Too young to be on his own, he grew up at WildCare and was released with two other juvenile raccoons on February 19, 2015.
Watch this young raccoon and his companion being released back to the wild in our video below:
WildCare is a 501(c)3 nonprofit organization supported almost entirely by private donations and individual memberships. Visit us online at wildcarebayarea.org.