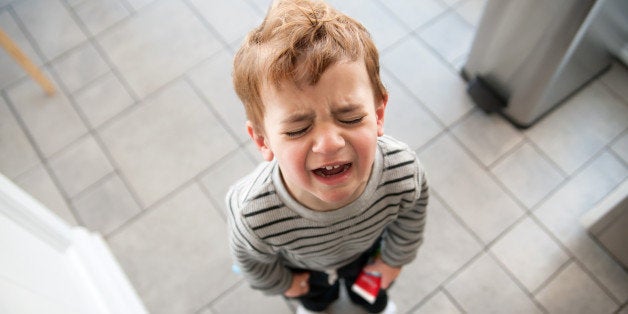 I struggled to get him out of the ice cream parlor, his arms and legs splayed out to catch us in the doorframe, screams echoing through the birthday party we were leaving early. He had lost at an arcade game, and the thunderstorm, as we called them, was in full force. I was there alone with him, and no other parent came to help, but just watched and whispered to each other as I struggled to pry loose arms and legs to get him out the door. Once the arms were loose, the legs took up their position, and vice versa, for what seemed like an eternity. He was heavy to carry anyway, and this made it almost impossible.
Once we got out, the screams were so loud, and the struggle so obvious, that people came out of the restaurants in the strip mall to see what was happening. I lumbered across the parking lot, holding Felix sideways as best I could, as he pummeled me with those same arms and legs. I heard someone say, "We'd better call 9-1-1."
When I got him to the car, I couldn't get him in the door because he went all Spiderman on me, using his arms and legs again to resist my pushing him in. Finally, one leg gave way, and I was able to get him in and lock the door. I looked up at all the people staring at us, on the one hand thankful that they would want to call 9-1-1 at what must have looked like a kidnapping, and on the other hand angry that no one thought to ask or help. And in between those two poles, I was irritated that I was being judged as a bad parent, again.
Not all tantrums are the result of poor parenting, contrary to popular opinion. Felix has Autism, and when things become overwhelming--the sounds are too loud, losing the game is too much, there are too many people around--meltdowns happen. In stores, football stadiums, restaurants, schools, anywhere.
I am used to the stares, but I would like to offer an alternative: "This looks really hard. Is there anything I can do to help you?"
That's it. That's all that's needed. Just a kind word, an acknowledgement that it is hard to have a child in the middle of a meltdown. This is true whether the child has Autism or not, whether the parent is to blame, regardless of the circumstance, really. Just 13 words: "This looks really hard. Is there anything I can do to help you?" rather than first going to "We'd better call 9-1-1" or, "that child is spoiled." And your job is simply to make the offer. If rebuffed, even angrily, don't take that on, just acknowledge it and move on. Don't let one parent's angry response keep you from making this strong offer to others.
Had someone asked me that, I would have gladly accepted their help in opening the car so I could get Felix into it, where he could calm down, which he did almost immediately.
Come to think of it, let's adopt this phrase for more situations than meltdowns--for friends in crisis, for example: This looks really hard. Is there anything I can do to help you?