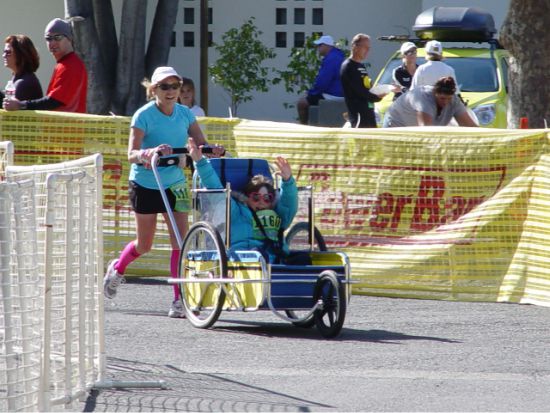 Today we're featuring Kelli & Arianna (Ari) Tanghe, the adventurous mother/daughter duo who make up the endurance racing team: Team Ari. Kelli is a 50-year-old proud mother of three. Ari is her youngest daughter, who at 13 years of age is making great strides in the disabled athletic running community with her "Yes I can do anything" attitude. Ari has cerebral palsy and visual impairment but that doesn't stop her from pounding the pavement with her mom.
It all began last year when upon entering middle school, Ari asked to run with her mother, just as her older brother and sister had for several years. After hearing Ari's request, Kelli knew she needed to act upon Ari's dream and make it happen. So Team Ari was officially "born" on September 1st 2012, when Kelli pushed Ari in her wheelchair at her first 5k-road race. Ari was bit by the "running bug" and eager to participate in more races at longer distances. Soon after, Kelli contacted Team Hoyt in Boston and accessed adaptive running equipment through the MyTeam Triumph organization to push Ari in half & full marathons.
What is your greatest accomplishment as of late?
It is difficult to summarize that because we feel we are accomplishing so many things for disabled athletes and individuals who live with cerebral palsy. We believe that we are raising awareness for all disabled athletes to compete in road races.
On a more personal level our greatest accomplishment is to conquer 13 half-marathons in celebration of Ari turning 13 years old this year. As of this date we have crossed the finish line together for 8 of our scheduled half's and will officially finish Celebrate 13 on November 17, 2013.
With the love and support of our family, perseverance, courage, belief in ourselves, training, and with our "Yes We can Cross Any Finish Line " Motto!
What motivates you to make the world a better place?
We love to inspire other athletes and show the world that you can achieve your dreams even if they aren't the ones you started out with. Our desire is to help all individuals able bodied or differently abled to participate and compete in any sport. We would especially like to see all disabled athletes have greater opportunities to compete in inclusive environments.
What do you do to stay healthy and fit?
Running is Kelli's primary form of exercise, but she also cross trains with Spin class & Pilates. Ari loves to do Kids Yoga, which benefits her body as well as to keep some of her muscle groups less spastic.
What's the best piece of advice you've ever received?
From the late Christopher Reeves, we are reminded daily of his words and actions with this quote:
"I think a hero is an ordinary individual who finds the strength to persevere and endure in spite of overwhelming obstacles. They are the real heroes, and so are the families and friends who have stood by them."
What's your favorite aspect of using Charity Miles?
We love that multiple charities benefit from this innovative idea! Athletes everywhere can feel accomplished in their efforts to achieve both physical and mental wellness by tracking their miles AND giving back to the community at the same time. It's a win/win for everybody and we feel proud to help non-profit organizations that continue their good work with the people they serve.
Who do you exercise for, and why?
Kelli began running when Ari took her first steps independently at about 5 years of age. Ari had spent years in physical therapy, having medical procedures, appliances, & ankle/foot orthotics to assist with her ambulation. Kelli witnessed her daughter's determination and knew she could no longer take for granted her ability to walk, run, & exercise. Ari motivates most people she meets and inspires many others along Team Ari's Journey!
To hear more stories from the Charity Miles community read our Spotlight On series.
Aneya Fernando is the Social Media Editor for Charity Miles. She is also a writer and producer.
REAL LIFE. REAL NEWS. REAL VOICES.
Help us tell more of the stories that matter from voices that too often remain unheard.