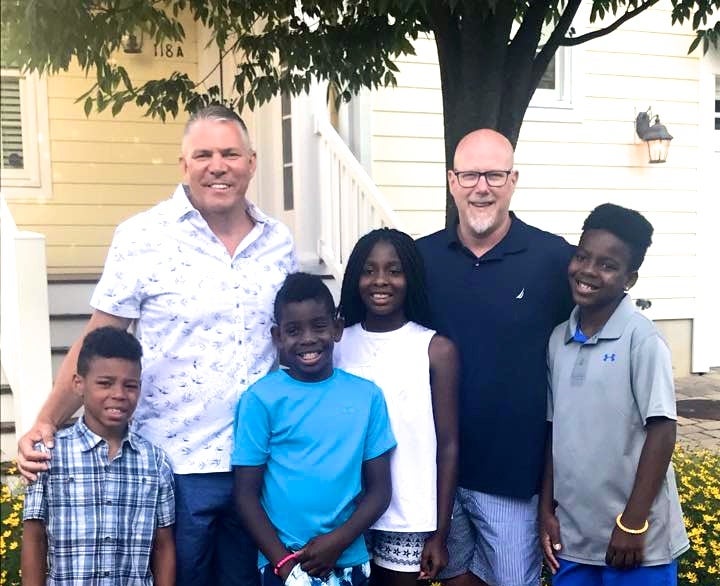 November is National Adoption Month, and RaiseAChild is celebrating our LGBTQ community with weekly "Let Love Define Family®" series for HuffPost Queer Voices. In this fourth installment, contributing writer Danielle Lescure introduces us to an amazing man whose life experiences now fuel his success.
Rob Scheer may not be a household name, but he has moved millions of people by sharing his story. His is a traumatic tale of entering the foster care system at age 10 after an abusive childhood, carrying what few belongings he had in trash bags from home to home then onto the streets after aging out of the system.
Many years later, he and his partner Reece were shocked to see each of the four children they adopted through foster care arrive at their doorstep with their own trash bags in tow. Determined to end this trail of trash bags, Rob founded an organization called Comfort Cases.
"I became a successful businessman and I forgot where I came from for a little bit of time," Rob said. "And it took my four amazing children to enter my home nine years ago for me to finally get that 'Aha!' moment. I carried that trash bag. I might be a successful businessman now living in a beautiful home in downtown D.C. with my then-partner, now-husband, but I was that homeless kid who ate out of a trash can. How dare I forget where I came from. And that was also the moment where I was like I've got to start doing more about it."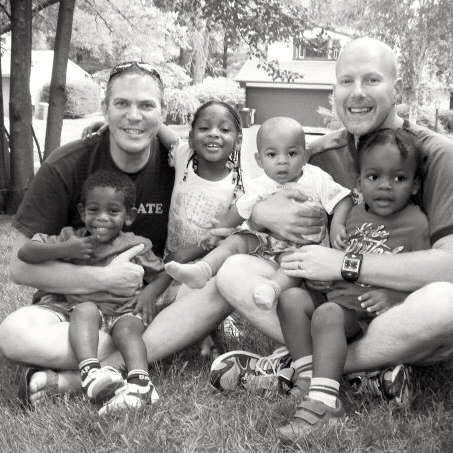 "I always laugh and say I'm just a goat farmer from Darnestown, Maryland who just wants to make sure that my four kids know that this is what we're supposed to be doing in communities. We're supposed to be helping each other out. I say I have a full-time job that pays my mortgage and a full-time job that pays my heart. And I'm so blessed to have the one that pays my heart."
Comfort Cases delivers dignity and compassion to foster children in the form of an actual duffel bag or backpack containing pajamas, a blanket, toiletries, a stuffed animal, a book, and a fun activity. Since its inception in 2013, 32,000 Comfort Cases have found their way into the hands of foster kids throughout the D.C., Virginia, and Maryland areas and 29 other states.
But Rob is a tireless advocate on behalf of foster children well beyond the work done through his non-profit. His unique experience as a former foster child as well as adoptive parent makes his perspective very personal and his passion about the issue palpable.
"You know, these kids are made to feel like they're disposable children. And why shouldn't they feel this way? As a community, we've allowed this trash bag epidemic. This is so unacceptable. And so I said I'm gonna talk about it until somebody tells me to stop talking about it and then I'm gonna continue to keep talking about it," he declared. "Because I owe it to my community. I owe it to these 428,000 children that are in foster care to let them know that they do have a voice and they do matter."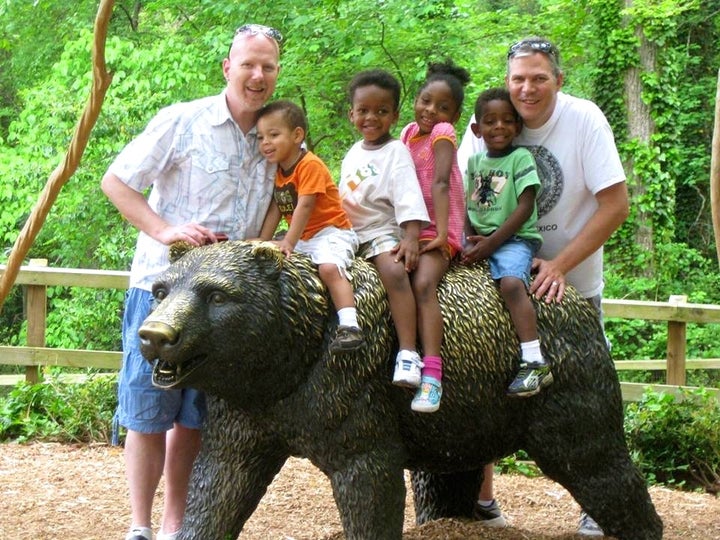 A large part of that education comes in the form of expanding the definition of what family means and celebrating the many forms it can take. As a white, gay couple who are parents to four African-American children - Amaya, 13, Makai, 10, Greyson, 10, and Tristan, 8 - Rob and Reece have encountered their fair share of ignorance and intolerance.
"Do you think my children really care that we're white and they're black or we're gay and they're straight? They don't care," Rob stated. "What they care about is that they get to wake up every morning to parents that love them and absolutely want the best for them. They want parents who make them safe, and feel wanted. At the end of the day, I just want my children to have more than I had. I think every child deserves that."
As parents, Rob and Reece go the distance for their children to have everything that will help them thrive, even buying a farm when Reece read it could benefit their son Makai and his struggles with the ongoing effects of Fetal Alcohol Syndrome. His improvement as a result has been astonishing.
"One thing we say to our children and to each other is there's no such thing as never. And if you believe in your life that there's no such thing as never, then you will always be one step ahead of everyone else. You will always complete that circle that you need to complete because never just doesn't exist. It was like when they told me my son Makai would never talk. We looked him in the eye and said, 'In our family, we don't say never.' And look at Makai now."
Rob also refutes the many labels society sticks upon others and wishes more people would refuse to use them as well.
"First of all, let's stop calling them foster children. They're children; they're children who need homes. Why do we have to label? We label so much in our society. We've used the labels so badly that it's hurting our children. I've gone into homes where foster parents have asked me to speak and the parents are like, 'These are my biological children and these are my foster children.' I remember being that kid. I remember hearing those exact words. Crushed me. Because I was different. Kids don't want to be different. I think if we could get off all the labels and really get down to the nitty gritty, we're gonna realize that at the end of the day no matter what your skin color is or whether you're gay, straight, bisexual, transgender, no matter where we sit on that fence of politics or religion, it doesn't matter. We all want the same thing in life and that is for each of us to do well."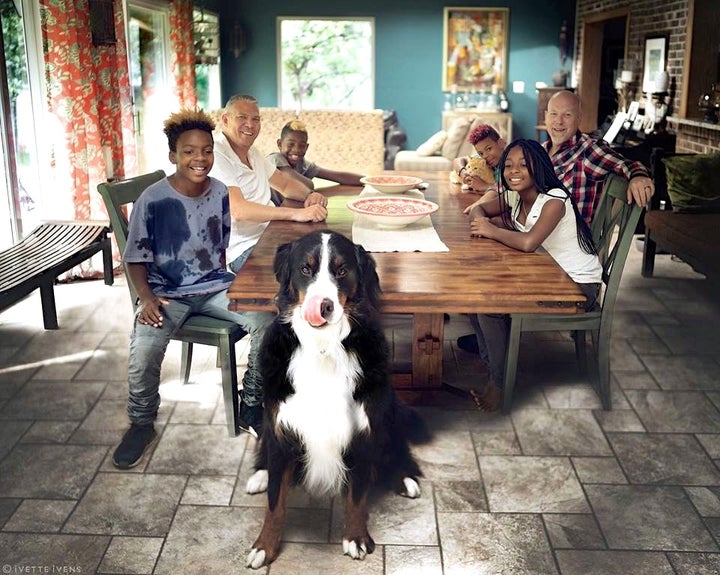 Rob is acutely aware that racial disparities and discrimination do exist and he is very honest with his children about it.
"I don't want anyone to ever think that I am ignorant when it comes to racial diversity. But that doesn't change the fact that I'm going to teach my children anything differently than what I feel is right. My husband and I feel that the very first thing you teach a child is how to be a good human. How to love your fellow brother and sister. How to accept people for their differences. How to embrace people because they are different. Once we tackle that, then we can tackle the color issue. But until then we've got to teach our children to be good humans."
Rob would love to see more people step up to help foster children, and he has sage advice to those considering fostering or foster-adoption.
"I always tell future foster parents don't expect anything. Just absolutely enjoy it. If you start expecting things, then you get disappointed. Just expect the fact that you are going to change a child's life."
"My husband and I tell our kids weekly three things: Use your listening ears because every person you meet has a story. Use your kind words because our history books show never have we changed anything with hateful words. But the most important thing is to lead by example. If we all led by example, can you imagine what this world would be like?"
Are you curious about the benefits of building a family through fostering or adoption? RaiseAChild is a national 501 (c) 3 public benefit organization dedicated to building loving families for foster children®. RaiseAChild has engaged more than 3,600 prospective foster and adoptive parents as the nationwide leader in the recruitment and support of LGBT and all prospective parents interested in fostering and adoption. For more information, go to RaiseAChild.org or call (323) 417-1440.
Join us at a free, fun, and inspiring RaiseAChild "Let Love Define Family®" Info Event. Enjoy a special performance by actor/comedian Alec Mapa with complimentary food and beverages. We will answer all of your questions about the process, including all of the benefits of becoming a foster or adoptive parent. All are welcome.
Tue. Nov 28 @ 6:30p Museum of Latin American Art Long Beach, CA
Wed. Nov 29 @ 6:30p The Ricardo Montalbán Theater Hollywood, CA
Thu. Nov 30 @ 6:30p The Discovery Cube Santa Ana, CA
Sat. Dec 2 @ 6:30p All Saints Church Pasadena, CA
REAL LIFE. REAL NEWS. REAL VOICES.
Help us tell more of the stories that matter from voices that too often remain unheard.