The Pink Star diamond is one of the world's largest and most flawless diamonds to ever go to auction, and it sure brought in a pretty penny.
The Pink Star is an internally flawless fancy vivid pink diamond that was mined in South Africa by De Beers in 1999. Cutting and polishing the diamond was a process that took two years, and then later graded by the Gemological Institute of America. GIA is a public non-profit institute that researches gems and sets quality standards.
"This is the largest fancy vivid pink they've ever graded, so I think we're looking at the biggest, pinkest diamond known," said David Bennet, Sotheby's worldwide chairman for international jewelry, in an interview for SothebysTV.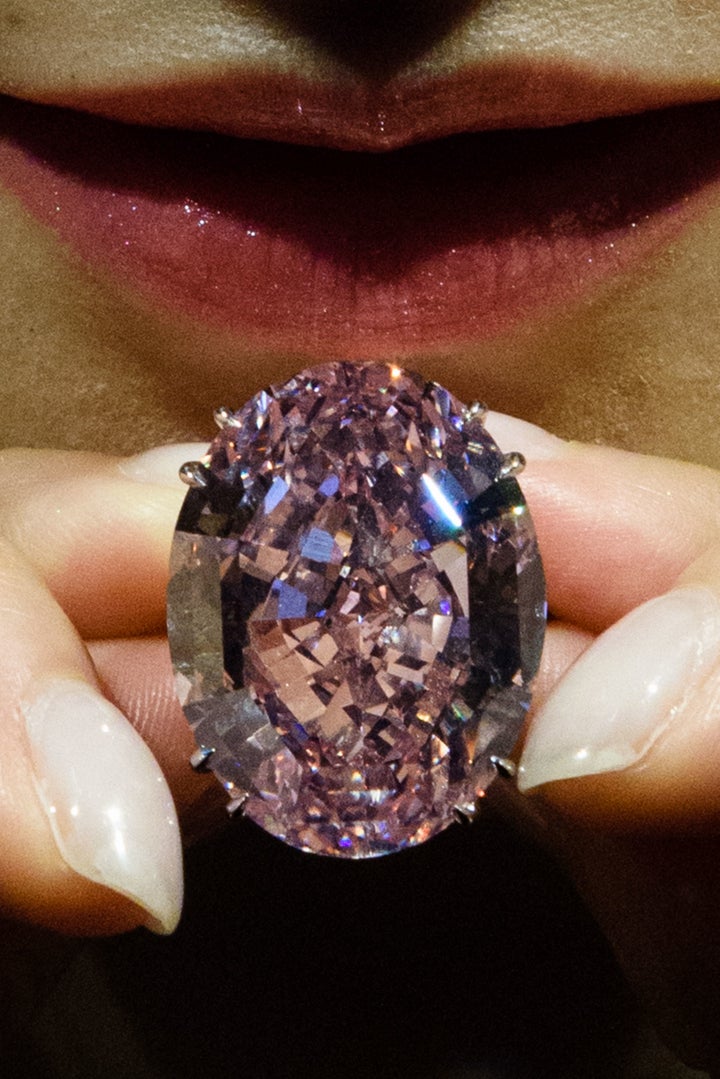 Most everyone knows the 4 Cs of diamond quality — color, cut, clarity, and carat. Pink diamonds are pretty rare and ones with strong color are even rarer, according to John King, GIA's chief quality officer.
"All of these things to come together in a single stone is just mind boggling," King told The Huffington Post.
Most common engagement rings can be under a carat and usually have some kind of flaw to them, King said. The most steady supply of pink diamonds in the last 25 years are typically less than 2 carats after being cut and polished. That makes the Pink Star about thirty times the size of the typical pink diamond.
In 2014, Sotheby's put the Pink Star up for auction in Geneva where it sold for $83.2 million to diamond dealer Issac Wolf. When Wolf's investors backed out, the dealer was forced to default and left the rare gem without a home. Sotheby's attempted to get the Pink Star sold in private sales for three years without success.
"I think that the diamond market as a whole has had a couple of wobbly years," Tobias Kormind, founder of the online retailer 77 Diamonds, told The LA Times. "White diamonds have declined a bit over the last three years, and that's got to do with nervousness about luxury goods purchasing from China, oil prices that have affected Middle East purchasing and there's been crises in Russia."
Popular in the Community