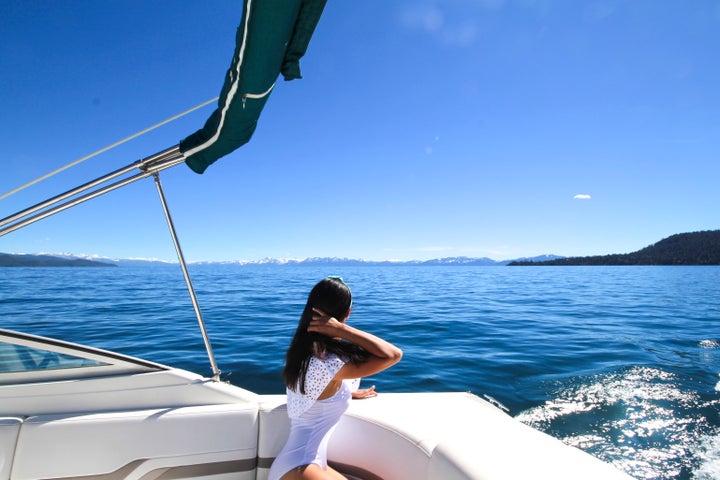 I threw my head back laughing harder than I had in a good while. Maybe it was the Zinfandel the raspy-voiced waiter playfully called "jam" as he poured us a second - or was it third? - glass, but it was in that moment I realized I had found the real treasure of this place: it was hidden in the stories and the people, not the waters.
It all started when I heard that Lake Tahoe might just be the bluest place in the country. A fierce lover of all things nature, I had to find out for myself. I was connected with Go Tahoe North, which I was later able to confirm is the bluer side of the lake, and as the plane descended, the cobalt dot increased in vibrancy as the miles between us decreased.
I was on a quest to live like a local for five days and really dig into the area's culture and history. My lack of previous knowledge — or travel companion — made me open to receiving whatever this new destination would bring me. A piece of self-awareness, new friends, or maybe just some new perspective.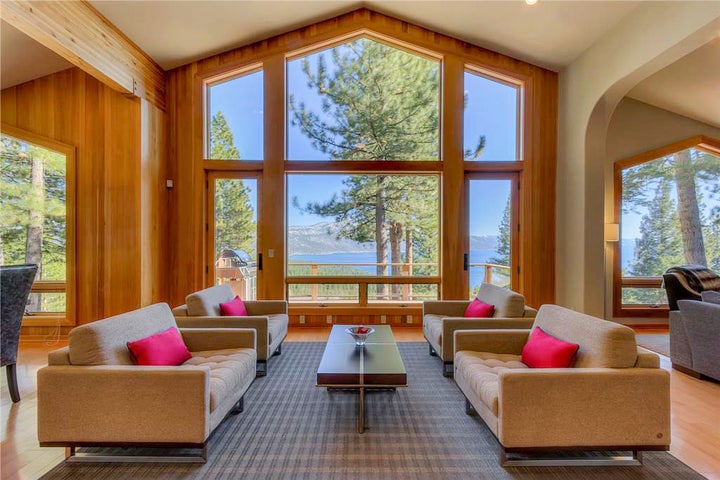 For lodging, I chose a vacation property through Tahoe Luxury Properties. The 5-bedroom home with a view of the lake, appropriately named Azure, had floor-to-ceiling glass windows and lodge-like wood beams supporting the A-frame main room. An oversized deck welcomed me in the early mornings, along with the crisp air and slow sunrise. I made a point to hold my coffee with both hands and close my eyes each time. In the evenings, a glass of red replaced coffee and a blanket curled its way around me.
My first morning brought me up Crystal Bay Fire Lookout. The easy hike was manageable for my jet-legged self, and reaching the top awarded me somehow nostalgic vistas — the rising sun, still a warm gold, danced with the many shades of blue reflected in the water. It was a sight to behold, and I was hooked.
For lunch, you won't find any big chains. These folks keep it small and continue to build up local businesses, resulting in a cuisine that is carefully crafted over decades, and even better stories to come with it.
I peeked in at Mountain High Sandwich Co., a local deli that only serves organic and locally grown food. After fighting a bit a line — always a good sign in my opinion — I ordered the Tri-Tip sandwich, and a cold-pressed energizing blend of carrots, oranges, lemon, and cayenne.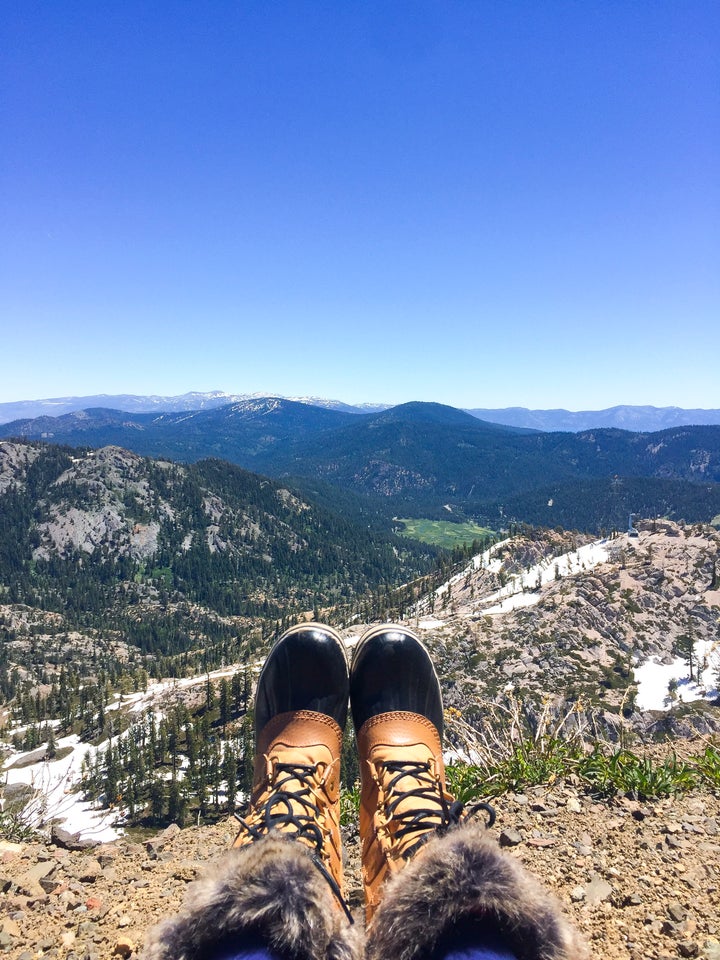 I found that Tahoans love to show off their slice of heaven to outsiders, and this came in handy when I befriended some friendly locals who offered to show it to me by boat. I canceled whatever other plans I had for the afternoon and jumped at the chance to get on the water. Navigating across this contained ocean was almost too much to take in for a first-timer like me — the skies met the water creating an endless canvas of blue, making it impossible to tell where one ended and the other began if I squinted just right. For a moment I stared and waited for the view to sink in, wistfully knowing that neither picture — or write up — would do justice to the feeling it gave me.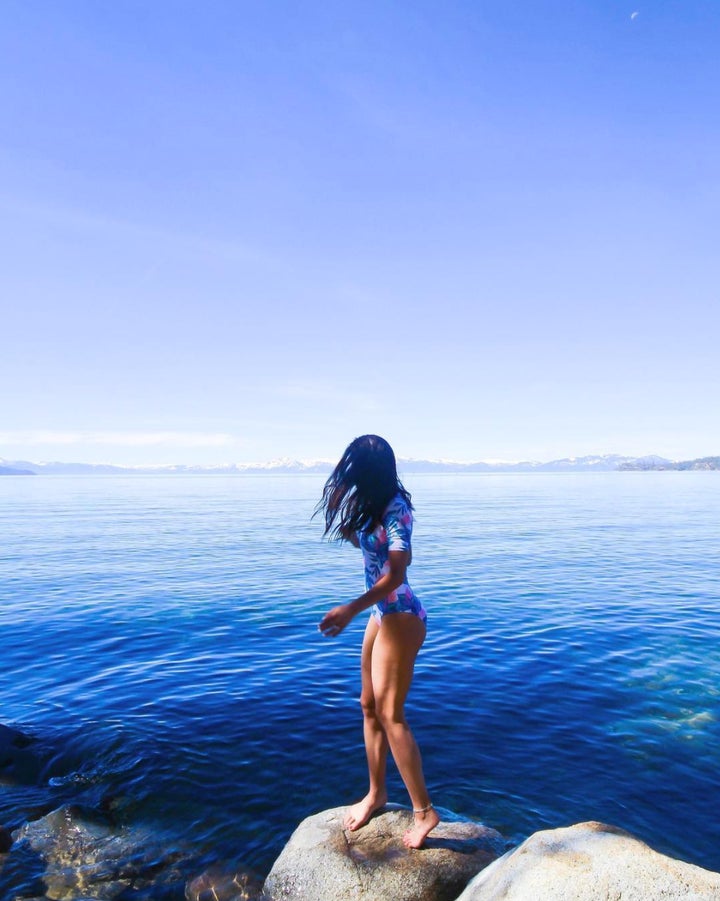 For the adventurous types, jet skiing and parasailing tours were available. For those of us saving our energy, people watching on the rollicking docks and private beaches was considered an equally appropriate a way to spend the day.
For dinner, I visited Wolfdale's Cuisine Unique, home to an uncomplicated fusion of European and Asian cuisine with a decisive Californian twist. Resting atop the Sierra Nevada Mountains and open since 1978, Wolfdale's clever culinary surprises reside inside an unassuming facade, accompanied by one of the best wine lists I found. I attempted to hurry out thinking of the long wait, and was instead encouraged to linger a little longer — so I ordered that second dessert, inched my chair closer to the sunset, and settled in.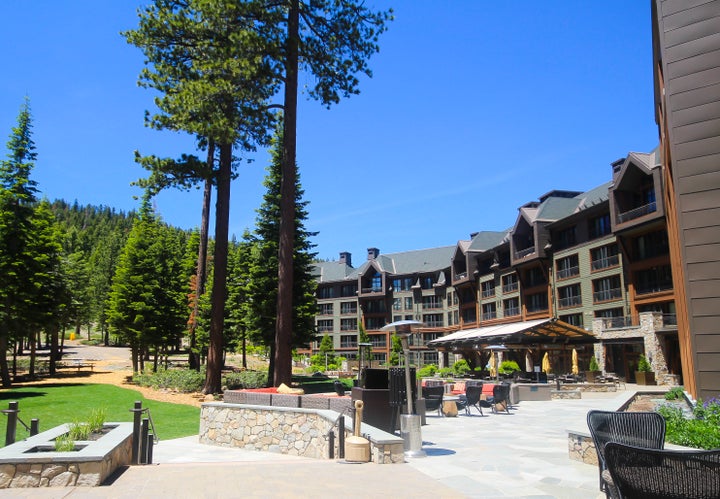 After a good night's rest and a justified late start to the day, I used the late morning to get a lay of the land. Skipping my home brew in favor of a more elevated breakfast at Manzanita at The Ritz-Carlton, Lake Tahoe, I drove across state lines into California. The change is subtle but detectable. By now I had solid grasp on the lake vibe, but here — in the mountains — it was quieter, more serene. My breakfast game had been a little weak, so here it was all about the steak and eggs. A much more modern than expected dish was delivered, and my fork found its way into a peppery braised short rib topped with a runny fried egg, as marinated tomatoes and pickled onions rounded out the perfect bite.
After one or two or seven cups of coffee with a view of the mountains, I dragged my suntanned, exhausted body to the spa for some much needed pampering. A custom facial and a dip in the private plunge pool, followed by a treat in the cabana was all I needed to decide this was indeed, the most relaxed I'd been in a long time. I dusted off a book I'd optimistically packed and pulled the hooded robe tighter around me, children's faint screams and splashing coming from the main resort pool far, far away.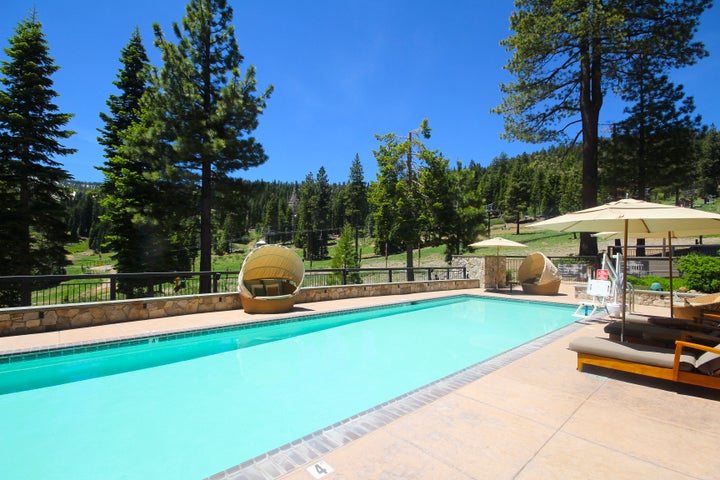 Skin and spirits aglow, it was time for the mandatory tourist stop: A tour of Thunderbird Lodge. Original owner and billionaire heir to the PG&E fortune George Whittell Jr purchased the 27 miles of Lake Tahoe shoreline in 1935 and built a series of buildings to form the estate. The main house has no guest rooms, but he lived on the property with his third wife and exotic animals, including Mingo, an Indian elephant.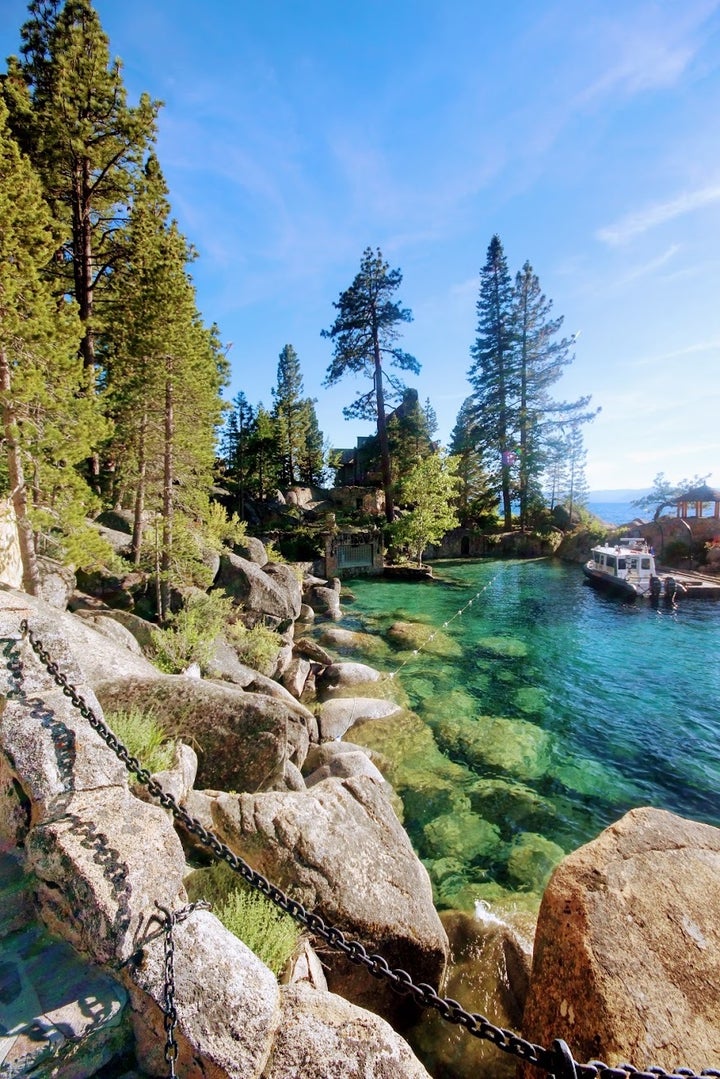 Whittell's grandiose plans to develop a ski resort and casino never materialized as the years passed and he grew more reclusive. To frighten away unwanted visitors, he used a loud siren that operated at the dock, and used underground tunnels and secret elevator whenever feeling threatened. The historical landmark receives no governmental support, but was rescued from millions of dollars of debt, restored, and is now preserved by the members of Thunderbird Preservation Society. His motives may have been less than righteous, but Whittell is still credited for the unspoiled beauty of Lake Tahoe's eastern shoreline.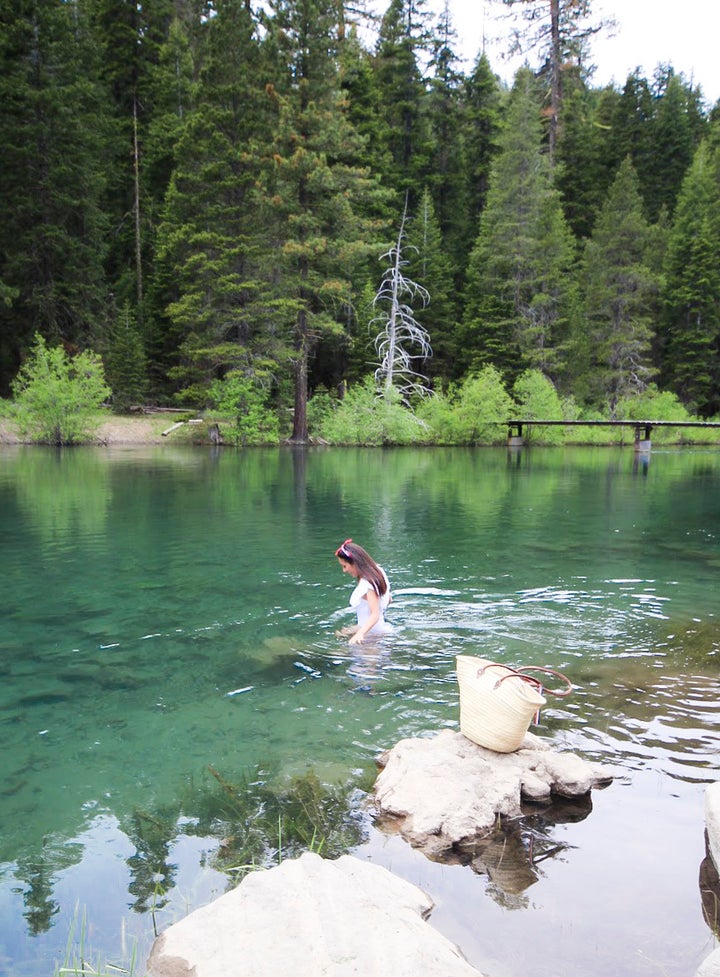 For my last day, I set my sights on Squaw Valley. I was eager to see what snow in July looked like, though admittedly skeptical it was at all possible. Riding the 1.5-mile long aerial tramway, which ferries passengers from 6200 to 8200ft elevation is somewhat intense, especially for those with a fear of heights. On this clear day epic views of the Sierras awaited, but my gaze was on the rocks hoping to catch some wildlife in their natural habitat. Once screaming marmots were checked off the list, I moved on to my next bucket list item: snowshoeing in a swimsuit, in the middle of summer.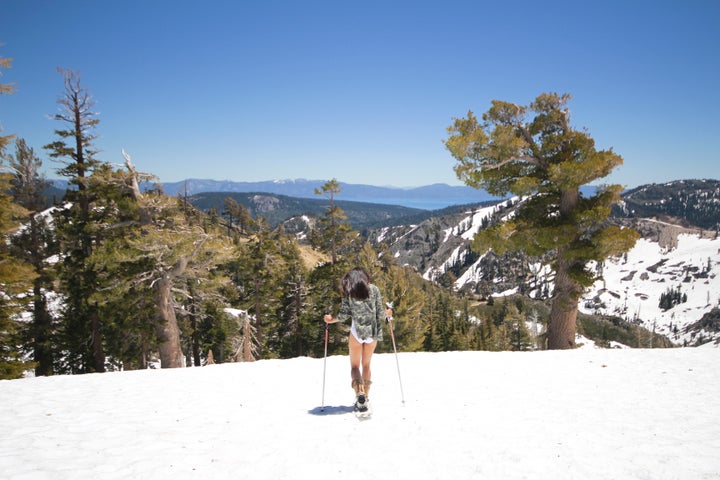 Later, while enjoying a summer salad paired with chilled champagne on the mountainside patio of Plumpjack Cafe, I knew I'd found the perfect way to end a day on the slopes, only made better — possibly surpassed — by the hundreds of canine passersby attending the dock-diving tournament in town.
After heading back into Incline Village to clean up, dinner came in the form of a cultural lesson. I walked into Crystal Bay Casino Steakhouse and almost instantly wished I had chosen a different outfit — Sinatra blasted through the hallways, dark, lush carpeting lead me from dark room to darker room, gamblers of varying ages leaned onto blackjack tables, and the faint smell of cigar smoke still hung in the air. My dinner companions, two Tahoe locals, met me halfway to my table with big smiles, firing off urgent drink orders so the fun could commence.
The interior of this historic club better known as the Rat-Pack hangout has been redone in its original 1940's style, and our waiter acted as if he'd been there just as long. For a few hours, three millennial women sat in Frank Sinatra's old booth - we'll never know which side he really sat on - sharing the paths of life we had each taken to lead us to this place. As the wine bottles were poured, our stories began to pale in comparison to the ones entrenched in the velvet-clad walls of this old casino. I could almost see it — Marilyn Monroe crying in her booth across from us, the alleged mafia meetings, the rivalry at the Cal-Neva Lodge, the underground Prohibition-era tunnels that connected suites of the elite and movie stars like Monroe, Sinatra and the Kennedy Clan, Judy Garland being discovered at age 15 — for a moment were transported right into a 1935 daze. Which is precisely when the Bananas Foster table-side service manifested and set our table ablaze with golden butter flames, sending us all into hysterics.
From Texas, take the newly-launched flight via Southwest from Dallas into Reno/Lake Tahoe.
The North and South shores differ vastly: Tahoe North offers a peaceful small town-meets-nature experience, while the South shore centers around big casinos, dining, and tourism.
If stumped on dinner ideas one evening, pick up some items at a local grocer and make your way to Moon Dune Beach. Time your arrival with the sunset, and watch as the pastel colors change from purple, to bubble gum pink, to a faded orange.
Find me below, or email me at deborah@societyletters.com
Related
Popular in the Community