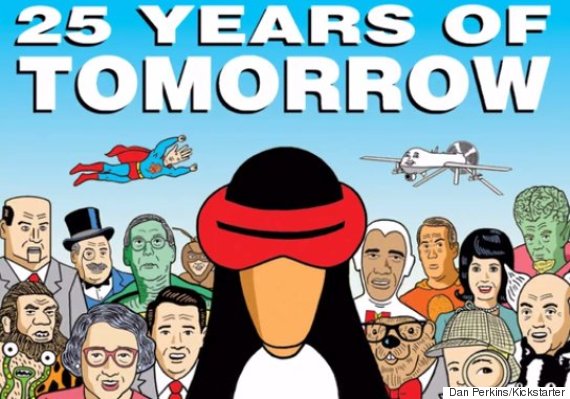 Dan Perkins has reached plenty of milestones in his career of more than 25 years as one of the most well-known underground political comics. But he wasn't prepared for the mark that he hit earlier this week when he became Kickstarter's newest member of the $100k-in-a-day club.
Under the pen name Tom Tomorrow, Perkins has been drawing his famous sarcastic emperor penguin, Sparky, since the early '90s. Over the years, he has steadily offered more than 1,500 multi-panel strips of "This Modern World" to alt weeklies, the Daily Kos and the Nation. Now, thanks to his Kickstarter backers, Perkins will create what's probably the first comic anthology to backed with over $100,000 in less than 24 hours.
After he realized he had hit the quarter-century mark for the strip, Perkins wanted to do something big to commemorate it. A 15-pound, double anthology with a laser-printed hologram cover seemed to be the only thing that would appeal to his sensibilities.
Fate wouldn't let him get out the easy way, as he had something more important on his hands. Perkins noted on Kickstarter that the anthology will be "a contemporary satirical history of everything we've been through over the past 25 years, through the eyes of an acerbic penguin with weird sunglasses."
In an interview with Mother Jones, Perkins recalled the beginning of the comic: "In 1990 there was no Internet, there were no blogs, there was no social media. In those days I really viewed the strip as a vehicle for conveying information that people might not have had access to elsewhere."
Perkins told The Huffington Post that one of his biggest accomplishments was "helping America get past the early Bush years," and reminisced about the period when the Internet appeared to be a threat to his livelihood -- an event that he made famous in the best way that he could.
That very same Internet came to his aid less than a day after he announced his intention to chronicle his life's work. The Kickstarter passed its original goal of $87,000 within 22 hours, and dollars have continued to pour in. The project has over $120,000 to its name as of Wednesday morning, putting it in reach of hitting the "Do-It-Yourself Sparky Paper Model Included" mark.
If the book raises over $250,000, Perkins says on Kickstarter that he'll post a video of himself getting permanently inked with a character from the strip. He said he put the goal up as a bit of a joke, but after seeing the reaction the first day is already brainstorming his first "This Modern World" tattoo.
"One of my backers suggested Sparky riding Droney while waving a cowboy hat in the air, after Slim Pickens in Dr. Strangelove. I kind of like it!" he said.
True to the comic, Perkins said he wanted to ensure that the workers behind the scenes were paid fairly before he ever gets the opportunity to swim in a pile of cold hard cash. He stressed that he doesn't make a profit at the minimum amount to obtain a copy of the anthology, $70. The creator of a happy-go-lucky drone swears that he is simply happy to compile his life's work, while paying those that are assisting in the endeavor a decent wage.
Perkins was on the verge of history earlier this year as well, when he was nominated for a Pulitzer Prize -- just the latest in a career full of accolades that includes two Robert F. Kennedy Awards for excellence in journalism. That recognition is no small feat for any journalist, but it's no less than monumental for someone who considers himself a "weirdo, alt-weekly guy."
REAL LIFE. REAL NEWS. REAL VOICES.
Help us tell more of the stories that matter from voices that too often remain unheard.