During a winter walk around his family's neighborhood, one husband captured the snow-filled moment his wife breastfed "like a boss."
On Jan. 11, Oregon dad Kasey Kamna posted a photo on Instagram of his wife, Simone Coker-Kamna, nursing their 1-year-old daughter, Austin. The family went snowshoeing in their neighborhood after a foot of snow fell in Portland. In the caption, Kasey wrote that his wife was "straight breastfeedin' in the snow like a boss."
Kasey explained that the #normalizebreastfeeding moment happened on their way home when little Austin wanted a snack.
"As the whims of a 1-year-old are solely instinctual, Austin decided she needed to eat before we were 'allowed' to get home," Kasey told The Huffington Post. "So we made a pit stop to watch people sledding down a small hill, and Austin got a little snack, and once she was sufficiently sated we went home."
Kasey told The Huffington Post another mom who was sledding with her son stopped to talk to the couple about the snowshoes they were wearing. When she realized Simone was breastfeeding, she was "really excited and positive."
"She said something along the lines of, 'You gotta do what you gotta do,'" Kasey said.
And Simone did just that. She also had an important message for fellow mothers, no matter their feeding preferences.
"In general, do what works and is comfortable and good for you and your baby," she said. "Be fair to yourself, you're doing great!"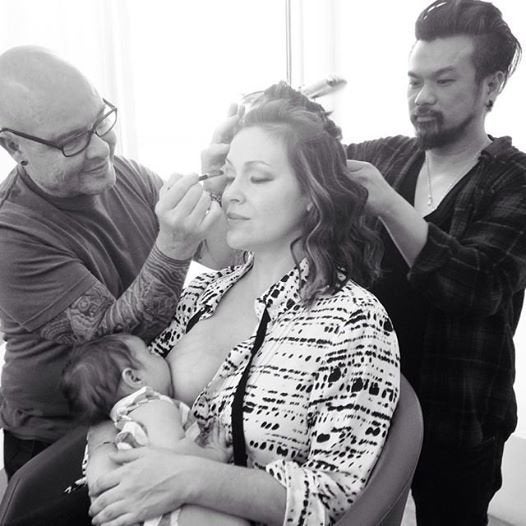 Breastfeeding Moments In Hollywood