It's no secret a lot of parents really love Target. One Missouri mom took her love for the retail chain to a new level.
Page Miller posed for maternity photos in her local Target. She spoke to HuffPost about the fun photo shoot and the emotional story behind it.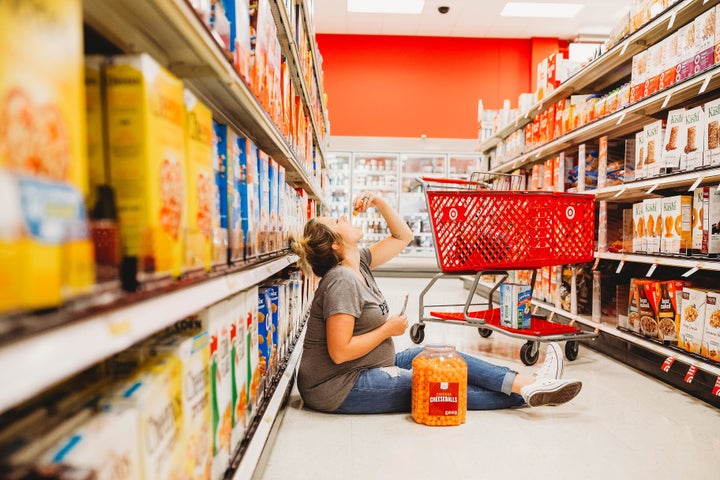 Photographer Heather Pippin came up with the idea to do a fun Target session and asked Miller to be her model because she knew how much she loved the store. "I just wanted to do something different and creative," Pippin told HuffPost.
The photo shoot took place on a Sunday evening in late July at the Target in Arnold, Missouri. Miller wore a shirt that reads "Pregnant AF" and posed with her 2-year-old daughter Avery.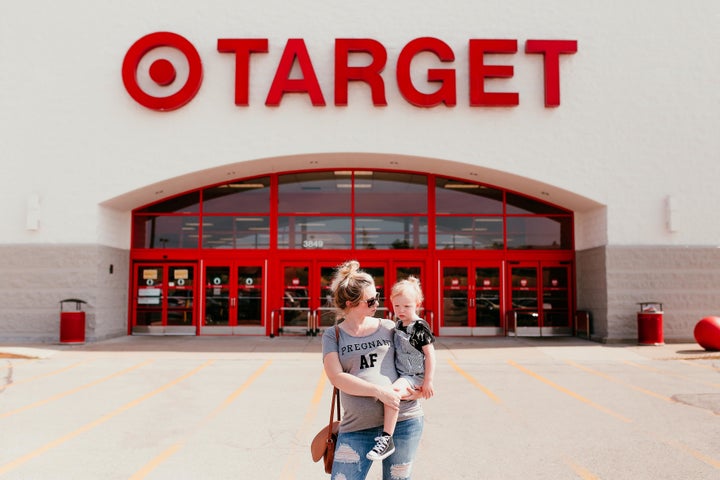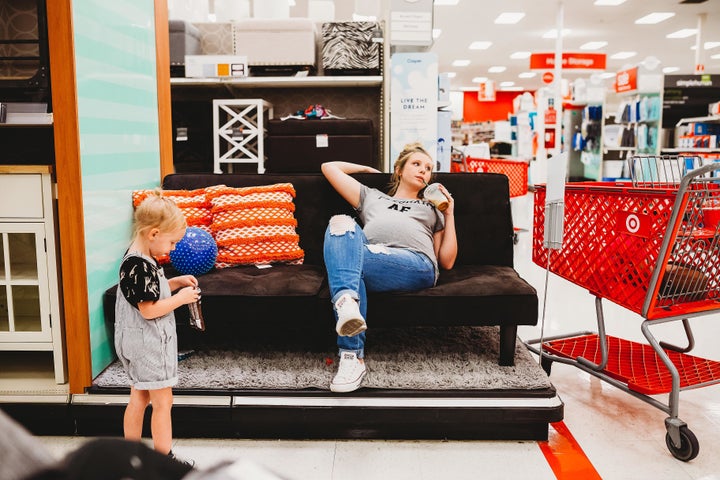 Though the store wasn't busy at that time, Miller said they got a few stares from other shoppers. "The employees were working stocking shelves and didn't seem to be bothered by us," she said. "And of course made sure to clean up after ourselves,"
Miller said she loves Target for many reasons. "Just walking in the door makes you feel happy. Everything is bright and happy feeling," she said, adding that as a bargain shopper, she likes the prices and sales.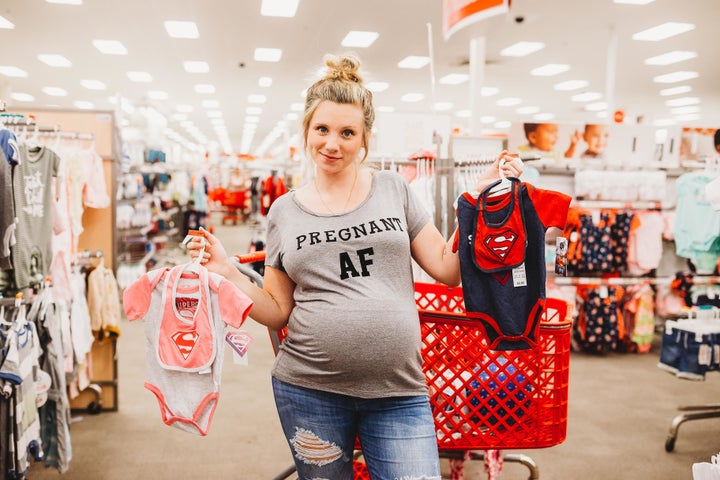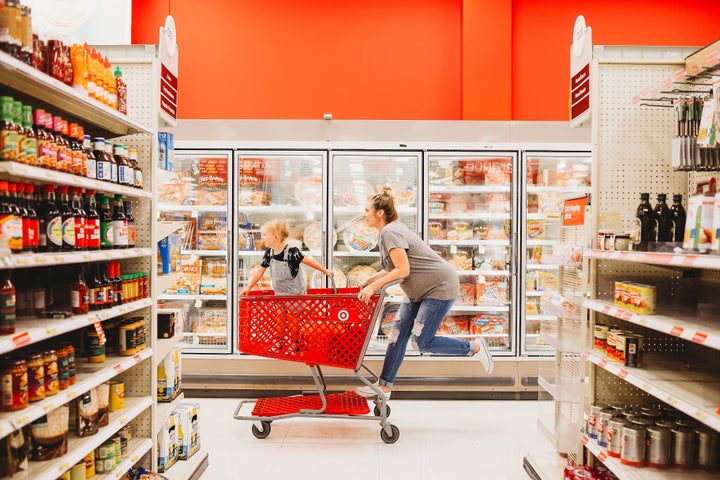 "I think a lot of moms like Target for the same reasons I do," she explained. "Their kids clothes are so cute and of all different prices. Their diapers are also a fan fave in our house. But more then anything I can go in and get anything I need there. If I need to grab something for Avery and something for dinner, I can do both."
For the mom, this maternity shoot also had an even deeper significance beyond her love for Target. She is currently expecting her third child, a rainbow baby.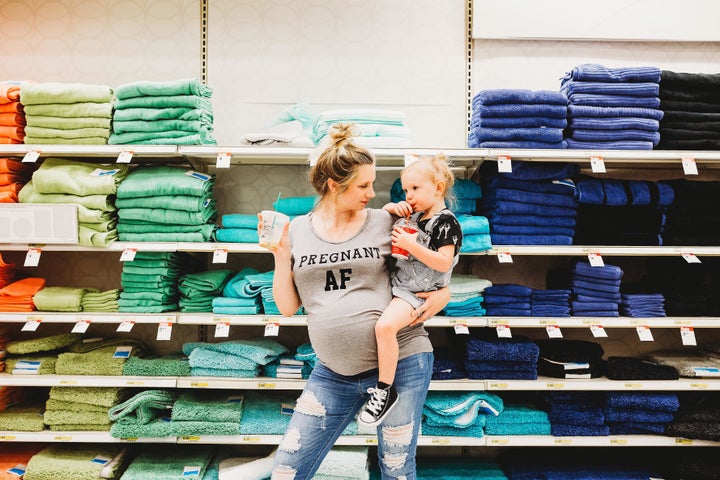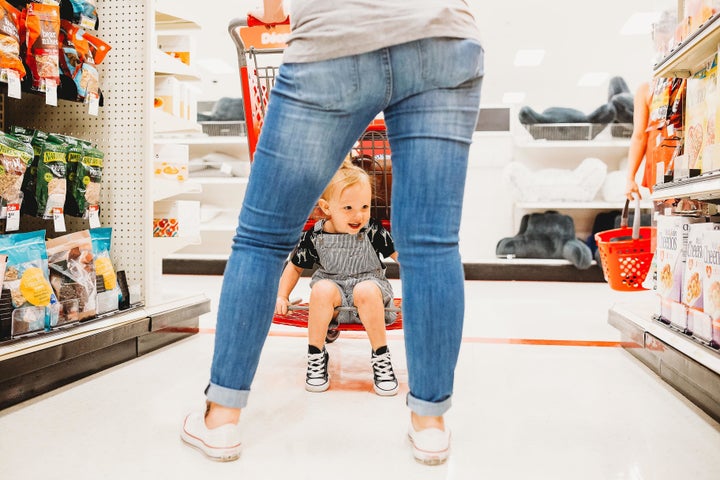 Miller's second child, her infant son Clarke Joseph, died of SIDS (Sudden Infant Death Syndrome) on September 28, 2016 ― the day of Avery's second birthday. "Everyone joked he was 'Clark Kent,' especially because Clark Kent's middle name is also Joseph," she said.
"We planned on Clarke being Superman for Halloween last year," she added. "So after his passing, Superman and his logo became our sign for Clarke. We donated his organs, and he has already helped save lives with this donation, just like Superman would do. It has become such a positive symbol for us. When we're stressed out or Avery is being a difficult toddler, seeing a Superman shirt or something with the logo on it makes us take deep breaths and regroup."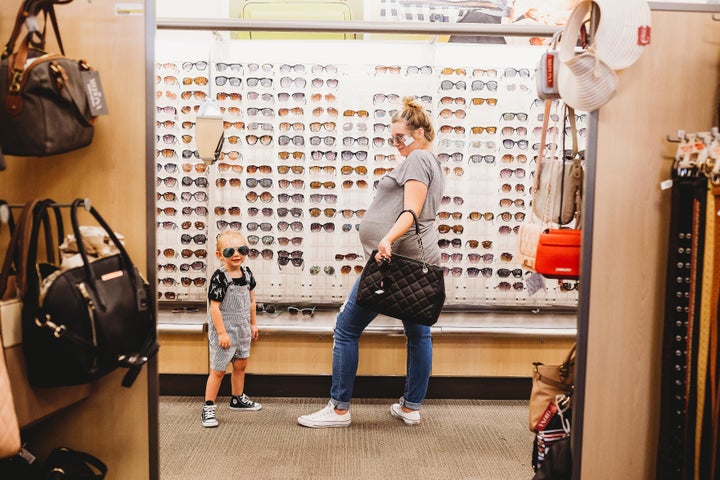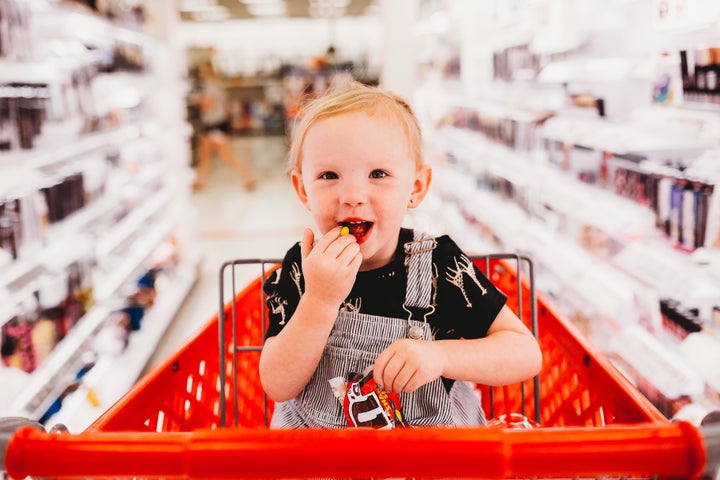 Miler hasn't learned the sex of her unborn rainbow baby, but she has selected the name Malin. During the Target photo shoot, she picked out Superman onesies for baby Malin.
Ultimately, the mom hopes her story will help raise awareness around SIDS and life after child loss. The photographer wants the series to inspire people. "It has turned into a positive way to really show how tough of a mom Page is," said Pippin.
"The Target shoot was meant to be a shout-out to all moms," Miller added. "This is real life, just making it through with a toddler and being pregnant. We are all out here just trying to mom it the best we can, have a little fun while doing it. It is only the hardest job I have ever done."