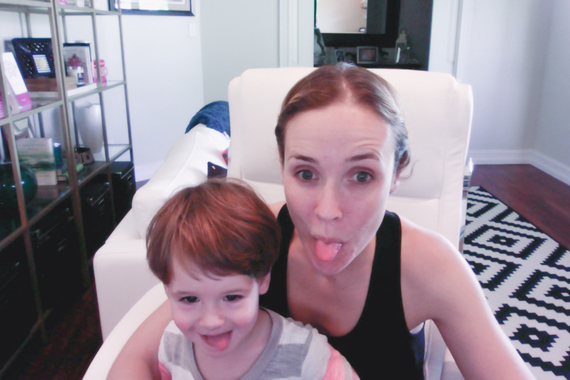 I remember the day we brought Oliver home from the hospital as a newborn. After the storm of family walking in and out, cleaning what they could, stocking us with who knows what, and frantically trying to make my house a home, Benny and I found ourselves alone with a sleeping baby.
We placed our tiny, little, six-pounder in a co-sleeper, which rested just between Benny and me in our bed. With my head on my pillow, I looked past my new son and into my husband's eye. As exhausted as I was, in that moment I felt a tremendous amount of joy and satisfaction. It was as if the world had stopped, maybe even ended, and all that was left was my dreamy husband and my perfect baby.
I propped up my head with the last ounce of energy I had, simply because I needed to tell my husband how I felt in that exact moment. "I have everything I need right now," I said to Benny. "Nothing else matters." And for the first 10 months or so of Oliver's life, really, nothing else matter.
Before Oliver, I was a courageous hustler. The kind of free soul that would jump knowing something would catch me -- and if not, I would just figure it out. I had huge dreams: books, travels, causes... you name it, I dreamt it. And not only did I dream it, I set out to conquer it, too.
But something happens when we become moms. It's not that we lose the ambition. It's a mix between, "Does this really matter," and "Is this safe."
After swimming my way out of the new mommy hormone haze, I looked at myself in the mirror and found someone new. She was strong. She was tired. And she was still me, but because she found something that she loved more than she could ever imagine, the world somehow seemed scarier than it did just a few months ago.
When we becomes moms, all of the sudden, the smallest choices (should I brush my hair?) feel completely complicated and overwhelming. Without even knowing it, I found myself drowning in doubt and guilt with every decision I was asked to make.
As a solo gal, my choices didn't really affect anyone. Now they do. And no matter what I decide, it's easy to feel like I'm letting someone else down. I can deal with letting myself down, but watching my kids "suffer" because of my choices can quickly feel like selfishness.
Just before Oliver turned 10 months old, I woke up one day and remembered I had dreams. Seriously, it felt like a thunderbolt of energy had hit my brain. And, honestly, what came to mind wasn't so much the big plans, but more so how those actions made me feel.
I realized that my pre-mommy dreams weren't about placing trophies up on the wall. They were about placing fulfillment in my heart, which of course, translates into personal happiness.
I started to think about all the moms who I admired. Some of them were stay-at-home, some work-at-home, some worked outside of the house... their lifestyles varied. What brought them together for me was the fact that they were happy. Happy people make good moms.
Knowing that I wanted to be a good mom meant that I needed to find personal happiness -- the sustainable kind. Not the kind that lasts as long as the bottle of wine or new shoes last (although, I'll take those, too!), but the kind that feels fulfilling and honest.
My mommy friends, our dreams are honest. And while they've most likely changed due to the new, expanded view we have of the world, these dreams are the breath of our true selves.
And yes, shit gets complicated when you're a mom. Life is not Pinterest-perfect. But we deserve a real shot at the kind of internal happiness that radiates beyond just ourselves. As we intuitively know, that happiness comes from within. It comes from honoring our deepest desires that may, in fact, go beyond motherhood.
This Mother's Day, as everyone crowds us with hugs and kisses, may we remember to give ourselves the space to be who we truly want to be -- both as a mother and as an individual. May we remember to fight for our needs the way our toddlers would: kicking and screaming until finally we triumph. Because, my friend, the prize is way worth it.
PS - Join the #beyondmom movement by sharing your post-motherhood dreams with me on Instagram or Facebook. Get em, girl. (IG: @nikkinovo. FB: https://www.facebook.com/nikkinovo)