Overwhelmed with emotion, she started to type out her thoughts on violence, humanity and parenting. The result was a powerful Facebook post that's been shared more than 80,000 times.
"There are no safe places anymore. Not our schools or churches. Not concerts or malls. Not airplanes or subways. Sometimes the monsters even lurk within the confines of our homes," she wrote, adding that this reality is every parent's "worst nightmare."
Although she felt a mix of grief, rage and nausea at the scope of this tragedy, Fleming wrote that she was not shocked. She predicted what would come this week ― clashing viewpoints on gun control, references to the Constitution, discussions of mental health and finger-pointing at the NRA.
"We won't agree, so nothing will change," she wrote, adding that she was not shocked to see news of the deadliest mass shooting in modern U.S. history. "And I won't be shocked when it happens again ― because it will."
"Instead, I will go over ― again ― what my children should do if they ever encounter gunfire. I will explain to them when they should run, when they should hide, and when they should remain silent. I will prepare them for this world and pray they will never need to use the information.

I will tell them to look for the helpers, because they are always there. I will hope they remember my tips to guide them to safety. And I will encourage them to be kind to everyone they meet, because you never know the heartache they are carrying. If only we could clearly see and know how to help those among us that are most damaged inside before they unleash their pain on others."
At the end of her post, Fleming called for people to be aware of what they can control: their own actions, outlook and ability to show kindness.
"Do something ― anything ― good today. Do it for someone you don't know. Do it for someone you dislike. Do it for someone because maybe, just maybe, it will stop them from hurting someone else," she wrote. "Because there are no more safe places, but we're all still in this life together."
Fleming's post received more than 50,000 likes. She told HuffPost she wrote the post to focus on the small ways people can make a difference.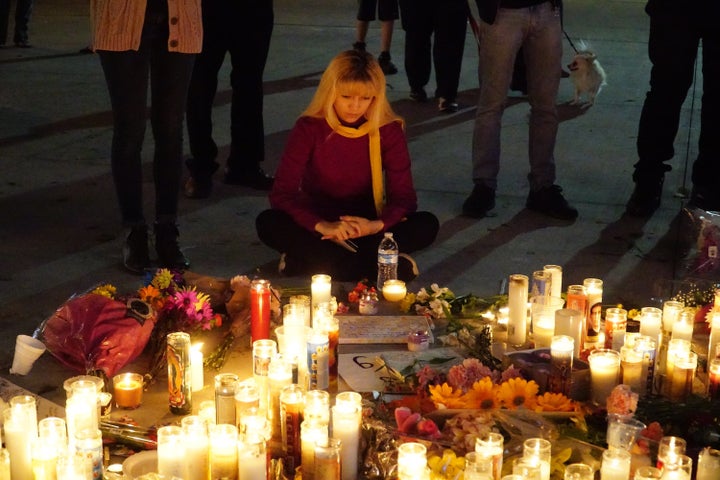 "When the Newtown shootings occurred, it truly rocked my world. A shooting at an elementary school? Nothing was sacred anymore," Fleming said. "I was extremely frustrated with how little our government did after that incident, or for the others that followed. So, when the Las Vegas incident occurred, I was not shocked that something like this happened again."
She added, "I wanted to focus on something I could control, because the gun debate is so frustrating. For me, when I feel I've lost all control of the world, I try to do something good. "
Fleming has three daughters ― an 11-year-old and 12-year-old twins. She found out about the horror in Las Vegas right before her daughters left for school Monday. She told them there had been another shooting, which they could discuss more later when they got home.
"Then I hugged them as tight as I could and tried not to cry," she recalled. "Later that evening, we discussed what they should do if they ever heard gunshots, or what to do in any emergency."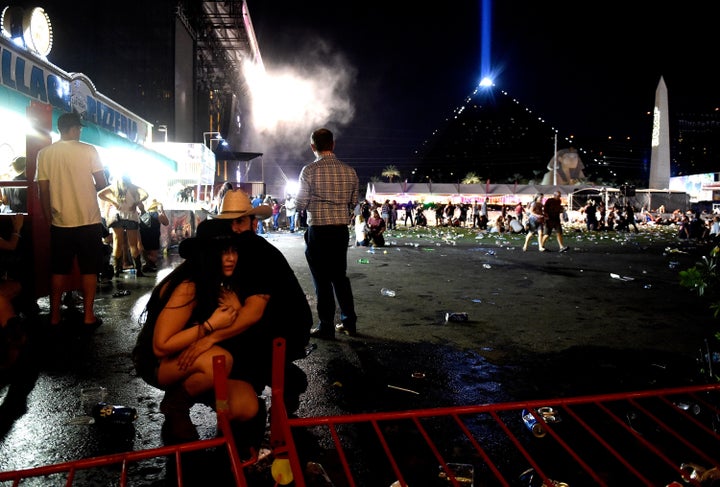 Fleming told HuffPost she's received more than 200 private messages and countless more comments on her Facebook post from people who said her words described just how they were feeling.
"Many gun enthusiasts also posted and were not quite as pleasant," she added. "I was shocked at how many people told me that I should spend my time training my kids on how to use a gun to protect themselves."
But guns are not the point of Fleming's post. "There seems to be no middle ground anymore in our country, and we are all more focused on what we could lose individually, instead of what we could gain by coming together," the mom said.
"I just hoped readers would stop focusing on guns and start focusing on doing something good for people," she added. "I honestly believe that one kind gesture can change the trajectory of someone's day."