As we approach the end of January, here are the top exhibitions currently on view in the Western United States as selected by our editors and writers.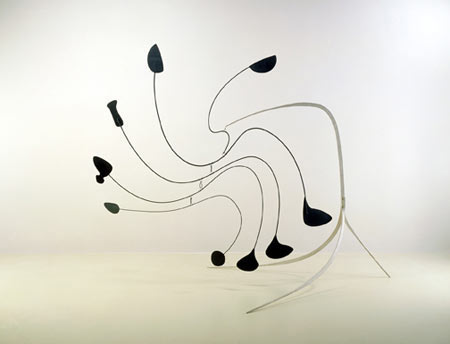 Alexander Calder, "The Spider," 1940, painted sheet metal and rods, at the Nasher Sculpture Center.
© 2010 Calder Foundation, New York / Artists Rights Society (ARS), New York.
Photo by David Heald.
Part aerial act, part cinched weight tethered to the world, "Art: Form, Balance, Joy" is spectacular. It serves as reminder that, in large part, our work as humans is to hone the process of what the German philosopher Martin Heidegger, called "dwelling poetically." This longing erupts as altar rails, in zendos and tribal rituals and, in rare moments, in those colossal architectural spaces we purposely concoct to invoke Muses -- thus, the etymological root of the term, "museum." Whether such swellings of the heart are reliably constellated in those structures is another matter. But, for now, we have abject magic in our midst.
Alexander Calder's work is a shining display of our desire to wreck our hearts upon those centers that define everything we can -- and can't -- name. The Greeks' "omphalos," the navel of the world, isn't confined to Delphi. It travels with our inexplicable longing to beat ourselves senseless with Beauty. Calder, more spectacularly than most, is willing to oblige us by mauling us with loveliness.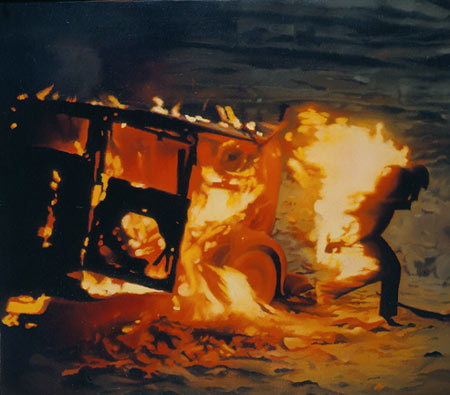 Vija Celmins, "Burning Man," 1966, oil on canvas, 20 x 22 1/2", at The Menil Collection.
Continuing through February 20, 2011
The Menil Collection, Houston, Texas
           
Intransigent contradiction abounds in the work of Vija Celmins. But it does so subtly. The guns, exploded planes, and burning cars have the soft edges of supple fabric. While she culls some of her images from public archives - newspapers and television news sequences - they bear the utmost sense of psychological privacy. The blazing craft in "Burning Plane" (1965) pops with a precision of combustion and photographic realism mixed, while the grisaille in which it is rendered casts a cooling pall over the image.
            
This small, focused, and poignant retrospective of Celmin's early paintings shows the artist transitioning from AbEx-inspired internal probing to the outward dissection of mass cultural production. Three sculptural objects on view, two small painted houses, "House #1" and "House #2," and an impossible toy, "WW II Puzzle Toy," all from 1965, further link Celmins to surrealist precedent. The fur-lined interior of "House #1" is a clever paean to Meret Oppenheim's fur-lined teacup of 1936.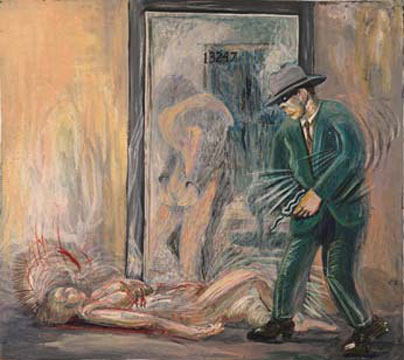 Charles Garabedian, "Assassination," 1966, Flo-Pague on paper, at the Santa Barbara Museum of Art.
This Charles Garabedian retrospective spans 50 years of creative production starting in the 1960s and distills key themes in the work of the former UCLA teacher and internationally noted, tenaciously figurative artist.

Garabedian is not alone in yoking figuration to Western humanism. Judeo-Christian, Greek, Renaissance and Enlightenment traditions historicize this link via idealized bodies, technological perfection, ordered space and a host of other tropes for reasoned man, who is good because he is beautiful and beautiful because he is good. Think of Michelangelo's smooth and tensile "David." Helixed into this idea as antithesis is that other humanism - the actually human. Think here of Scopas' late Classical "Boxer" carved from pitted, expressive surfaces, aging and unsure of what comes next for him.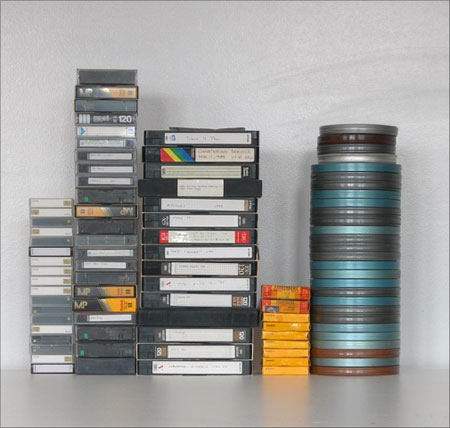 Laura Mackin, "Dean collection," shot from 1946-2006 by a man named Dean, 2008, C-print, 9 1/2 x 10", at Half/Dozen Gallery.
Continuing through February 19, 2011
Half/Dozen Gallery, Portland, Oregon

In "Time Enough," Laura Mackin utilizes a relative's home movie archive, which spanned across over 50 years, most of it shot in the Pacific Northwest. The artist created videos and collages out of the stills. The results are simultaneously clinical and intimate, distant yet homey. Upon entering the gallery we are assaulted by "Zoom," a sharply edited video of nothing but zoom shots of people, places, animals and insects. Exhausting and relentless, "Zoom" feels like a brisk ride down a rushing river with an ever-changing landscape. The exhilaration is immediate; there's no waiting and wondering. Compared to most video art the demand of time and attention is minimal, which is interesting when you consider the title of this exhibition. The intensity of "Zoom" has us alternately looking away for a breather and returning to find something new with each viewing. "Time Enough" also offers small, repetitive montages of sunsets and other elements out of the home movie archive. They are promising and classical, arranged totem-like on the walls.

-- Eva Lake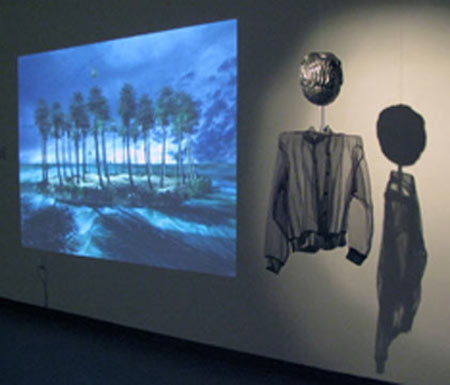 Phyllis Green, "Silver Amelia," 2003, mixed media object with video projection, object: 38 x 20 x 8"; video: 01:42:28, at Otis College, Ben Maltz Gallery.
This exhibition of over forty objects, dating from 1985 to the present, represents the first large-scale survey of the sculptures of the extraordinarily innovative Phyllis Green. It not only celebrates her the art, but also the important contributions she has made to the Southern California region as an art teacher, curator and arts activist.
Though one can safely refer to Green as a sculptor who blends traditional crafts and sculptural materials into mixed-media works, any such singular definition of her output undermines the protean energy, trickster-like quality and playfully subversive perspective of her oeuvre. For example, calling it "assemblage" overlooks the sumptuous beauty of the individual components in each work (whether ceramic, wood, cloth, cement or metal, among other materials and media). Think of Green's work as "craft," and it rightfully demands to be recognized as high art. Praise its technical sophistication and virtuosity, its often-clever art historical homages, "conversations" and allusions, and it humbly reasserts its earthy roots and its unpretentious simplicity.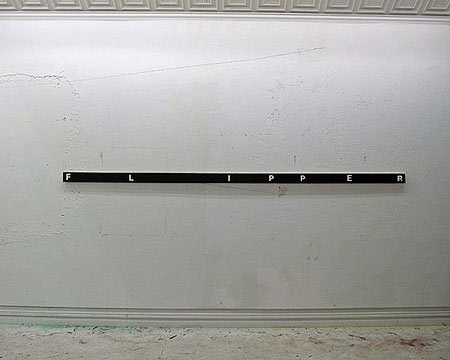 Jeff Zilm, "Flipper" from the "Password" series, 2010, acrylic on canvas, 120 x 4", at Marty Walker Gallery.
Dematerialization has a succinct and precise meaning in the vaporized surfaces of Jeff Zilm's canvases. His is a strain of conceptualist evanescence that is highly material in its rudiment - a matter of celluloid disintegrated into acrylic emulsion. Zilm's "The House with Closed Shutters" is a sixty-inch by sixty-inch square canvas with a light gray mist of paint blown onto its surface. The gray tone is a result of film particulate mixed with the paint. Creating what the artist calls a "light peak," there is a strip of white canvas on the left edge.
The darker hue of gray that describes the surface of "Saps at Sea," a larger rectangular canvas, tells of a heavier extraction of sound and image data, and that Zilm dissolved a different film into that batch of paint. In this body of work, Zilm has worked with the movies of Rainer Werner Fassbinder and DW Griffith, creating haunting representations of New German Cinema and silent Hollywood in a tour de force of conceptualist painting.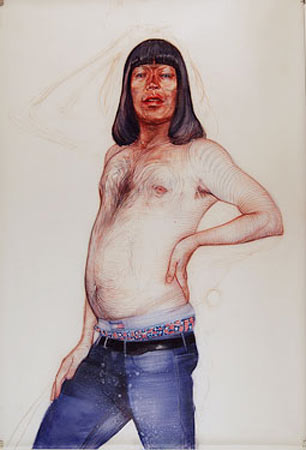 Geoff Chadsey, "Star Spangled," 2010, watercolor pencil on mylar, at Electric Works Gallery.
Young American males not so long ago had standard-issue role models: WASP cowboy/quarterback heroes, stalwart, stoic and slow to anger, but, once aroused, quick with a Peacekeeper (gun or missile). Serious art, however, never accepted Marlboro Man -- at least until Richard Prince commodified disillusionment -- and Vitruvian Man suffered the slings and arrows of modernist distortion. Now mainstream culture has caught up. With cinema, sports and political heroes now revealed being as clay-footed (at least nonprofessionally) as the rest of us, there is no prevailing masculine norm; it's more complicated -- and realistic
Geoff Chadsey's superbly weird drawings might be seen as part of this antiheroic trend. The Contemporary Museum, Honolulu, saw his psychosexual fantasies as reflective of today's hybrid youth culture and our hybrid identities: "Challenging our facility to read the signs of masculinity, femininity, race, attitude, and expression, Chadsey's images spin a complex web of emotion and desire." The artist: "I draw fantasized photographs ... of androgynous, miscegenated, intergenerational fraternization. Hip-hop meets Google meets family album meets Internet chat-room. The drawings are covers and mash-ups of casual snapshots, professional portraiture, celebrity framing, and erotic posing: people performing selves for the camera and the computer."
Resolutely unglamorous, Chadsey's young men, no hunks, preen and pose, sometimes grotesquely transformed by superimpositions that seem to be materialized projections of their fantasies, like the vulpine shadow in "Portrait (Pink Beak)," the black mud luchador mask (or terrorist balaclava) in "Blackface Rod," the dangling penis in the standing/spread-eagled protagonist of "Marines," or the extra sets of arms in the androgynous "Red Head (Shift)." These drawings in water-soluble colored pencil on mylar are skillfully delineated, visually powerful, and, even these days, disturbing and provocative.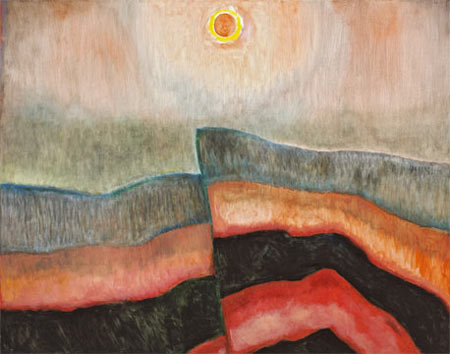 Frederick Wight, "San Andreas Fault," 1985, oil on canvas, 48 x 60", at Louis Stern Fine Arts.
Frederick Wight (1902-1986) first established himself as a fixture in the California art scene not as a painter, but during a two-decade tenure as a museum curator and director of the UCLA Art Gallery. Located on the North Campus well before the development of the Hammer Museum, Wight championed the careers of artists who had yet to receive national attention including Charles Sheeler, John Marin, Arthur Dove, Alexander Archipenko, Jacques Lipschitz, and Stanton MacDonald-Wright. From 1953 to 1973 Wight was not only instrumental in shaping the careers of artists, but in creating a thriving foundation at the UCLA Art Gallery with the creation of the Franklin D. Murphy Sculpture Garden, which showcased the works of Henry Moore, Jean Arp, Joan Miro, Henri Matisse, Alexander Calder, and David Smith.
It was not until his retirement in his seventies that Wight was able to fully commit to his painting practice, which celebrated the California landscape, Joshua Tree, and the coastline of the Pacific. From a formal standpoint, in these landscapes he explored the subtleties of oil paint. "Radiant Skies - California Paintings by Frederick Wight" celebrates the artist's contributions to American and California painting following his retirement from administration. In barely over a decade he produced about 250 major paintings. Wight signals a rare instance of having served for a leading California art institution, thus sacrificing the creation of his own work, and then assumed a creative mantle for which he became widely celebrated. Thus Wight is a California institution in his own right.
 
See complete article. . . .
ArtScene and Visual Art Source are the in print and online resources to fine art galleries and museums in Southern California and the Western United States. Visit us online or pick up a copy for complete listings of art venues and editorial Reviews, Recommendations and Previews of the best current exhibitions. Be sure to visit our Openings Calendar page so you can plan visits to the latest exhibitions--of wherever you may be in the Western States.
Want to opt-in for a free subscription to stay current every day on our Weekly Newsletter, as well as new shows, events and (if you are an artist) artists' calls? It's easy.
REAL LIFE. REAL NEWS. REAL VOICES.
Help us tell more of the stories that matter from voices that too often remain unheard.