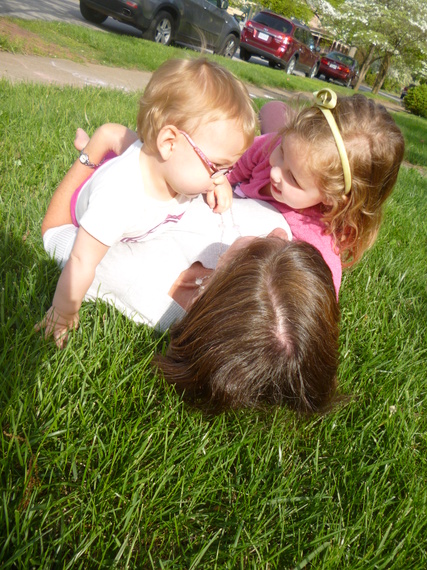 "The days are long, but the years are short." This quote by Gretchen Rubin summarizes my stage of life perfectly right now. The stage of life when you're running from dawn to dusk and rarely finding five minutes to take a breath or a seat... the stage of life when you're cleaning every person and surface around you but forgetting to bathe yourself... the stage of life with a soundtrack of Frozen songs and frequent meltdowns. These are the days of early motherhood, which seem endless sometimes.
On the one day a year when everyone celebrates mothers officially, you can find families showering moms with cards, flowers and lunches. Mother's Day is also the time when you see more fathers shuttling their kids to the park or to grandma's house while mom is having a day to herself.
I have friends who have chosen a spa day or solitary getaway in a quest to find that elusive quiet time. They say it recharges them and provides the space and solitude they need to redouble their energy and inspiration. I admit I've thought about following in their footsteps. A proper brunch out compared to sharing a bowl of Cheerios with a 3-year-old certainly sounds tempting, as does taking a shower without little hands pounding non-stop on the glass door.
For me, Mother's Day is a time of reflection. I think about the Mother's Day with my first daughter when I was excited the holiday finally applied to me. I think about the Mother's Day after that and how I was pregnant with a baby who ultimately only grew to be 18.5 weeks. And, I think about my own mother and how she gave me the opportunity to be a mother and more.
My husband is a tremendous partner, and I could choose to spend the day on my own. But I'm reminded of my mother's words to me earlier this year when I was complaining about all the noise and chaos that a house with two girls under age 4 brings.
"The quiet comes soon enough," my nearly 80-year-old mom offered. She didn't say it sarcastically or with a judgmental tone. It was delivered in that wise voice which always gives me pause. My mom has cared for three children, seven grandchildren and a spouse, in sickness and in health. She has spent decades managing the cacophony of kids and life. Now, her flock has flown away, and the tiny, white tennis shoes she used to wash before our annual family beach trips have been permanently hung to dry.
My mother squeezes the good out of every day, and she never complains about the solitude or what used to be. She rejoices in others' joy and has faith that life will turn out as it should. But she will even admit there are days when she longs for the pitter patter of little feet and the din produced by a full house. When she looks out her window, she remembers the words of Robert Louis Stevenson: "And it is but a child of air that lingers in the garden there."
So this Mother's Day, give me the noise. Give me the confrontation and commotion. Give me the toddlers and tantrums. Give me the 50 questions before 8:00 a.m. and the "one more book" plea before bed. Give me all the joy and pain that comes with being a mother. Let me feel it stronger on Mother's Day than any other day of the year. Just follow it with a bottle of champagne -- flowers are optional.