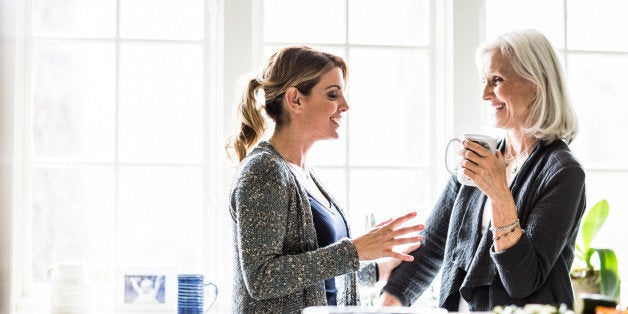 I am busy. I am busy like so many typical working moms who shuttle two young kids from school to practice while juggling everything around the house and overseeing a successful, growing business. Some days feel like an endless cycle of places to be and things to get done.
And I know I'm not alone.
It seems to me when I chat with other parents during school runs, our conversations inevitably lead to checklists of to-do's, family obligations, or gripes about visiting in-laws.
But I've noticed that what begins as a sympathetic nod between mothers somehow shifts into a subtle one-upmanship of hectic scheduling and planning. You say you're busy? I'll see your soccer practice, piano lesson and overnight guests and raise you by a bake sale.
This overextension of ourselves and constant need to be "busy" made me wonder: since when did busy-ness become a badge of honor? When did it become acceptable for moms to participate in a silent competition of who is busier, who had the least amount of sleep, and who is doing more? Who, or what, is driving the pressure to be insanely busy - or at least appear to be insanely busy? And when is it ok for us to pause, begin taking care of our own needs and stop the busy-ness? Moms feel incredible pressure to do it all - to have it all - with minimal effort. In today's Instagram-crazed world where aspirational and inspirational posts of fit, efficient moms generate hundreds of likes and comments, it's hard not to feel a little competitive. I know I'm just as guilty when I scroll through social media.
This month, in honor of Mother's Day, I vow to avoid falling prey to the "who's busier?" trap that all moms have experienced. Because I believe being busy all the time is detrimental to our mental and physical health. And because being insanely busy is like a quicksand trap: once you fall in, your first instinct is to flail your arms and legs in a valiant attempt to escape or stay afloat when the better solution is to take several deep breaths for a much-needed moment of calm before reacting.
Have you fallen into the "who's busier?" trap? How do you stay sane when life becomes overwhelming and busy?
Mother's Day is the perfect time for me to be more conscientious and stop overcommitting, over-stretching, and comparing my busy-ness to other moms.
This month, I vow to be more mindful and less "busy." Who wants to join me?