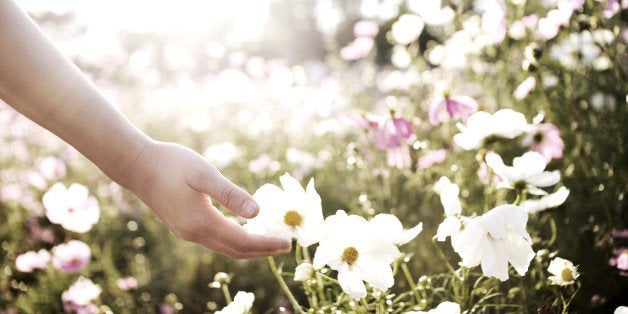 I still remember, when I was twelve years old, a very successful Greek businessman coming over to our home for dinner. He looked run-down and exhausted. But when we sat down to dinner, he told us how well things were going for him. He was thrilled about a contract he had just won to build a new museum. My mother was not impressed. "I don't care how well your business is doing," she told him bluntly, "you're not taking care of you. Your business might have a great bottom line, but you are your most important capital. There are only so many withdrawals you can make from your health bank account, but you just keep on withdrawing. You could go bankrupt if you don't make some deposits soon." And indeed, not long after that, the man had to be rushed to the hospital for an emergency angioplasty.
[One] of my mother's gifts was to be in a constant state of wonder at the world around her. Whether she was washing dishes or feeding seagulls at the beach or reprimanding overworking businessmen, she maintained her sense of wonder at life. And whenever I'd complain or was upset about something in my own life, my mother had the same advice: "Darling, just change the channel. You are in control of the clicker. Don't replay the bad, scary movie."
The last time my mother got angry with me before she died was when she saw me reading my email and talking to my children at the same time. "I abhor multitasking," she said, in a Greek accent that puts mine to shame. In other words, being connected in a shallow way to the entire world can prevent us from being deeply connected to those closest to us -- including ourselves. And that is where wisdom is found.
My mother had actually taught my younger sister, Agapi, and me how to meditate when I was thirteen years old...When I was growing up, meditation was seen as a cure for just about everything. My mother had convinced us that if we meditated, we would be able to do our homework faster and improve our grades. We knew that meditation made us more peaceful and less upset when things didn't go our way, but we also realized that it made us happier. And now, science has provided evidence to back this all up. If anything, my mother was underselling the benefits of meditation. Science has caught up to ancient wisdom, and the results are overwhelming and unambiguous.
Some people are naturally time affluent. My mother, for instance. In fact, when it came to time, she was filthy rich. She moved through her days like a child does, living in the present, stopping, literally, to smell the roses. A trip through the farmers' market might be an all-day affair with little thought of All the Things That Must Be Done. I still often think of the advice she'd give my sister and me when we were faced with a hard decision: "Darling, let it marinate." In other words, give yourself the time to think about and live with the consequences of the decision.
[My mother] was a towering example of the joys of slowing down. Until her death in 2000, she and I had an unspoken deal: Hers would be the rhythm of a timeless world, a child's rhythm; mine was the rhythm of the modern world. While I had the sense every time I looked at my watch that it was later than I thought, she lived in a world where there were no impersonal encounters, and never a need to rush. She believed that rushing through life was a sure way to miss the gifts that come only when you give 100 percent of yourself to a task, a conversation, a dinner, a relationship, a moment. Which is why she despised multitasking.
We scattered my mother's ashes in the sea with rose petals, as she had asked. And we gave her the most beautiful memorial, with music, friends, poetry, gardenias, and, of course, food, lots of food: a memorial that truly honored her life and her spirit. Everyone felt her presence there, hosting, presiding, shining her light on us. In our garden, we planted a lemon tree in her honor that has been producing juicy lemons ever since. And we installed a bench engraved with one of her favorite sayings that embodied the philosophy of her life: "Don't Miss the Moment."
When I was growing up in Athens, we lived in a one-bedroom apartment and had little money. But my mother was a magical improviser. She was always able to conjure up what we needed, including a good education and healthy food. She only owned two dresses and never spent anything on herself. I remember her selling her last pair of little gold earrings. She borrowed from anyone she could so that her two daughters could go to college, and no matter how little we had she never failed to give to others with even less, and to make us feel that we were bigger than our circumstances.
I was blessed to have a mother who was incapable of having an impersonal relationship with anyone. This doesn't mean my mother was perfect, but she did live in a constant giving mode. If the FedEx man arrived to drop off a package, my mom -- or Yaya, as everyone called her -- would have him come in, sit down at the kitchen table, offer him something to eat. If you went to the farmers' market with my mother, or to a department store, you'd better be prepared for a long discussion with the shop assistant or the farmer about their lives before she even got around to asking about something she wanted to buy. That intimacy with strangers, that empathy toward everyone she encountered, was something I had been surrounded with since I was a little girl in Athens.
[My mother's] life was filled with giving moments. Wherever she was -- in an elevator, a taxi, an airplane, a parking lot, a supermarket, a bank -- she would reach out to others. Once, a stranger admired the necklace she was wearing; my mother took it off and gave it to her. When the astonished woman asked, "What can I give you in return?" my mother said, "It's not a trade, darling, it's an offering." Toward the end of her life, she would always arrive at the doctor's office with a basket of fruit or a box of chocolates for the nurses. She knew that in an office where patients brought their anxiety and pain, the gesture would help change the atmosphere. Her tenacity in breaking through the barriers that people put up around their hearts was both enchanting and comical. If one of the nurses was, as she put it, "on automatic" and didn't take the time to be friendly or personal, my mother would whisper to me, "This one doesn't want to budge," and would start looking for a way to give her extra attention. She might produce a little treat from her purse--a package of nuts, a special kind of chocolate -- and give it to the woman, knowing she would get a smile. Giving was a way of being for her.
When she died, my mother left no will and no prized possessions, which is not surprising, considering her habit of giving things away. I remember the time we tried to give her a second watch; within forty-eight hours she had given it to someone else. What she left us with is the treasure house of her spirit. It's as though certain gifts can be bequeathed only at one's death -- that while she was alive she so embodied the qualities of nurturing, giving, and unconditional loving that it felt as if those dimensions of life were taken care of for all those blessed to be in her orbit. Why learn how to cook when you live with the Iron Chef? After her death it became much clearer to my sister and me that if our life's journey is to evolve as human beings, there's no faster way to do it than through giving and service.