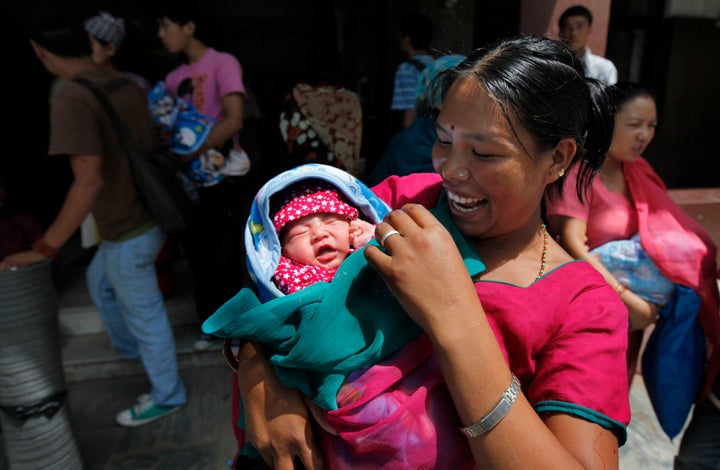 Each Mother's Day, I celebrate the two most miraculous, deliriously happy days of my life -- the days I gave birth to my two children. What I counted on during my birth experiences: health care, a safe and sanitary environment and trained birth personnel. As a resident of the United States, having a baby in a very typical way in a wealthy nation, it never occurred to me that those days could have been the most dangerous and deadly days I would face.
But in many parts of the developing world, the day a woman becomes a mother is a day too often obscured by terrible tragedy and danger. She will face losing her baby and losing her own life -- on a day and occasion that we commemorate with cards and flowers as Mother's Day here in the United States.
According to international development organization Save the Children, "around the world, more than 350,000 women die each year from complications of pregnancy and childbirth, and millions more develop some kind of disability. When a mother dies, her children are much more likely to be poor, to drop out of school, and to die before age five." The ripple effect is dramatic.
To take a deeper look into the lives of the world's mothers, I was fortunate to have the opportunity to work with an independent nonprofit broadcaster, Link TV, and Save the Children to co-produce a new half-hour documentary that takes viewers on a global tour of the best and worst places in the world to be a mother.
Based on Save the Children's just-released 2011 "State of the World's Mothers" report, the special -- "ViewChange: The Mothers Index" -- takes viewers on an international journey to learn what it takes for global mothers and their children to thrive, introducing us to young moms and spotlighting programs that are changing the odds. In a unique collaboration in "global development storytelling," the show -- part of Link TV's ViewChange.org project, which combines global development progress stories and direct action -- includes stories from the ONE campaign's Living Proof series.
(Conspicuous plug: You can view online at SavetheChildren.org or ViewChange.org, or watch the broadcast on Link TV on Friday, May 6 or Tuesday, May 10. Check time and channel info.)
So, what's the data behind the stories? For its 2011 report, Save the Children conducted a comprehensive study of 164 countries, and compiled a "Mothers Index." At the top of the index, women have access to excellent health services, skilled health workers and opportunities for education and advancement. But the gap between the top- and bottom-ranked countries is dramatic. At the bottom of the list, one in three children suffers from malnutrition, and one in 30 women will die from pregnancy-related causes. Afghanistan is located at the very bottom of the list, while Norway sits in the top spot. (See the full report.)
Is the U.S. at the top of the list? Actually, according to the report, the U.S. is not on the top 10 list as a "best place to be a mother" due to maternal and under-five mortality rates, low levels of preschool enrollment (relative to other industrialized nations), a maternity leave policy that's not as generous as other wealthy nations in terms of pay and duration, and comparative lack of political status of women, relative to other industrialized nations. This year, the United States ranks 31st of 43 developed countries, dropping three spots from last year's rankings.
When you watch the documentary, you'll be struck -- as I was -- when you hear the story of one young mother who had buried eight babies and prayed that the ninth would live to see his first birthday. And you'll hear from a 19-year-old mother in Nepal, nine months pregnant, as she matter-of-factly states, "My last baby was breech-born, and this time, I just might die."
But the terrible odds are not the whole story. The real story is the incredible strength and spirit of these mothers around the world -- and the importance of institutional solutions and government programs that are changing the statistics in preventable scenarios.
For example, we learn about the commitment from Sierra Leone's government, which has just implemented a new program to provide free health care for pregnant women and children under five.
In Malawi, grandparents and village elders are now being trained as community health workers -- a tremendous program that's contributing to Malawi's breathtaking success in under-five child mortality over the past 20 years. Since 1990, Malawi has cut its under-five mortality rate in half, thanks to its government's commitment to programs like this -- a feat that seems even more remarkable considering that 40 percent of the Malawi population lives in poverty.
In rural Bangladesh, empowering girls through education will change the cycle of poverty, creating a ripple effect that will impact future generations. And in India, one mother observes that "if you are uneducated, it is as if you have only one eye." The simple act of giving bicycles to girls -- to allow them to travel to school -- is changing the lives of young women in some of the poorest parts of the country.
What's the hope and mission of a project like this? To learn, of course, and to be inspired by the universal strength of mothers in all parts of the world -- and to take action and support programs that are working. For more information and actions you can take, visit ViewChange.org, click on the show, and consider the actions in the "take action" section of the video player.

REAL LIFE. REAL NEWS. REAL VOICES.
Help us tell more of the stories that matter from voices that too often remain unheard.