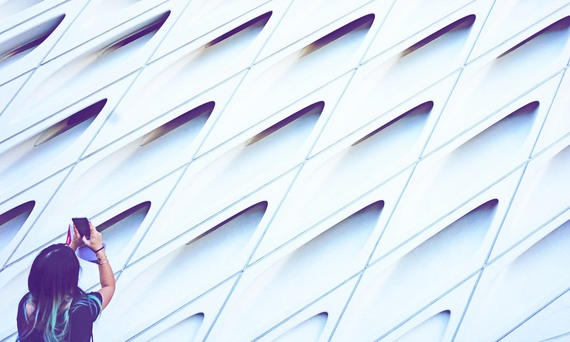 Getting into the newly opened Broad Museum in downtown Los Angeles takes some forethought, something I discovered almost too late during a weeklong trip to Los Angeles this September. The free advance timed tickets available via the website were long since fully booked by the time I checked. I called the museum to see about alternatives, and was advised to forget about the weekends and come on a weekday and try my luck with the limited number of tickets reserved for walk-ins. I'd probably get in if I was willing to wait in line for a while, the woman on the phone told me, with a dash of sympathy.
I heeded her tip, and on a Tuesday afternoon at 3pm, only had to wait 20 minutes or so before I was granted entry. The challenge of it makes wbeing inside the Broad all the more satisfying, prone as humans are to turning scarcity into a selling point. Getting in felt good, in and of itself. Beating the system, or imagining this.
This first impression of the Broad coexists with a second, which comes in the form of the building itself. Some things are better experienced through photographs than in person, and the distorted honeycomb exterior is one of them. It can feel like a 1950s version of the future when you're standing in front of it (in that line, waiting to get in). On Instagram, though, it gives the suggestion of major depth of field, of large scale dynamism, of midcentury modernism instead of midcentury futurism. The repetition in its design photographs like a dream, as repetition does. Had the building's original design come to fruition, the repetition would have been less, and the in-person impact more. As it is, I don't suggest approaching the Broad unarmed with a camera and some filters.
REAL LIFE. REAL NEWS. REAL VOICES.
Help us tell more of the stories that matter from voices that too often remain unheard.