Are you ready to give up your personal computer? A Y Combinator alum and a former Google engineer are betting you are, and so are their 150K current users. Their product called the Superbook, which recently launched on Kickstarter, aims to be the 'shell' that transforms your smartphone into a complete laptop.
It's not the first time someone's declared the end of the PC: in fact, Apple CEO Tim Cook announced the dead of the PC just last November. The technology media revolted, penning This is why I'd rather buy a PC and Apple still makes computers. Their reasoning? Phones still offer too little processing power, are short on productivity and office tools, and the form factor still doesn't win many fans. "I have to roll the keyboard out. That's an effort don't you know," said Chris Matyszczyk of CNET.
But the ecosystem around mobile is changing rapidly. Modern mobile devices are no longer limited by processing power, software, or even form factor.
Processing power has increased rapidly for mobile devices at all price points, and it's very likely that the processor in your smartphone outperforms most entry level laptops. In fact, the iPhone 6s and Galaxy S7 Edge are just as powerful as modern MacBooks - but they still fit in your pocket.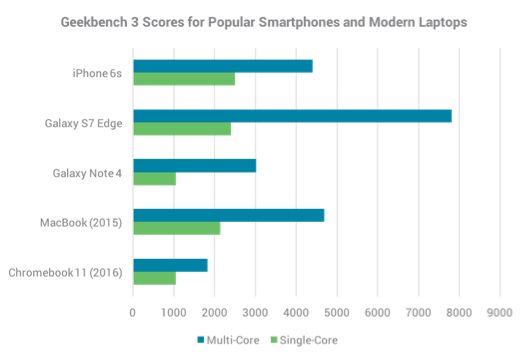 People increasingly rely on their mobile devices for work and learning purposes. Beyond browsing and emailing, mobile enterprise apps have grown in popularity, such as Slack, Box, and even Office products like Word. Many enterprise software companies opting to build native mobile apps rather than relying on their website, creating tightly refined mobile experiences. On software, the gap is quickly closing between mobile and PC.
The Bottleneck: Mobile Form Factors
Although phones have been getting bigger, may still lack the form factor of laptops: full-sized screens, keyboard / mouse, and the familiar outer shell. That's where products like the Superbook come in. The Superbook provides you with the laptop shell and lets you use your Android phone and an app to power it. It's not a new concept, with past attempts from Microsoft, Motorola, and the crowdfunded project Nexdock.
So what makes the Superbook any better? The unique software, which transforms your Android phone into a full blown desktop operating system by simply installing an app.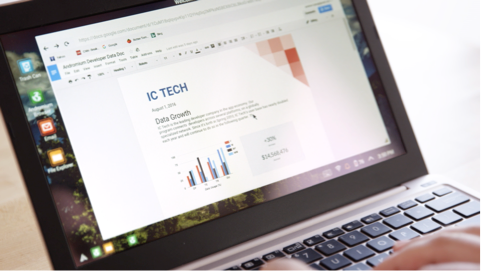 Rather than a larger version of your smartphone screen, you get the true laptop experience - with icons, a mouse, menus, folders, and everything you've come to expect from Apple or Microsoft. It also works with almost all Android devices and even turns Windows tablets into a dual screen laptop.
 If their product delivers, they might just be the missing piece in Tim Cook's prediction.

REAL LIFE. REAL NEWS. REAL VOICES.
Help us tell more of the stories that matter from voices that too often remain unheard.
This post was published on the now-closed HuffPost Contributor platform. Contributors control their own work and posted freely to our site. If you need to flag this entry as abusive,
send us an email
.