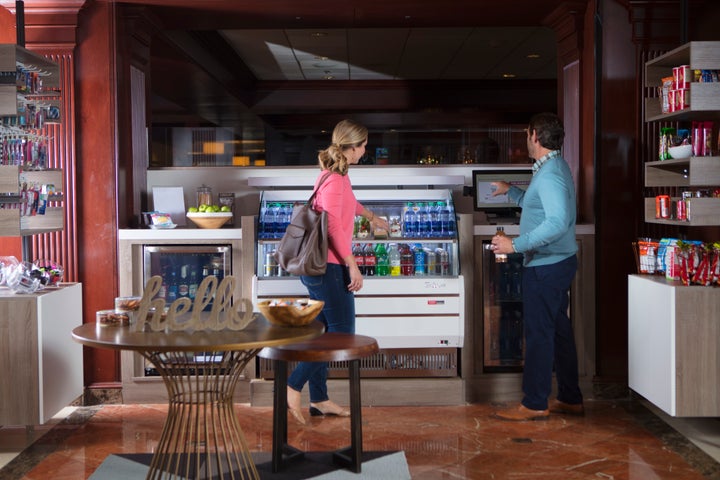 Maybe it's fitting that InterContinental Hotels Group (IHG), which now manages the resort, would try to make technology history again by introducing a new kind of room concept called the Plaza Workspace. It's part of Crowne Plaza Accelerate, a comprehensive re-imagination of how hotel guests interact with technology and each other, and it may set a high standard for technology-forward hotels.
I happened to be in Palo Alto on the day IHG put the finishing touches on one of its six new Plaza Workspaces, and had a chance to see the concept for myself. It officially opens to the public today. I'd been in touch with one of its branding and design teams from Stag & Hare in New York, and I also know a few people at IHG (they used to sponsor my family travel project).
IHG is investing $200 million in its Crowne Plaza properties in the Americas region during the next three years. A lot of that money is going toward innovations that the hotel chain promises will deliver unique guest experiences. This idea, if broadly implemented, could have far-reaching implications for your future hotel stay.
"We're re-inventing the brand," Eric Lent, IHG's vice president for full-service hotels and food and beverage solutions, told me. "This is a way for our guests to be more productive."
A workspace you can rent by the hour called the "studio" that resembles your living room. There's a sofa, chairs and a large TV, but also a conference table with a whiteboard. Each aspect of the work area is designed for productivity. There are power outlets everywhere you look. The TV links up with your laptop for presentations. And there's a touchpad that allows you to order food.
In the lounge, traditional tables have been replaced with a "nook" that looks like a private booth. It's also wired with extra power outlets and meant as a semiprivate area for meetings. You can also use that ubiquitous touchpad to order food and beverages.
There are two other new features in the dining area. A "huddle spot" that looks like a bar and seats six people. Like the nook, it's tech-enabled with that touch pad and lots of power outlets. It reminds me of the waiting areas at the JetBlue's Terminal 5 at JFK Airport. There's also a private "pod" that seats just one person, where you can get your work done in private.
One of the noteworthy things about these concepts is how seamlessly they fit into the hotel. Guests were just using them. They felt free to walk into even the conference room while I was interviewing Lent, probably because it didn't feel like a conference room, but more of a casual, multimodal workspace.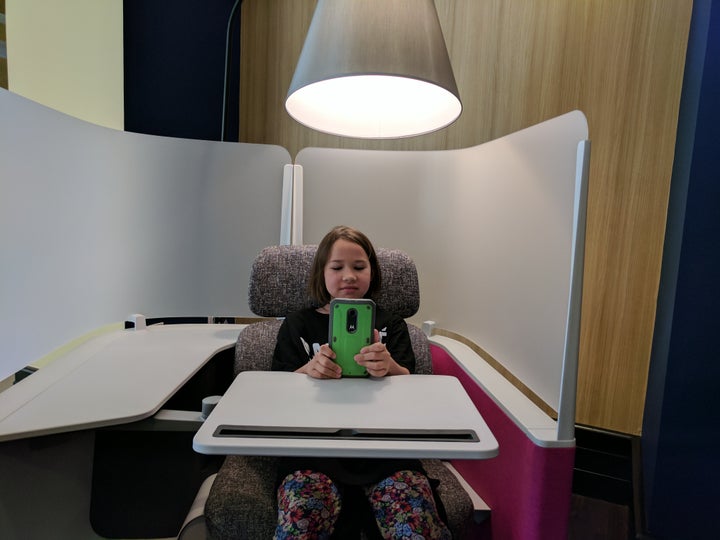 Lent says IHG knew as far back as 2008 that the division between work and leisure was becoming blended.
"People are expected to do more with less resources," he says. "Technology allows work to get done anytime, anywhere."
Or, to put it bluntly, work/life balance is a myth for most travelers.
In that sense, many hotels are still requiring their guests to live in a fantasy world where they unplug when they check in. Everything around them orders them to relax, including that slow-as-molasses internet connection, but how can they possibly unwind when the phone is buzzing and there are a hundred emails that have to be answered? By acknowledging the reality of 21st-century life, IHG has taken a necessary step toward creating a more useful hotel.
It's not alone. Marriott has developed its own accelerator project to introduce new technologies in its hotels, and a few years ago it offered me a tour of its own test kitchen in Bethesda, Md. The innovations, a Marriott spokesman told me at the time, were being driven by Millennials who refused to accept the traditional divisions between work and play.
I know, blame the Millennials. But they're probably on to something. My kids -- Millennials themselves -- seemed to take the Plaza Workspaces for granted. They wondered why other hotels didn't offer some of the amenities they found at the Crowne Plaza Palo Alto.
That's a valid question. Lent says the Crowne Plaza plans to aggressively roll out these innovations next year, but that changes like this have to be justified in a franchise environment. In other words, adding this to a hotel can be expensive, and the owners have to sign off on them.
One of the most exciting ideas by far is IHG's plan to add touchpads to its guest rooms. They'll be trying them in a few guest rooms soon, but if this is widely implemented, it could really change the way guests interact with a hotel. Also, it could dramatically improve a property's revenue, raising the question: How do you keep kids away from a touchpad?
Crowne Plaza's Plaza Workspace concept may set a technological standard among American hotel chains. If other hotels follow its lead, we might soon be checking into accommodations that understand this blended lifestyle, where the boundaries between work and leisure are blurred.
A few new rooms may not look like much, but then, neither did the TCP specs developed by Cerf and Kahn 44 years ago. And look where we are now.
Related