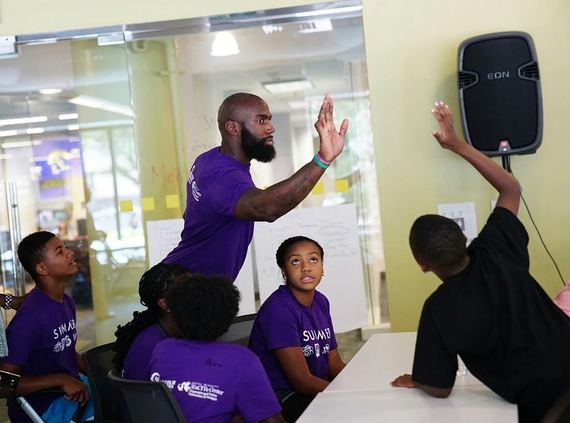 Eagles football player Malcolm Jenkins raised more than $90,000 at the 3rd annual Blitz, Bow-Ties, and Bourbon fundraiser on October 24 at Union Trust in Philadelphia. Jon Dorenbos, the Eagles long snapper, who wowed the judges on "America's Got Talent" with his magic tricks, was the master of ceremonies. Funds raised will support The Malcolm Jenkins Foundations' youth programs and initiatives in the Greater Philadelphia area including a week long summer camp for middle schoolers (grades 5-8) called by its acronym STEAM, which stands for Science, Technology, Engineering, Arts, Athletics, and Mathematics.
Jenkins established his foundation to provide experiences to youth that they might not ordinarily have. He said, "We were able to partner with Drexel University and their ExCITe center which are doing cool things in their laboratory. For the pilot program in July 2016, we were able to bring the children in to teach them about the world around them in ways they might not have been able to see on their own. We taught them about Science, Technology, Engineering, Arts, Athletics and Mathematics. These subjects are usually taught separately. Drexel's ExCITe center is teaching the kids how they can be applied together, mixed in certain ways. I want them to learn from the program that the only thing that limits us is our own creativity."
Kara Lindstrom, program manager at the ExCITe center, explained that STEAM, by incorporating digital technology and artistic approaches, allows students to explore familiar realms such as music, video games, and athletics in novel ways. She said, "The students built speakers out of household items, learned core computing concepts while creating video games, captured biometric data while playing football and basketball using wearable accelerometers, and even participated in a virtual reality activity with Malcolm Jenkins himself."
Jenkins was inspired to create STEAM after watching his younger brothers have difficulty learning in the classroom. He said, "My younger brother is not necessarily a kid who is going to learn by reading a textbook and performing on a performance test, but he's one of the those people that is applicable. You can show him a skill, he can practice it, and that is how he learns. The same thing is with my youngest brother. He was very into technology, graphic arts, and video game at an early age. He learns totally different than I do. These are the type of programs that kids that grow up in poverty or impoverished school districts do not get."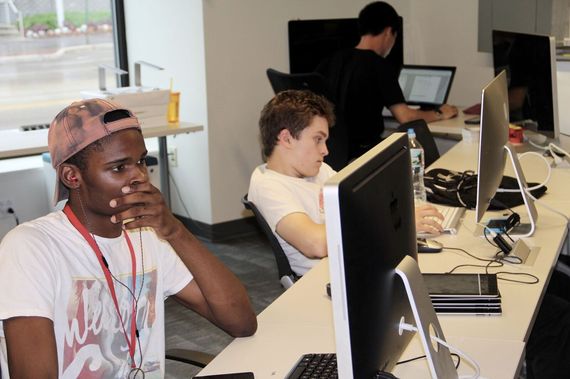 Jenkins credits his mother, Gwendolyn Jenkins, with creating the program in collaboration with the ExCITe center. Gwendolyn Jenkins said, "The goal of the program is to create opportunities for children in under served communities to be included on the competitive trajectory for STEM careers and access to the STEM enterprise." The program in 2017 will be expanded to 50 students from the 25 that attended the pilot program. The foundation plans to expand the program to the other communities that the foundation serves.
Both she and Malcolm are especially proud that the participating students are drawn from the Philadelphia Promise Zone, which is a 2-square mile area in West Philadelphia that the Obama administration identified as an urban area that lacks resources and faces challenges associated with persistent poverty. The football player noted, "51% of the children in the Promise Zone live in poverty. It's crazy. They live right next to these universities, but never get exposed to the life that is happening a few blocks down the road. It's unfortunate. With the help of our sponsors and partners, we can bring them onto a college campus, into the labs to show them all what is happening around, all they can get involved in. Hopefully, that opens their horizons, their creativity, and gives them a different vision than what they see on a daily basis."
Jenkins has skillfully used his celebrity to bring attention to the social justice causes for which he deeply cares. In sympathy with San Francisco 49ers Colin's Kapernik's bended knee protest during the playing of the national anthem before NFL games, Jenkins raises his fist weekly as a reminder that #blacklivesmatter. But he didn't stop there. He has met with Philadelphia Police Commissioner Richard Ross to see what he can do to ease the tensions between minority communities and the police. As part of that outreach, he recently did a ride along with the police which was filmed by Vice Sports and will air on ESPN2 at 9pm tonight, November 7, 2016.
He said, "My teammates and I met with Commissioner Richard Ross earlier this summer to see what we can do to erase the gap between our community and the police. Once the protests started, I reached back out to him to see if I could do a ride along. My goal was to understand what the police officers are going through. I wanted to learn about their concerns, training, worries, challenges, and opinions. What do they think the issues are? How do they think we improve them? I also went to the community and ask the same questions. What are the problems, struggles are facing? What can we do to bridge that gap?
Jenkins considered the ride along eye-opening. "What I learned was the police, more so than is shown, are doing an awesome job, really care about their communities, and are in their communities actively working," said the Super Bowl champ. "At the other end of the spectrum, I also found that there are communities that have no relationship with the police. When the police arrive on the scene, the cops are frustrated, the community is frustrated."
Calling all HuffPost superfans!
Sign up for membership to become a founding member and help shape HuffPost's next chapter