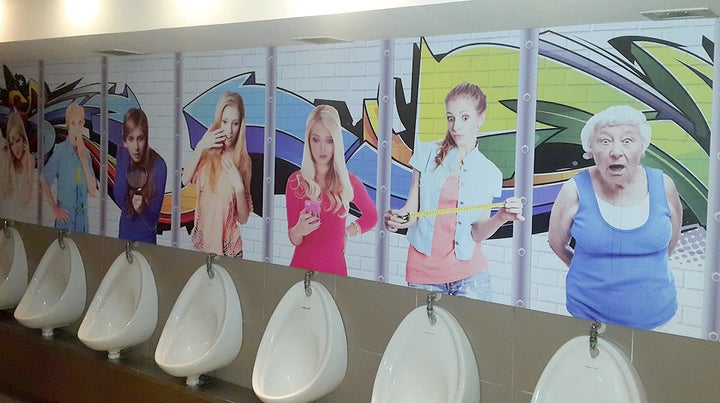 If you're a straight man who thinks it's bad enough that women in nightclubs are judging your looks, it might make you pee shy to find they're judging your junk in the bathroom, too.
At Foundry Nightclub at the Dinn Ri Hotel complex in County Carlow, Ireland, a bathroom display shows pictures of women standing in front of urinals, looking down in a way that indicates they're judging the user's penis size.
One woman holds a tape measure, anxious to measure, while another, older-looking woman looks utterly shocked.
Yet another woman holds up a magnifying glass.
Originally shared on Reddit by Conor Farrell, the image's corresponding Reddit thread now has more than 800 comments. 
"Why is grandma looking forward? All I can imagine is a 12-foot-tall man with a penis that hangs to the floor," user Pee_Earl_Grey_Hot posted in a comment that has been up-voted more than 1100 times.
"I know I'd go to the old lady with the shocked face. She's probably seen all kinds of shit in her life and if you can shock her with your penis size you KNOW you've got a monster," Reddit user Nixposion added to that thread.
The Foundry bills itself as "one of Europe's most sophisticated clubs," thereby setting a low bar for sophistication across the continent.
Calling all HuffPost superfans!
Sign up for membership to become a founding member and help shape HuffPost's next chapter