Last week, at a Joyful Food Market in an elementary school in D.C. where families regularly battle economic hardship, a mother came over to me, introduced herself and thanked us for bringing free healthy food, and especially produce, to her son's school. She explained how hard it is to eat well and how much they are struggling. Her two sons, standing nearby, sampled the whole wheat pasta with zucchini, declared it "delicious," and went back in for seconds.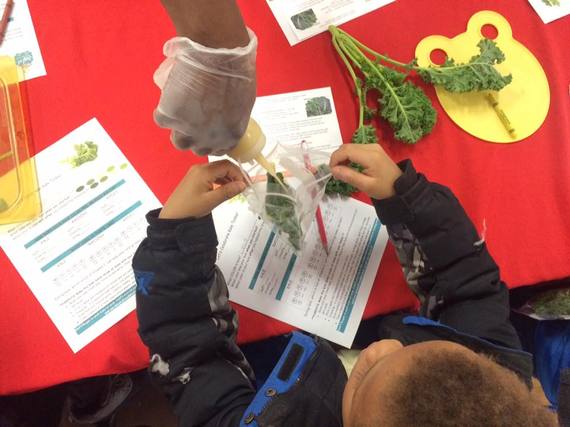 For so long, we've assumed that the primary barrier to healthy eating in vulnerable communities is a lack of access to healthy food. Or, a lack of education around healthy eating. But the reality on the ground is quite different.
The data across the country confirms that a huge number of people - regardless of income level - are struggling with healthy eating. A February, 2016 CDC report revealed that adult obesity rates surpassed 30.4% in 2015.
1 in 3 Americans are obese. Many live in neighborhoods with every imaginable grocery store, and funds to buy what they need, yet they still struggle to eat well. So why would we expect that, if we solve for access, we'll fix healthy eating problems in under-served communities? This is not to say that all communities don't deserve access to high quality healthy food - of course they do. But access alone doesn't solve healthy eating problems in every community.
Similarly, providing more information on what to eat isn't enough. If you ask people, they know they should be eating more fruits and vegetables. Drinking more water. Eating less junk food. Knowing doesn't mean doing. Healthy food costs more. It requires more time to prep and chop, cook and clean up. Meal prep has become a chore while eating out has become a fun treat, regardless of whether you are grabbing a meal off the Dollar menu or a enjoying a three course meal at a Zagat rated restaurant.
If we really want to alter what people eat, and push them towards healthier food, we have to make that healthy food more affordable, tasty and easy to prepare. We have to compete with the cheap and tasty fast food restaurants and corner stores and offer alternatives that both taste good and make you feel good in the moment. No one is ever going to munch on raw celery over potato chips just because celery may prevent cancer.
As the Senior Director of Healthy Eating at Martha's Table, I oversee the DC-based Joyful Food Markets program. JFMs are monthly pop-up grocery markets, hosted in elementary schools in the city's most vulnerable neighborhoods, where families can shop for free, healthy food, including fresh fruits and vegetables, while chefs give out tasty samples and children have fun cooking with fruits and veggies.
This month alone, more than 3,000 children are expected to visit one of our markets, and fill grocery bags with everything from beans (pinto or black) to pasta (whole wheat or white), to fresh fruit, like apples, bananas and oranges, and fresh vegetables, like red potatoes, broccoli, zucchini and celery.
This month, in addition to receiving free, healthy, high quality groceries, families at JFMs sample an easy to prepare dish made almost entirely with food available at that month's market (this month, it's whole wheat pasta with tomato sauce and fresh zucchini). We distribute the easy recipes, designed to be made quickly with just a few simple ingredients. And, children get their hands dirty, this month making zucchini ribbons, threading them on a stick and then letting them marinade in a fresh orange juice dressing (again, all ingredients available at the market this month). The goal is to create a joyful experience- music plays, people dance, chefs give out samples, and children cook while families shop for free groceries.
Instead of talking about nutrition, we make healthy eating fun. Instead of focusing on calories or grams of fats, we sample healthy, simple, fresh meals. Instead of lecturing about how zucchini is a good source of fiber, we let kids discover that it feels squishy, tastes chewy and is full of seeds.
When the market ends, the families leave the market with the free healthy food, recipes, support and a sense of joy connected to eating a healthier diet. Without ever saying anything about nutrition.